CFI.co Meets the Governor of the Central Bank of Mauritius: Rameswurlall Basant Roi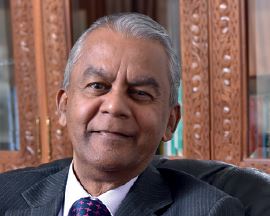 At the helm of Bank of Mauritius, winner of CFI.co's 2017 Best Central Bank Governance Indian Ocean Award, Rameswurlall Basant Roi is the one of the country's most seasoned central bankers. Mr Basant Roi (GCSK – Grand Commander of the Order of the Star and Key of the Indian Ocean) was appointed governor of the central bank of Mauritius for a second mandate with effect from 30 December 2014. He served in the same position for eight years from November 1998 to December 2006.
Governor Basant Roi has spent more than three decades in the central banking arena. He is currently chairman of the board of directors of the central bank and of its Monetary Policy Committee. He is also a member of the Financial Stability Committee chaired by the Minister of Finance and Economic Development.
Mr Basant Roi joined the Research Department of Bank of Mauritius as research officer in 1976 and was appointed assistant director of the department in 1984. He became the department's director in 1987. Since the mid-1980s Mr Basant Roi has been closely associated with the development of the financial sector of Mauritius which has evolved into one of the country's most important economic pillars.
He was directly involved with the liberalisation of Mauritius' financial industry and with the establishment of the offshore banking sector. His relations with many international institutions – including the International Monetary Fund, the World Bank, and the Bank for International Settlements – as well as with players from various sectors of the domestic economy throughout his career has earned Mr Basant Roi wide-ranging experience and international recognition. In 2004, he was awarded the highest distinction of the Republic of Mauritius – the GCSK – for his contribution to the financial services industry of the country.
In January 2017, Governor Basant Roi was elected the 2017 Central Bank Governor of the Year for Africa by The Banker magazine. In February 2017, he was presented with the Personality of the Year Award 2016 (Finance) by the UK-based African Leadership Magazine. Three months later, Mr Basant Roi received the Central Bank Governor of the Year Award by the African Banker magazine endorsed by the African Development Bank Group. On 20 July 2017, the Bank of Mauritius won the Best Central Bank Governance Indian Ocean 2017 Award conferred by Capital Finance International (CFI.co), underlining the governor's focus on strengthening and modernising the banking industry.
Under the stewardship of Governor Basant Roi the Bank of Mauritius is propelling the banking and financial sector to higher levels. The relentless endeavours to reinforce Mauritius' competitiveness and attractiveness as an international financial centre continues to draw the spotlight on the Bank of Mauritius.
One of the governor's strategic decisions in early 2015 was to revamp the organisational structure of the Bank of Mauritius in order to enhance its functional and operational efficiency. This strategic move decisively set the base for effective execution of policy decisions and projects. The awards conferred upon the governor and the Bank of Mauritius confirm, as Governor Basant Roi has put it: "The diligence and commitment with which all stakeholders within the Bank of Mauritius, from the board directors to the newest recruit, have been discharging their responsibilities to fulfil the mandates of the central bank. The CFI.co award also translates the efficacy of the policies of the Bank of Mauritius and the quality of the dialogue it has established with all its stakeholders."
---
---
You may have an interest in also reading…
The Development Bank of Minas Gerais (BDMG) was founded in 1962 and its main shareholder is the government of the
Jamal Malaikah is the President and Chief Operating Officer of the National Petrochemical Industrial Company (NATPET). Mr Malaikah holds a
Mr Sanjay Sagar is the Joint Managing Director and Chief Executive Officer of JSW Energy Limited. An alumnus of Modern