Setting the Standard for Sustainability and Advancing the ESG Agenda
AccountAbility is an expert Sustainability / ESG consulting and standards firm that provides objective counsel to CEOs and boards on how to improve their business performance. The firm has a centred purpose – to innovate and advance the global Sustainability / ESG agenda by improving the practices, performance, and impact of organisations – and works globally with businesses, investors, governments, and multilateral organisations on ESG matters out of its offices in New York, London, Dubai, and Riyadh.
"We focus on delivering practical, effective, and enduring results that enable our clients to succeed," says AccountAbility CEO, Sunil (Sunny) Misser.
Formed in 1995 in London, UK, as The Institute for Ethical and Social Accountability for England and Wales – an international professional body committed to strengthening social responsibility and ethical behaviour of the business community and non-profit organisations. AccountAbility was one of the earliest thought leaders to focus on pioneering Sustainability and ESG thinking and practice over 25 years ago. The questions that increasingly dominate headlines, CEO agendas, boardrooms, and proxy battles today: Materiality, Inclusivity, Responsiveness, and Impact are, in fact, the four foundational AccountAbility Principles that serve as the backbone of the firm's AA1000 Series of Standards and Advisory Services.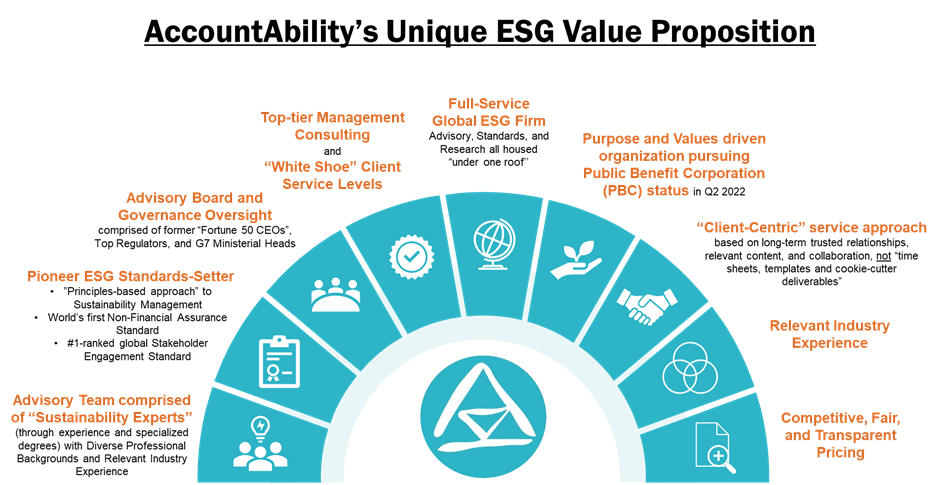 Driven by the foresight to fill a gap in the market that he had identified – as the "One-Stop Shop for all things Sustainability", Misser joined in 2010 with 14 years of experience as a Global Managing Partner and Chief Strategy Officer with PricewaterhouseCoopers and a mission to recalibrate AccountAbility's direction to focus on market relevance and profitable growth, underpinned by a "client-first" culture.
"The AccountAbility team had the competencies and expertise to spot areas of opportunity we did not even know existed to further align our organisation toward achieving our collective sustainability goals."

– ESG Strategy and Reporting Team Lead, Saudi Aramco
"After multiple years of consulting in Financial Services, Oil and Gas, and Investment Banking, I had finally decided to atone for my sins," jokes Misser, who built and grew PwC's sustainability practice and has elevated AccountAbility's legacy of sustainability thought leadership to the premier echelon of "white shoe" client service with the practical ESG content knowledge, business acumen, and industry experience that the market needs. "In my 30 years in the consulting business, the awareness of Sustainability / ESG matters (risks and returns) in the C-Suite has never been higher."
AccountAbility's Advisory and Standards Boards have also transformed to reflect the stakeholders that are now driving the ESG Agenda, including the likes of former "Fortune 50 CEOs", Top Regulators & Standards Setters, and G7 Ministerial Heads.
In today's rapidly shifting landscape of frameworks and standards, AccountAbility's AA1000 Series of Standards have remained uniquely accessible, easy-to-use, and adaptable for organisations of any type, industry, geography, size, or maturity level. They are made freely available as a public good and are reviewed and updated regularly in consultation with thousands of international stakeholders to maintain rigor, relevance and usefulness.
The AA1000 Assurance Standard (now v3) is the oldest standard for the assurance of non-financial information and is used by assurance providers globally. The AA1000 Stakeholder Engagement Standard (most recently revised in 2015) is the most widely used framework for guiding inclusive and meaningful stakeholder engagement.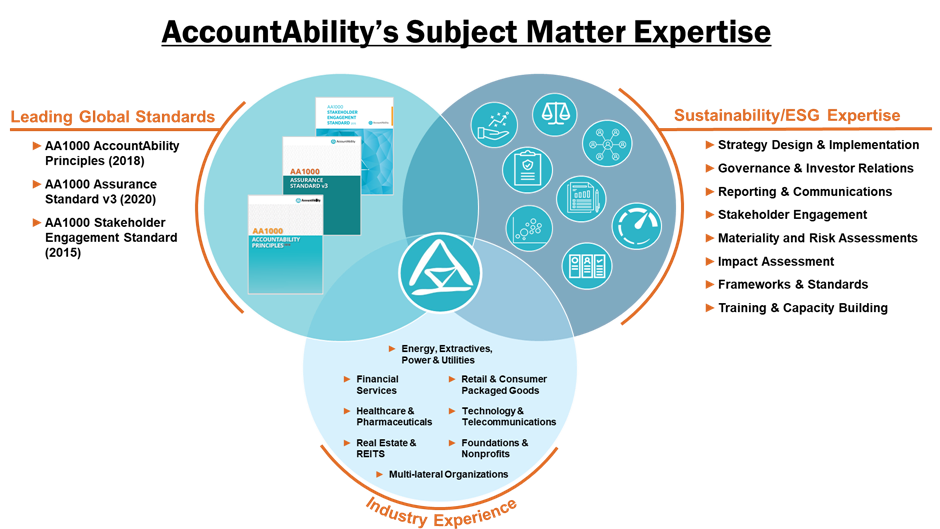 The World Economic Forum (WEF) recognises AccountAbility as a "Framework Developer" within the ESG Ecosystem, which speaks to the company's principles-based approach not only in the design of its Standards, which stand out amongst highly technical and compliance-driven peers, but also in its Advisory Services, which have earned the firm accolades, including top-five placement in the annual Financial Times rankings of Leading Management Consultants for five consecutive years (2018-2022) and our very own "Best ESG Strategy Development Partner – Global 2021" Award.
Misser credits the firm's success to its clients and people, who are fundamental to AccountAbility's "Client-People-Firm" philosophy. He firmly believes that clients are "the epicentre of the firm's existence. We measure our success in terms of our impact on the performance of our clients, people, and the firm," he says, "and if you focus on your clients and your people, the rest will follow."
"We find significant value in having our organisation's sustainability performance data centralised in AccountAbility's capable hands, where the knowledge transfer is seamless, and the support we receive is consistent and reliable."

– Sustainability Officer, The International Monetary Fund (IMF)

Inspired by their CEO, who actively engages with his clients and people on everything from debating the latest market developments to sharing jokes and exchanging his doggie photos (AA is an "animal friendly" workplace), the AccountAbility team exudes a contagious spirit of collaboration, dedication, and excitement for their work, which they take very seriously, showing up at their offices or, better yet, at their client sites – ready to deliver work for clients with whom they have built genuine, trusted, and long-lasting relationships.
AccountAbility's high bar for new joiners means nearly everyone at the firm holds a graduate degree in sustainability or a related business field, with experience in a technical discipline or a proven track record in Management Consulting. Peter Mulcahy, a Senior Manager in Advisory Services says he "left Ernst & Young's Financial Services Business Consulting practice after 7 years, in search for a career with more personal meaning, a client impact, and professional growth opportunities. AccountAbility provides exactly that as a focused, quickly growing company that serves some of the best and biggest clients in the world."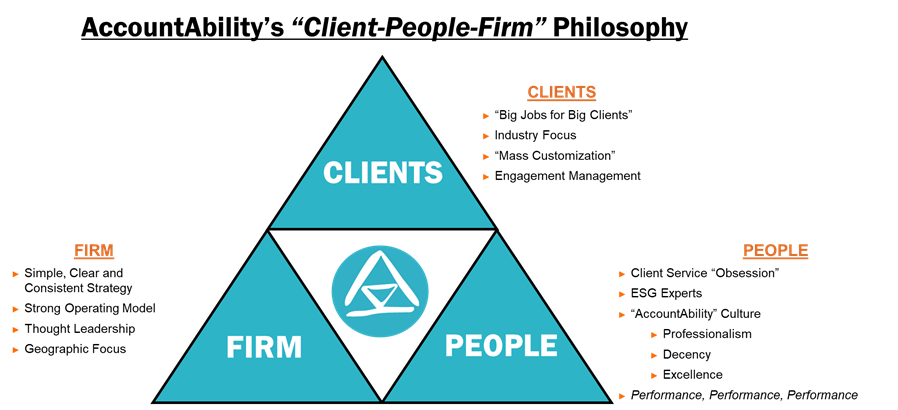 "I feel extremely fortunate to have built my career at AccountAbility," says Daniel (Sherpa) Metzger, who joined from JPMorgan Chase with a master's degree from Columbia University in Sustainability Management as an Associate in 2015 and now serves as an Associate Director and the firm's Head of Middle East & Asia. "A day in the life of an AccountAbility consultant is not an easy one – the standards are high, a growing firm has growing demands, and, above all, the Client always comes first. AccountAbility is a place with tremendous opportunities for driven professionals, where hard work, dedication, and performance are rewarded, and good people are deeply appreciated."
The company is on track to more than double in size in the coming year and extend its geographic focus beyond North America, Europe, and the Middle East, with the opening of a new office in Seoul, South Korea to serve Asian clients. The firm is also presently in the process of transitioning to become a Public Benefit Corporation ("PBC"), that will provide greater flexibility and benefits previously unavailable under the not-for-profit structure, without compromising the integrity of their mission, which will be further enhanced through partnerships, growth, and access to capital.
"ESG is an idea whose time has come," says Sunil Misser, though it seems the same is true for AccountAbility, whose legacy of contribution to the industry and fortified focus on client service have laid the foundation for a brighter future ahead. i
For more information, visit their website, follow them at @AAInsights, or contact their team at communications@accountability.org.
---
---
You may have an interest in also reading…
Corporate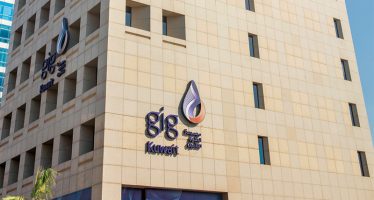 Gulf Insurance Group-Kuwait (GIG-Kuwait) is the country's largest insurance company in terms of gross written premiums and retained premiums in
Corporate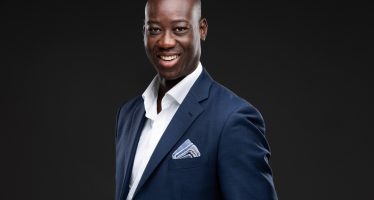 Switzerland-based and Africa-led, the Brahms Group was born as a consultancy in 2009 — and has grown into an established
Banking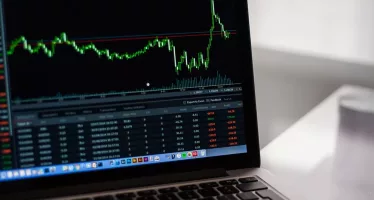 As a leading direct lender targeting the lower mid-market in Northern Europe, CORDET provides bespoke financing solutions that target attractive,