AMC Natural Drinks: Research & Innovation to Achieve Sustainability & Circular Economy Commitment
AMC Natural Drinks is a leader in the research, development, production and sale of chilled fruit juices, smoothies and other high-quality, innovative and functional veggie drinks. Sales have doubled during the past five years and turnover now exceeds 600 million euros, driven by a spectacular growth of 17% in 2018. This was accompanied by a 25% reduction in its carbon footprint, all under the watchful eye of CEO Antonio Muñoz Beraza.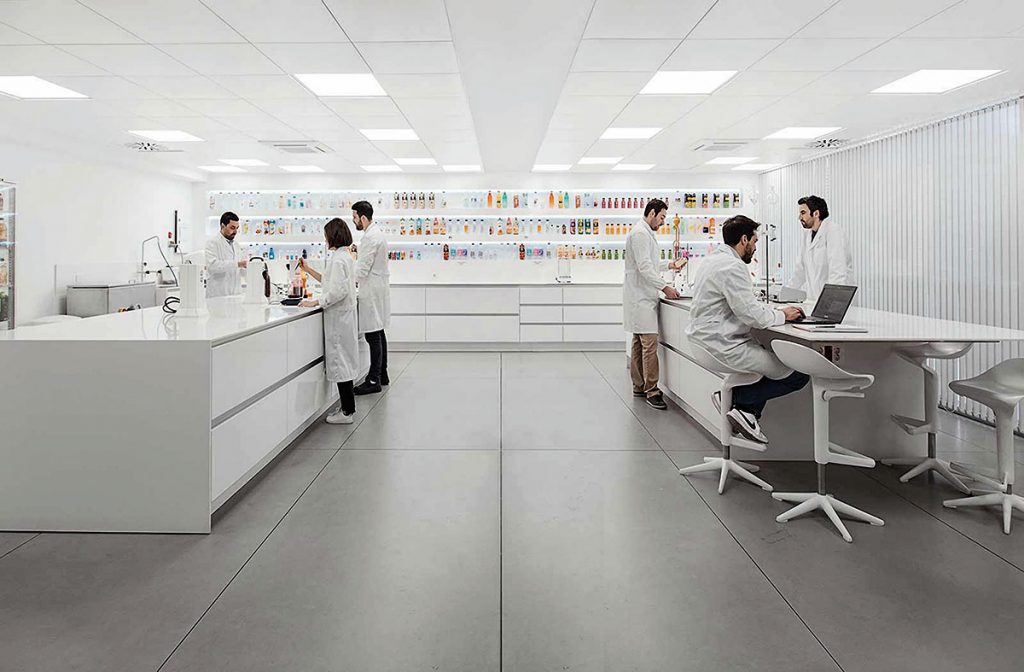 This Murcia-based company is one of the two cornerstones of the AMC Group, along with AMC Fresh – which works with fruits, flowers and other fresh products. The group has become the third largest Spanish business conglomerate for foods sold abroad, with a consolidated turnover of 1,290 million euros in the last fiscal year.
AMC Natural Drinks has its own production plants in Spain, Holland, England, Portugal, and holds minority technology investments in strategic suppliers in Costa Rica, Poland and India. It sells in the 70 most prestigious retailers in Europe, in over 50 countries worldwide and has experienced large-scale growth in the Middle East and Asia (primarily in Japan, Korea, China and Vietnam).
Sustainability and the circular economy have always been key elements of the research and development programme of AMC Innova, the scientific-technical division of international holding company AMC Natural Drinks. The European Commission and government of Spain have recognised its research excellence in more than twenty pioneering projects of fundamental and applied science.
Many of these AMC Natural Drinks research projects are led by AMC Innova and developed under an Open Innovation model with the best international research centres. These efforts aim to develop, demonstrate and apply continuous improvements in environmental sustainability, natural functionality and bring efficiency improvements in the food and natural drinks industry.
AMC Innova designs, researches, scientifically validates and improves the sustainability and natural functionality of food thanks to the development of new value-added products from the squeezing of fruit and vegetables.
AMC Natural Drinks develops patented processes, extracting natural bio-actives present in the peel and rinds of fruit such as pomegranate, watermelon and oranges, where nature deposits large doses of valuable nutrition.
Thanks to these new technologies, AMC adds value so that the ingredients can be applied in other foods to bring nutritional improvement. The same applies in nutricosmetics, perfumery and natural pharmacy – being more environmentally friendly, reducing and reusing raw materials (of which not all functionality was extracted) and providing society with a sustainable source of natural added value.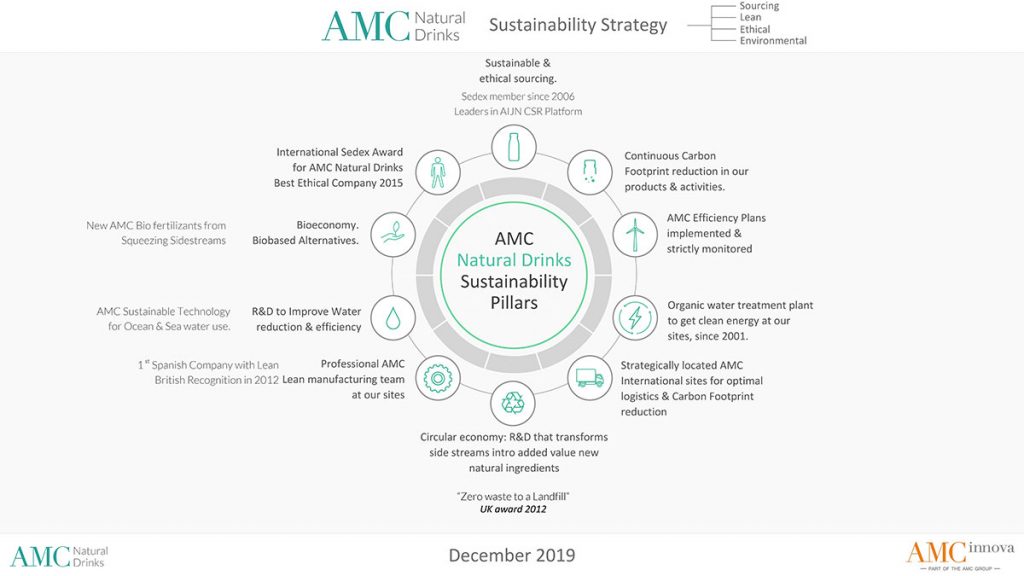 AMC Natural Drinks is also part of the pioneering LIFE CITRUSPACK Research project, funded by the EU, to create a bio-packaging made out of orange peels from its own squeezing process and potato starch. The company aims to bring the first 100% compostable bio-bottles to the market by 2021.
Cosmetic containers, straws, utensils, fruit transport materials will also be made from this orange fiber material and this will have a great impact on reducing the environmental footprint.
At AMC, packaging is eco-designed through the most advanced technologies. This allowed the company to reach great milestones and produce food packaging with important sustainability attributes, which consumers value as alternatives to the obsolete model of linear consumption of use and disposal.
Since its establishment in 1931, AMC Group has been committed to the principles of the circular economy. Currently AMC Natural Drinks bottles are fully recyclable and incorporate up to 52% of post-consumer re-used plastic. The use of recycled raw materials promotes the recycling and reintroduction in the market of these flows of secondary materials, providing them with a new value and closing the circle of sustainability. In addition, recycled PET (polyethylene terephthalate) has a carbon footprint much lower than virgin plastic.
It is also important that technological innovation reduces the weight of the bottles without compromising the quality and safety of the food. AMC Natural Drinks has reduced more than one million kilos of raw material in the past five years.
All other components of food packaging are also part of the AMC eco-design programme. For example, the label is made of a material fully compatible with the PET of the bottle at the recycling level, since they have different densities and must be easily separable in the recycling plants. The reduced size is also relevant – covering less than 60% of the bottle surface, thus favoring the correct selection of materials when passing through the selectors in the recycling plants to identify the label components from the bottle.
The company avoids the use of black plastic in the cap and other components of the container, since this type of plastic is invisible to the optical detectors of the selection plants and in many cases ends up in the landfill.
Antonio Muñoz Beraza, CEO of AMC Natural Drinks
Antonio Muñoz Beraza, co-CEO of the AMC Group and CEO of AMC Natural Drinks, won the Spanish National Innovation Award of the Ministry of Economy and Competitiveness, and this was presented by the King of Spain.
Along with this recognition, AMC Natural Drinks has been honored with numerous prestigious international awards for innovation, sustainability, quality and health. These include the New York SOFI Special Innovation Award and the Japan International Beverage Award. It has also achieved the PLMA 'Salute to Excellence' award for the best European product – presented in Amsterdam) on three different occasions, as well as the environmental award 'Zero Waste to Landfill' by Marks & Spencer UK, and the European Sedex Awards for ethical practices and society. Further, Via Nature, an AMC own brand, was distinguished as 'Best Flavour of the Year'.
Today, the AMC Group is an international agri-food group with 70 companies throughout five continents, over 5000 employees and provides a well-regarded reference and benchmark for innovation, research, patents and competitiveness.
For further information, please see:
Web: amcnaturaldrinks.com
---
---
You may have an interest in also reading…
BAWAG Group AG is a publicly listed holding company headquartered in Vienna, serving 2.3m retail, small business, corporate and public
A passion for research and development in mobility trends means a cutting-edge company cannot look only at today and tomorrow. 
'Being properly advised is not a guarantee of success — but it reduces the likelihood of failure…' DPM Finanzas, founded