Location, Attitude, Aptitude and Forward Thinking: Tanger Med Zones at an Enviable International Position
The combination of cutting-edge technology, Grid-Connected Renewable Energy System, geographical proximity to Europe, strategic vision, and a skilled talent pool, led to the creation of a global logistics hub, ranked amongst the best globally. A competitive offer that anchors SMEs and multinationals positions' with both existing and future customers.
Tanger Med Zones, a subsidiary of the Tanger Med Group, develops and manages 2000 hectares of economic zones, dedicated to industrial, logistics, and service activities in the North of Morocco. It acts as a strong manufacturing platform for operators originating from 40+ countries, which produce specialized items and materials for their clients all over the world. Developed over a total area of 20 million square meters, consists of 6 activity zones that host more than 1100 multinationals in diverse sectors of activities, which include: Automotive, Aeronautics, Textile, Electronics, Renewable energy, and IT.
Only 14kms away from Europe, the platform capitalized on its skilled talent and advanced technical experience to work towards building a strong, open, and market-oriented environment.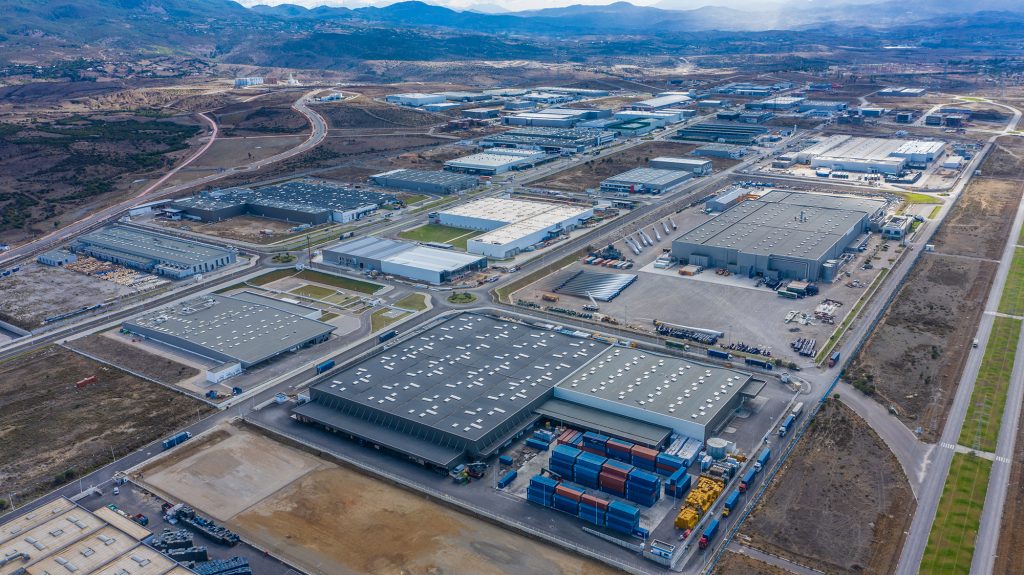 Tanger Med Zones is backed by the Tanger Med Port, with 9 million TEU of container capacity, and is connected to 180+ ports worldwide across 70+ countries in five continents. The following strong fundamentals have enabled Tanger Med Zones to meet the expectations of global players and successfully attract first-class international players from Germany, Japan, Korea, France, China, India, the UK, and the USA among others. These strong fundamentals have enabled the Tanger Med Zones to meet global players' expectations, and become home and a hub for companies such as Continental, Siemens, Sumitomo, Coca Cola, Nippon express, NTT DATA among others.
Corporate Social Responsibility
Tanger Med Zones implemented a multidimensional strategy on corporate social responsibility in line with the United Nations sustainable development goals. Managing operations and infrastructure sustainability, as well as adopting vigorous governance, the Tanger Med Zones strives to strengthen even further the human capital to impact positively on the social and economic poles.
Tanger Med Foundation
The Tanger Med Foundation for human development consolidates the Tanger Med Group's strategy in terms of social responsibility and sustainable development. Created in May 2007, the Foundation supports community-based associative initiatives in the Tangier-Tetouan region. Tanger Med Foundation supports different association-related initiatives in the North region of Morocco in partnership with local authorities and government institutions focusing on four main pillars: Education, Healthcare, Professional Training and Social.
Tanger Med Zones Infrastructure Incentives
A one-stop-shop for registration and incorporation process
25 Km from Tanger Med Port
24/7 customs services
Build to suit option
Plug and play industrial plots for sale
Plug and play modular warehouse units for lease
Dedicated import-export access inside Tanger Med Port
Fully digitalised services
Tanger Med Zones Financial Incentives
Today, Tanger Med Zones is a base for many international companies who enjoy both a stable, efficient, and robust economic environment, and a competitive combination of incentives, and benefits. This includes total exemption from the VAT, patent and urban taxes, dividend and profit shares, registration fees, and stamp duty on capital operations; plus 5 years' exemption from corporate tax 0% (with a rate of only 15% after that).
---
---
You may have an interest in also reading…
C2FO, whose stated mission is to deliver a future where every company, anywhere in the world, has the capital it
Nazca takes investee companies through the gamut of development to create socially and environmentally efficient enterprises. Venture capital firm Nazca
Alternative Investment Fund Manager enso manages hydropower, the most efficient form of renewable energy. Investing in hydropower signifies investing in