Containers Printers: A Word in Your Ear… via Your Eye! The Fine Art of Communicative Packaging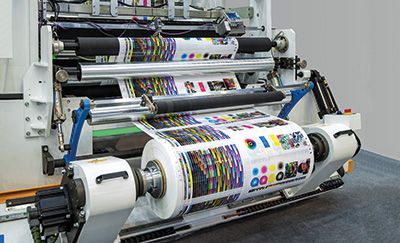 This is something that Containers Printers CEO Amy Chung understands only too well as a basic principle of marketing. Her Singapore-based company looks to technology to provide more product control for clients, and value-added gains for shareholders.
Chung has been leading the product-packaging company since 2014, and she has a clear vision for its direction. "I want to drive the company from what can be considered a conventional industry to something more technological," she said. "We are therefore upgrading our capabilities beyond conventional packaging solutions to be able to do functional printing and smart packaging."
The modern manufacturing machines lining the company shop floors produce eye-catching results. Packaging comes in two materials (metal and flexible laminates), both of which can be customised with unique textured effects.
Containers Printers is in the process of further digitising its operations. Chung intends to extend the company's digital capabilities into the clients' space by offering cloud-powered product traceability and authentication services.
The company is a leader in Singapore's digital transformation initiative, and has been nationally recognised for its approach to innovation and technological advances. The company's global reach —and potential to upscale — attracted the attention of Singapore's Economic Development Board, which tapped Containers Printers to participate in a programme matching top global brands with local companies to forge profitable and productive partnerships.
"Last year we were selected by our Economic Development Board for a special programme," said Chung, "where they tie us to global multinationals to gear us up in our capabilities, and to meet the strict requirements of these global multinationals. We were able to perform to their satisfaction, so with this programme we are now being selected and shown to the Minister for the manufacturing industry in Singapore."
Chung is proud of Containers Printers' selection for the programme, in which it took its first foray into the medical industry. The process was demanding, with tight deadlines and stiff benchmarks to meet, but it was a success. Chung and her company were praised for their performance. "We took the challenge and rolled the dice," Chung said. "We were told that we were one of the most successful partnership that came out of this."
The company's success garnered more local attention, and Containers Printers was selected to participate in a skill-sets development programme, overseen by the Singapore Ministry of Manpower. Containers Printers was showcased in a session with the country's Prime Minister, Lee Hsien Loong.
"I jumped immediately into the Manpower Ministry's programme, which the government has been actively promoting in Singapore," said Chung, whose company has been classified in the space of small to medium enterprises (SMEs).
The programme aims to drive the industrial adoption of digital transformation strategies.
Containers Printers was invited to participate in the programme for its proactive and innovative implementation of the latest tech advancements. Highlights for Chung included the programme's lean-manufacturing training courses, which detail tech-enhanced manufacturing processes to improve efficiency and reduce redundancies.
According to Chung, the company's operations are aligned to the "Three Rs" principle (Reduce, Reuse, and Recycle), and sustainability is built into its corporate culture. Containers Printers sources and selects benign materials and employs solvent-free manufacturing processes where possible. The company's latest sustainability initiatives will be operable by mid 2019, when its two manufacturing plants will be topped with solar panels. "I think that's really working towards a corporate philosophy where everyone starts thinking about sustainability," said Chung.
"We cannot enforce and impose, but we can build up a corporate culture and values, so that slowly everyone practices the three Rs as though it's just something that they do — it's natural." i
---
---
You may have an interest in also reading…
Since the 15th century, French postal service Le Groupe La Poste has been connecting the country, keeping pace with societal
Recent years have been difficult across countries and industries, but Groupe ADP leader Augustin de Romanet sees a bright future
CFI.co gets to know Andrés Sendagorta, president of private engineering and technology specialist the SENER Group. It was founded in