Moby-Dick or, The Whale
"For there is no folly of the beast of the earth which is not infinitely outdone by the madness of men."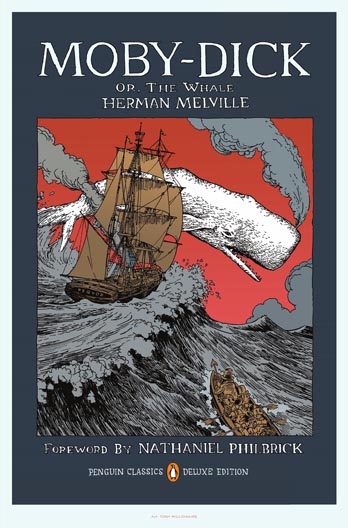 The Great American Novel par excellence, Moby-Dick was a commercial failure and had gone out-of-print by the time its author passed away in 1891. Hailed as "a novel that needs no defence" by the Times Literary Supplement and "one of the strangest and most wonderful books in the world" by DH Lawrence in his idiosyncratic Studies in Classic American Literature, Herman Melville's magnum opus is not just a good read; it is also a portrait of a particularly exciting time in the history of an adventurous young nation.
As American whalers and sealers roamed the Seven Seas in search of prey, they left behind the burdens of a racially-divided society to search for riches. The reason why Moby-Dick initially only sold 3,200 copies may be the short attention span of a nation that effortlessly replaced its fascination for the sea with a fixation on Klondike gold.
Moby-Dick has eluded classification by genre. Part autobiography, travel account, epic play, and sermon, the book pits man against beast. Captain Ahab explains (Chapter 36 – The Quarter-Deck) that the evil whale wears a disguise: "All visible objects, man, are but pasteboard masks." The captain is, of course, determined to smash that mask: "How can the prisoner reach outside, except by thrusting through the wall? To me, the white whale is that wall."
The whale which is to consume Captain Ahab and the crew of the Pequod seems in the end not so much an object of hatred as a symbol of the skipper's own making.
Melville's peerless yarn is based on his own seafaring experience. In December 1840, he signed articles as a green hand and joined the crew of the Quaker-owned whaling ship Acushnet for her maiden voyage scheduled to last over four years. The book also incorporates elements of two actual events: the 1820 ramming and sinking of the Nantucket whaler Essex by an enraged sperm whale in the Pacific Ocean and the 1938 killing of the well-known, if not notorious, albino whale Mocha-Dick off Chilean Patagonia. At the time of its death, Mocha-Dick was reported to carry 19 harpoons in its mauled body. The 70-feet long whale yielded over a hundred barrels of oil and a few precious lumps of ambergris.
| | |
| --- | --- |
| Title | Moby-Dick or, The Whale |
| Author | Herman Melville |
| ISBN | 978-0-1424-3724-7 |
| link | http://www.amazon.com/gp/search?index=books&field-isbn=9780142437247 |
---
---
You may have an interest in also reading…
"A country is considered the more civilised the more the wisdom and efficiency of its laws hinder a weak man
"The sad truth is that most evil is done by people who never make up their minds to be good
"Always either on a peak of happiness or drowning in black waters of despair they loved or they loathed, they