ARA: REIT Pioneer Wins Recognition for its Transformative Efforts in Sustainability
Established in 2002, ARA Asset Management Limited (ARA) is a leading APAC real assets fund manager which manages real estate investment trusts (REITs), private real estate equity and credit funds, and infrastructure funds with a footprint in 28 countries globally, and S$110 billion1 in gross assets under management at present.
ARA Asset Management is one of the pioneers in the REIT (real estate investment trust) industry in Singapore.
Widely recognised as one of the pioneers in the Singapore REIT industry, ARA launched Asia's first cross-border REIT, Fortune REIT, Singapore's first composite REIT, Suntec REIT, Hong Kong's first office/industrial REIT, Prosperity REIT, industrial REIT, ARA LOGOS Logistics Trust, the first offshore RMB-denominated REIT, Hui Xian REIT and Singapore's first pure-play US upscale select-service hospitality trust, ARA US Hospitality Trust.
Beyond REITs, ARA also manages private real estate funds and infrastructure funds. Embracing an investor-cum-operator philosophy, the company has built a team of real estate professionals across the region to invest in and manage properties in multiple asset classes.
With a vision to create and manage sustainable real assets, ARA maintains a strong commitment to ESG. As an exemplary investor-operator, the company has made ESG an integral part of its asset acquisition, management and operations over the years. Its long-standing commitment to sustainability includes raising ESG standards for the properties that it manages, supporting the community, taking care of its people, as well as reducing its carbon footprint and combating climate change. These have led to consistent growth and investment returns for its investors.
ARA's Environmental stewardship focuses on the effective management of its assets to lower its environmental footprint, conserve natural resources and combat climate change. These efforts have been recognised by industry peers through environmental certificates and awards, including GRESB 5-Star ratings, LEED Gold Award, and the ESG Real Estate Investor of the Year 2019 — Asia.
A few of ARA's eco-friendly properties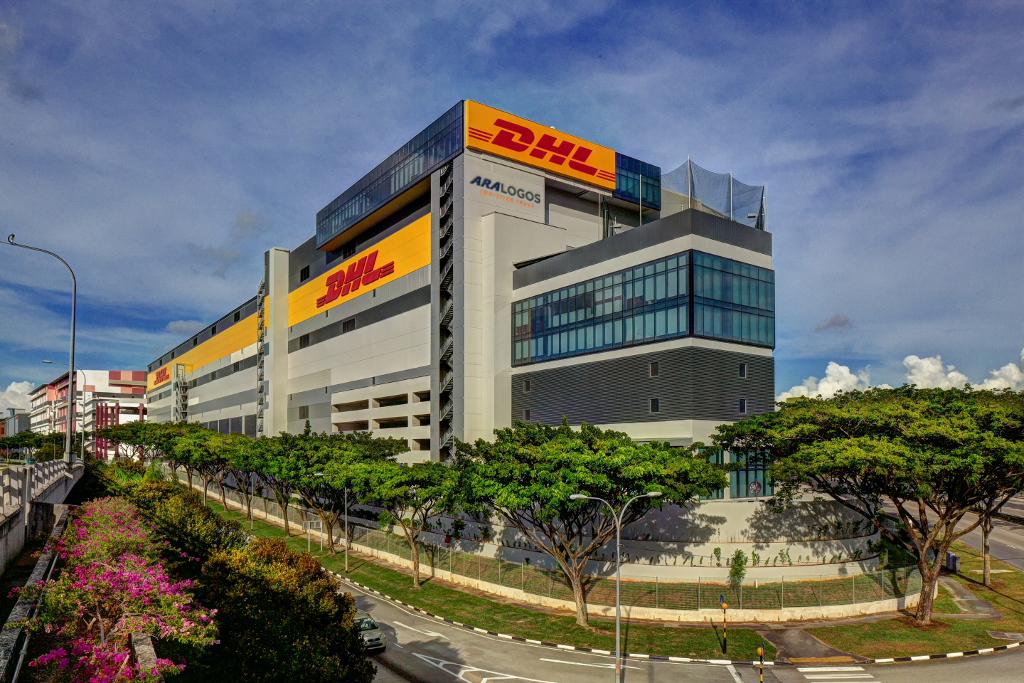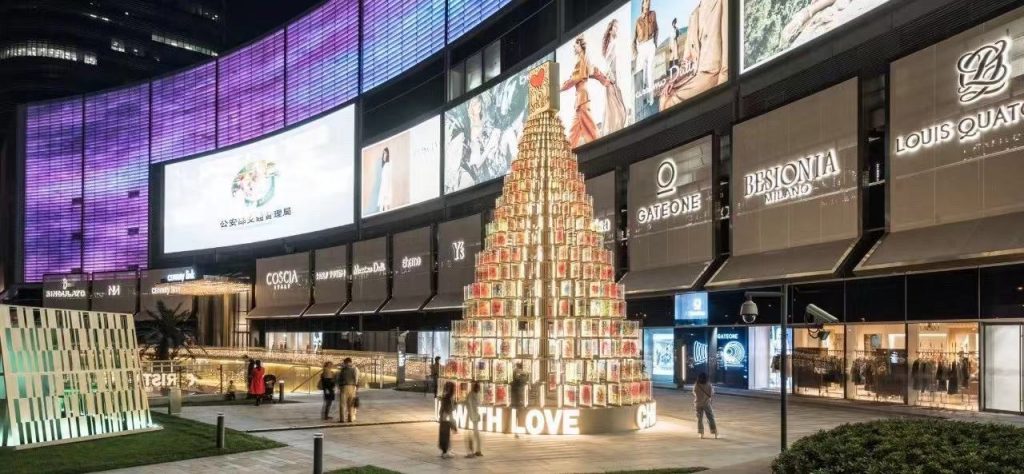 DHL Supply Chain Advanced Regional Centre, Singapore (one of the logistics warehouses under ARA LOGOS Logistics Trust) and Century Link in Shanghai, China (Harmony VI) have both achieved the LEED Gold® certification
ARA's Social pillar focuses on people and community, as it strives to be an employer of choice and a strong advocate of diversity and inclusion. The company, via its global offices, contributes to the communities it operates in through various CSR initiatives, active staff voluntarism and philanthropy. It also aims to work collaboratively with all its stakeholders to achieve best-in-class assets and services.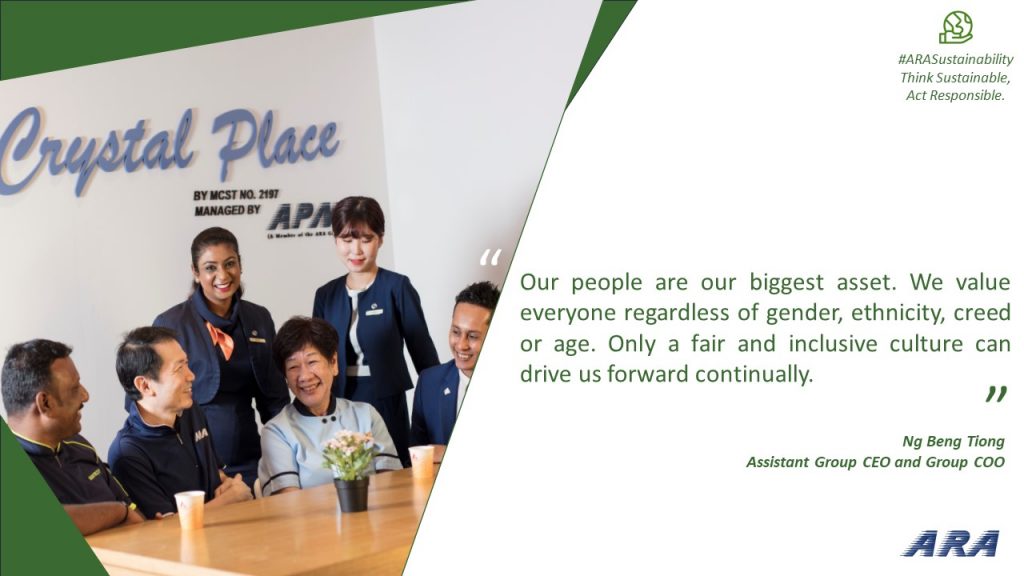 On the Governance front, ARA is committed to the highest standards of corporate governance and has built a business with strong ethical standards. ARA has an impeccable track record and a reputation for strong corporate governance.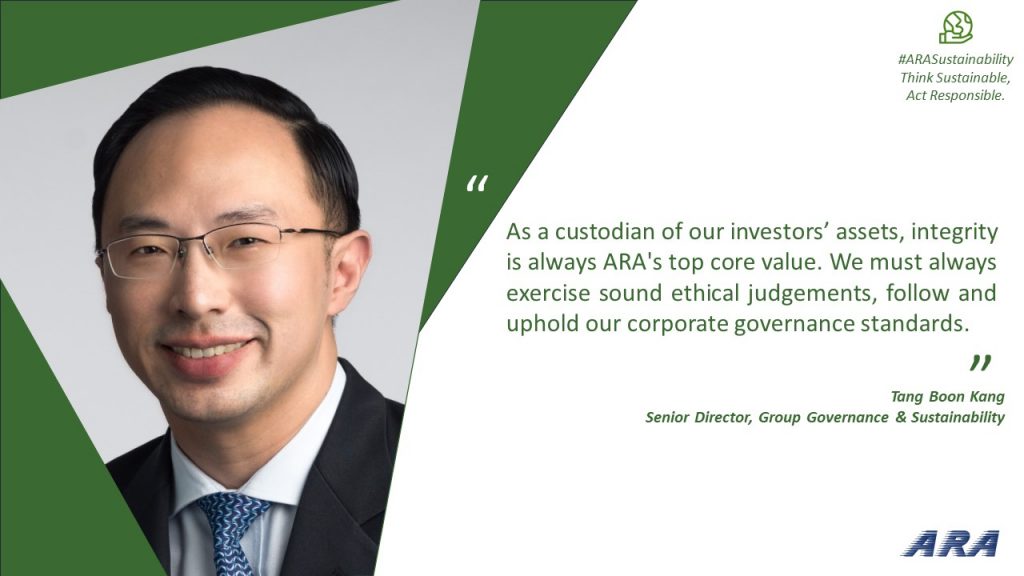 In 2020, other noteworthy developments of the company include its acquisition of a majority stake in LOGOS Group, a leading logistics developer and real estate specialist in APAC, combining ARA's global fund management capabilities with LOGOS' extensive APAC logistics property and development expertise. During the year, ARA also established its real estate credit business with the acquisition of a majority stake in Venn Partners (renamed ARA Venn), a specialist investment manager in real assets private debt within Europe. The company also made its foray into real estate fintech via an investment in Minterest, a leading Singapore-based crowdfunding platform. As a forward-looking organisation, ARA aims to leverage technology to create a digital marketplace that provides an efficient fund-raising platform, enabled by blockchain and tokenisation technology, to transform access to capital and seek out new investor pools.
In a post pandemic world, economic and social behaviour will change, impacting the demand drivers for real assets in the long run. While the future is uncertain, ARA is certainly positioning itself for a new normal in the global real assets fund management industry.
[1] Includes assets under management by ARA Asset Management Limited and the Group of companies ("ARA Group") and its Associates as at 30 June 2020
---
---
You may have an interest in also reading…
Corporate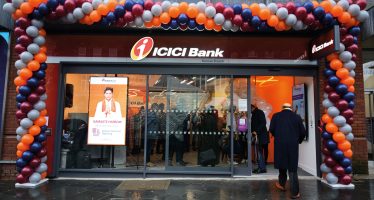 ICICI Bank is one of the leading Indian multinational banking and financial services institutions, with a presence in 15 countries,
FRONT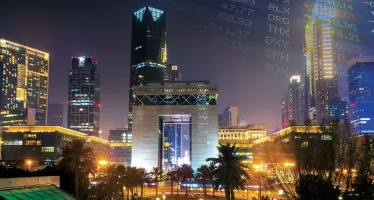 The Access Bank UK is a Nigerian success story that has passed the $100m milestone for three years in a
Corporate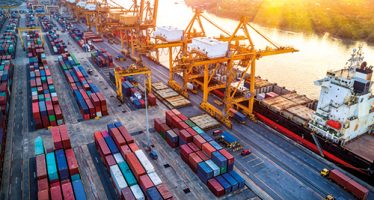 Euro Exim Bank is an international financial institution serving import and export businesses around the globe, facilitating trade finance instructions.