CFI.co Meets the CEO of Cooperative Central Bank: Nicholas Hadjiyiannis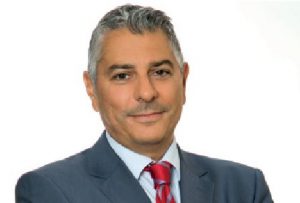 Nicholas Hadjiyiannis holds a degree in Quantity Surveying from the University of Reading in the UK and Master's degree (1995) in Shipping Trade and Finance from City University Business school in London. He is a fellow member of the Royal Institute of Chartered Surveyors (FRICS). Mr Hadjiyiannis worked from 1995 to 2013 at Bank of Cyprus in Greece and Cyprus; at Merrill Lynch in Greece and the UK; and at BNP Paribas in Cyprus and Switzerland.
Following the troika support programme of Cyprus in 2013, and the recapitalization of the banking system, he was appointed and served for two years as chairman of the board of directors of the Cooperative Central Bank (CCB) Cyprus, the second largest systemic bank in the country. In December 2015, Mr Hadjiyiannis was appointed CEO of the bank, managing it in a complete transformation and restructuring process and working its way towards a local stock exchange listing.
Mr Hadjiyiannis said that the operation of rescue, reorganization, and growth of the cooperative credit sector during the very difficult conditions that the country faced in 2013, seemed almost mission impossible. Three years later, the bank streamlined and consolidated both operationally and structurally, faces the future with more optimism and self-confidence. It has achieved a lot and laid the foundations for the creation of a modern and competitive bank based on a culture that has deep roots in the heart of locals.
"Looking back and seeing all that we have achieved up to this day, we have the self-confidence and belief that our ongoing efforts will continue yielding positive results," Mr Hadjiyiannis underlined.
"Our primary strategic goal," continued the CCB CEO, "is to privatise the bank by listing it on the local stock exchange. This will be a major milestone, setting new framework and enhancing the prospects of the bank. This in just three years after receiving state- support and embarking upon the most ambitious and unprecedented restructuring and transformation project that ever took place in the country. The significance is ever bigger as we are a Eurozone systemic bank, supervised by the ECB, and our balance sheet corresponds to more than 80% of the country's GDP".
Mr Hadjiyiannis strongly shares the wide-held belief that the Cooperative Central Bank is different from the other commercial banks on the island. "We are different because we rely on our heritage and build on the good things and positive elements that the coop has done and contributed to this country. We work alongside our customers aiming to establish a balanced long-term relationship. As an example our loan restructurings are based on the idea that we have to work with people who are, after all, our members themselves and their families through generations. We are an alternative choice to today's 'mechanized' modern banks."
As for the future of the Cooperative Central Bank, Mr Hadjiyiannis is confident that, after everything achieved so far, it can continue on what he calls "this great transformation path", saying, "we are fighters and we are determined to see the bank achieve its full potential."
---
Tags assigned to this article:
cyprus
---
You may have an interest in also reading…
For banks, shuffling deposits around is so last century. While taking deposits and extending credit – both in a plethora
Steve Thomas-Williams is not just another copy-paste banker who has followed a well-trodden path to running financial institutions in the
CFI.co: Simba is present in several sectors that are key to Nigeria's development. Can you tell us about the group's