Thirdway Africa: 'Thinking Anew' about Alternatives and Innovations for Investment in Africa
In 2014, ThirdWay Africa set out to fundamentally change the investment landscape in Africa.
The investment and advisory firm driving sustainable development was founded by Alejandro Tawil (Chairman) and Gonçalo Neves-Correia (CEO). They were seeking a new formula to better address the challenges facing investment in the continent.
Tawil and Neves-Correia have seen two distinct pools of money being directed to Africa: development aid and private capital. Both sought varying degrees of return, either commercial or impact-related, yet had historically worked independently of each other.
This ambition gave birth to ThirdWay's ethos of "think anew; act anew"; it would come to underpin all the firm's activities. The organisation would position itself as the moderator to the ecosystem, and ensure that all groups were united with stakeholders such as governments and local entrepreneurs.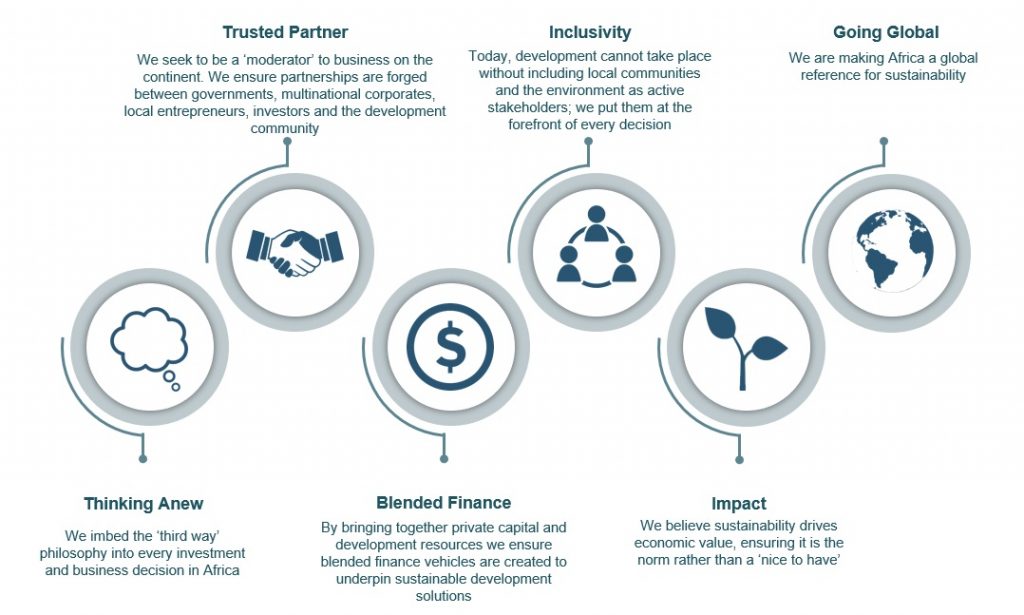 This philosophy would be realised by promoting blended finance solutions to drive sustainable development. With the African continent plagued by a substantial funding gap — an estimated $130bn-$170bn is required in the infrastructure sector alone — there is a focus on structures such as blended finance vehicles to drive capital flows. This requirement is all the more necessary to combat the effects of the COVID-19 pandemic.
As a firm, this desire to create and implement a new formula for investment is stitched into every thread of the ThirdWay fabric. Other businesses have begun following this pioneering approach, and it is increasingly common for organisations to imbed sustainability into their day-to-day activities. As ThirdWay Africa knows, it is these business models which are subsequently able to attract more capital.
The convergence of sustainability and blended finance will ultimately enable robust, economic development of the continent. Africa is becoming a global standard of sustainable development — and more attractive from an investment standpoint — and will soon provide an exportable framework.
As a proponent to this ThirdWay Africa thinking, the firm has built out three distinct businesses: impact consultancy, corporate finance and asset management. This model has allowed the firm to establish a presence, and provides an opportunity to learn and perfect its focus on blended finance and collaborations between private sector players and the philanthropic world.
The impact consultancy business works with development aid organisations, governments and NGOs on implementing their programmes to maximise private sector involvement, and by designing sustainable business models. Over recent years, this offering has expanded to multinational corporations wanting to create impact-aligned initiatives within their operations. Recent work has included supporting a leading international, FMCG bottling company, on its distribution and points-of-sale in West and North Africa.
This is complemented by the firm's advisory business, its corporate finance arm. ThirdWay Africa work closely with businesses, entrepreneurs and investors aligned with the UN's Sustainable Development Goals (SDGs). The teams work closely with a number of entrepreneurs working on projects — from renewable energy solutions to a leading FSC-certified forestry business — to support growth, access adequate finance, and scale operations.
ThirdWay Africa's asset management business allows the firm to put the philosophy it gives to clients into action. Two assets, a stone quarry business and a permanent capital vehicle which invests in nucleus farms — the Rural Development Corporation (RDC) — allow it to bring sustainable investments to rural communities.
The quarry is now the key supplier to the largest oilfield servicing company in Mozambique, and not only leads the sector nationally but has an impact with the employment it creates. Following 2010's discovery of 65 trillion cubic feet of liquefied natural gas off of the northern Mozambican coastline means the country is poised to benefit from increased investment flows, and creates an immediate demand for high-quality building materials for necessary infrastructure developments.
The RDC set out to realise Africa's strong agricultural fundamentals and provide the catalytic investment required to grow the region's agribusinesses. With 60% of the continent's population accounting for small-holder farmers and Africa currently importing an estimated $50bn worth of food a year, a drastic rethink to agricultural agendas across the continent needs to happen. A serious level of investment in basic infrastructure needs to take place, including irrigation and storage facilities, to supercharge domestic production. With increased stress placed on food security across the continent from the COVID-19 pandemic, the time is now. The RDC works with local communities and the public sector to ensure that investment into its assets is executed not solely for commercial return, but to provide access to growth opportunities for its partner smallholder farms.
The three businesses complement each other seamlessly and provide a holistic approach to enabling sustainable investment in — and throughout — Africa.
Sustained growth is on the horizon for ThirdWay, as the partner of choice to entrepreneurs, philanthropic funds and impact focused investors. It intends to take Africa's sustainable development global into the future.
---
---
You may have an interest in also reading…
From one store to one world: Canadian group ensuring fairness and equitable conditions for all employees. Alimentation Couche-Tard (ACT) is
There is nothing complex about factoring. It is simply a unique blend of services designed to ease the traditional problems
Delta, founded in 1971 and headquartered in Taiwan, is a global leader in power and thermal management solutions and a