SegurCaixa Adeslas: Staying One Step Ahead in World of Health Insurance
SegurCaixa Adeslas is Spain's leading health insurance company with a 30.1% market share (29.6% in 2018) and a premium income of €2,688 million in 2019.
The company's leadership is based on the range and quality of its services. Policyholders have access to 1,240 of proprietory and chartered medical centres – as well as 216 private hospitals and a network of 194 company owned dental clinics.
Its list of medical professionals is the longest in Spain – more than 43,000 specialists. These partnerships improve healthcare results, enhance the link between doctors and patients, and build on client relationships.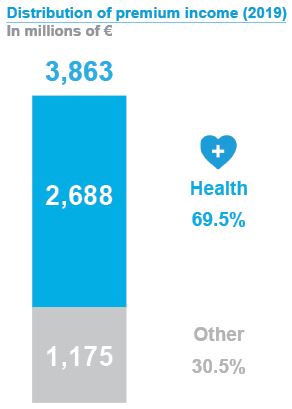 SegurCaixa Adeslas has a premium income of €3,863 million and is part of the Mutua Madrileña Group, with CaixaBank as one of its shareholders. In addition to its leadership in health, it is also ranked #1 for accident insurance. It ranks #2 for property insurance and it was the fastest-riser of the 10 main companies last year for motor insurance, with 9.8% growth. It is also a major player in the death and liability insurance fields.
"Innovation is at the heart of the process: seeking and providing services that are agile and in accordance with market and customer needs."
SegurCaixa Adeslas has improved its market share in recent years as it is geared to profitable growth with a policyholder-centred approach. Key to this strategy are the company's technology transformation and operational model, aimed at delivering best-in-class customer experience and trust.
Innovation is at the heart of the process: seeking and providing services that are agile and in accordance with market and customer needs. The company explores the potential of new technologies for customising services and creating value. Process digitalisation shortens management times and rationalises the use of resources.
One of the main initiatives is Adeslas Salud y Bienestar, the health and wellbeing platform. This customer partnering system brings together in a single tool a series of digital services for proactive collaboration with policyholders.
The innovation commitment also applies to catchment and loyalty strategies in the branch network of CaixaBank's bancassurance network, as well as traditional insurance channels. For example, last year SegurCaixa Adeslas launched a new range of products, called MyBox, which maintains the premium for 3 years and is based on a unique value offer in the market.
Services are constantly reviewed to ensure they keep pace with customers' needs – and are even one step ahead – in an evolving market. The company prioritises the alignment of its insurance solutions and processes with proactive and well-informed consumers.
---
You may have an interest in also reading…
TRUMPF, family owned and founded nearly a century ago, is synonymous with innovation and a key contributor to the Industry
Euro Exim Bank is an international financial institution serving import and export businesses around the globe, facilitating trade finance instructions.
It's certain that 2020 will go down in history as the year of Covid. The pandemic has affected almost all