Kommunalkredit CEO Bernd Fislage: 'Don't Just Talk About Sustainability — Live It!'
If recent challenging months have shown us anything, it's that infrastructure is integral to the efficient functioning of society.
Access to stable energy and water supplies, communication and health systems is essential to meet society's needs and create future opportunities. And those needs intensify — for local, regional, national and global economies — during trying times.
Investment in infrastructure is, by definition, forward-looking — and it's the subject of intense focus by Austria's Kommunalkredit, says chief executive Bernd Fislage.
"In times when a global health crisis dominates our everyday life, issues like the modernisation and realisation of agendas such as digitalisation, healthcare and infrastructure are vital," he says. "Industrialised countries need to maintain and improve their supply, transport and social infrastructures to respond to demographic change, provide adequate living conditions for an ageing population, and prevent any new crises."
Equally important, he says, is the need to develop and invest in innovative and sustainable projects that will have tangible community benefits
Promoting Investment
There is a renewed value placed on areas such as renewable energy, with a focus on the Green Deal and national climate and Sustainable Development Goals.
The financing of infrastructure projects has changed in recent years. Financial leeway is limited in the public sector by national debt and budget ceilings. "Co-operation between the public and private sectors must be intensified," says Fislage, "and significantly more private capital mobilised. In the current low-interest environment, classic investments without high volatility deliver hardly any returns."
Infrastructure investments are largely crisis-proof as an asset class, he points out, with stable returns and low volatility and default rates. "Ecological and ethical criteria are becoming increasingly important in the investment strategies of institutional investors, as well as private investors."
Energy Transition
No issue will shape the coming decades as much as energy transition. "The switch to a sustainable energy supply is a global goal, and a commitment to our shared future," Fislage believes. "Europe will have to move even closer together to align the Green Deal with future requirements, whether in decarbonisation or the production of clean hydrogen."
Climate protection also means making sustainable investments in local jobs and regional economic cycles. "We take our socio-political role seriously, and we have played a pioneering role in the development and implementation of sustainable infrastructure and energy solutions.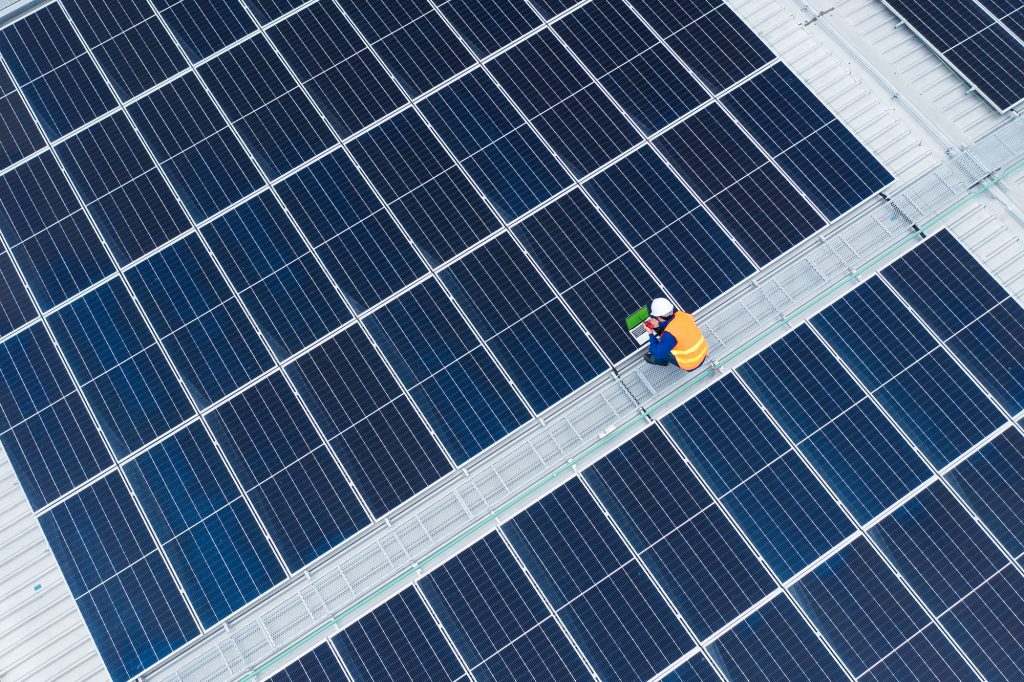 "In this context, I'm pleased to mention two relatively young projects in our home market. Together with OMV, we are investing in the construction of Austria's largest electrolysis plant to produce 1,500 tonnes of green hydrogen per year, and cut around 15,000 tonnes of CO2 emissions.
"This way, we are helping to advance innovative technologies in Austria and make an environmental contribution.
Kommunalkredit has entered into a joint venture with with eww, an energy provider from Wels in Upper Austria for the development for the development, construction and operation of rooftop photovoltaic systems in Austria. The new company offers its customers a "contracting model". No initial investment is necessary, as the company will finance and build the rooftop systems and lease them to the customers on a long-term basis.
Customers will receive all the electricity generated by the system — to use in the building or feed back into the public power grid. "With projects like these, we're trying to make sustainable energy affordable and accessible to industry, commerce and individuals. We all need to pull together to achieve these ambitious climate goals."
Setting a Course for the Future
One of the greatest global challenges is climate change. It requires considerable investment, especially in the infrastructure and energy sectors. The UN climate agreement in Paris in 2015 set the course for the future, and the recent COP26 summit underlined the importance of swift and decisive action. "The financial sector in particular is called upon to get involved," says Fislage. "The goal is to direct capital flows towards sustainable investments.
"If we want to ensure that future generations can grow and prosper in a safe and healthy environment, we need to set the right course now. Let's not just talk about ESG, the SDGs, and sustainability — let's live them."
---
Tags assigned to this article:
austria
---
You may have an interest in also reading…
Born in 1985, Jennifer Martinel is a Swiss entrepreneur based in the canton of Zug. Her degree in business administration
Scottish Friendly began 2020 with a clear strategy in place. No one in the UK knew how quickly the pandemic
Santiago Free Zone Corporation (CZFS in Spanish) is a leading national socio-economic development consortium which prides itself on delivering excellence