Le Groupe La Poste: Committed to its Customers — and Sustainability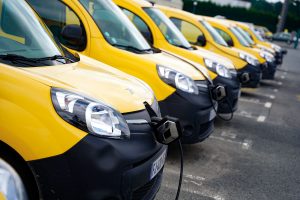 Since the 15th century, French postal service Le Groupe La Poste has been connecting the country, keeping pace with societal changes and continuously serving the public.
Faced with the current decline in mail volume, and the boom in digital and e-commerce, the group is reinventing itself with a strategic plan — "La Poste 2030, Committed For You" — setting-out the ambition, objectives, and priorities to be achieved by 2030. The plan is based on a participatory approach, with input from 135,000 La Poste employees and 6,500 customers and elected representatives. "Teamwork is a real strength: we did not call on any outside consultation to produce the 2030 strategic plan of the group," said Diane Abrahams, Le Groupe La Poste's director of strategy.
Groupe La Poste has set itself the target of developing sustainable sources of growth in buoyant markets. Through profitable growth, it can continue to invest and achieve a sustainable business model.
"We are pursuing our ambition of becoming the leading European platform for links and exchanges, human and digital, green and civic-minded, at the service of our customers in their projects and of society as a whole in its transformations," explains chairman and CEO Philippe Wahl. To achieve this and ensure profitable growth, the group's plan is based on seven strategic priorities.
The first is to serve its customers with the highest level of quality — and acquire new ones, including young professionals. The range of services is meant to be digitally accessible 24/7, and customer-centricity is assured.
La Poste intends to innovate and develop personalised services that respond to emerging customer needs and habits. At the end of this year, the La Poste mobile application will feature a real-time location tracker. It will enable customers to access all postal services in their vicinity. The same application can be used to consult the parcel-tracking service of other operators.
La Poste Ventures, a corporate venture-capital fund, has been launched to identify start-ups that generate added value for customers.
Another priority is to be ever more present by sharing the combined power of the group's physical, digital, and human networks with customers.
With close relationships with local authorities and citizens, La Poste is consolidating its regional presence. It has set itself the goal of increasing the number of access points with at least one postal service from 32,000 points to 40,000 by 2025. La Poste will be providing "l'appel facteur" (the postman's call) service through which people can contact — online or by voicemail — their delivery person. It will be possible to arrange a home appointment within 24 hours.
To accelerate matters, the group is developing digital trust services, such as digital identity certification, and contributing to digital inclusion as a strategic priority. Digital trust will be maintained with a data-ethics policy and by taking part in the founding of a French digital sovereignty hub. To accelerate the transformation, the group deploys a digital culture among its employees.
For its customers, La Poste will build on its laposte.fr website, which is used by 25 million unique users each month. This will become a benchmark open platform for all types of dispatches for private or business customer needs.
The group aims to maintain its position as a leader in ecological transformation, and to ensure its services are accessible to all. As a pioneer in the ecological transition — it has been carbon-neutral since 2012 — the company is protecting the environment and aiming for zero emissions.
La Poste and its subsidiaries aim to meet customers' expectations by reducing the group's carbon footprint, and sharing and transmitting the real impact of the postal products and services.
It has also set itself the target of being the first company to be SBTi-certified for resources. In terms of logistics, the group is the leader for ecologically friendly deliveries in France and Europe, helping to make city air more breathable. The transport and delivery of goods will increasingly use carbon-free solutions.
In tangible terms, the objective is to achieve 100 percent green deliveries in 225 cities across Europe, including 22 French centres, by 2025. La Poste aims for nothing less than truly responsible e-commerce.
In terms of finance, La Banque Postale aims to become Europe's No. 1 institution for positive-impact finance. It is committed to achieving zero net-carbon emissions by 2040 for all banking activities — 10 years ahead of the Paris Agreement recommendations. It is already the first general fund manager to provide 100 percent socially responsible investment, with a certified label.
Drawing on six centuries of experience and unifying public service missions, Le Groupe La Poste has defined its purpose as a mission-driven company. At everyone's service — and of use to each individual — La Poste is a people-orientated company with a local presence that develops exchanges and builds essential links by contributing to the wealth of society as a whole.
By giving itself a purpose, La Poste formalised its commitment to conducting its business in a responsible manner. This anchors its desire to accompany society in its major transitions: digital, territorial, demographic and ecological. La Poste is a bridge between history and the world of tomorrow.
La Poste is not limited to geographic boundaries. It is the number one parcel service in Europe. Through its subsidiaries, it operates in 48 countries and has 40 percent of its €31.2bn revenues abroad. It is committed to doubling its international revenue value in 2030 via profitable sources of growth and seized diversification opportunities.
By 2030, Le Groupe La Poste will be one of the world's top 10 e-commerce service operators — and the European leader in urban logistics. The strategic plan focuses on the development of cross-border flows within and without Europe, with the goal of quadrupling its market share.
For La Banque Postale, 20 percent of its NBI will come from international business by 2025 — notably through specialised financing and the development of CNP Assurances, as well as development opportunities in Africa.
The success of this ambitious strategic plan requires commitment from 249,000 postal workers. They are central to the new corporate social pact. Innovative career paths are in place to promote professional development and training in key areas such as customer culture and digital technologies.
---
You may have an interest in also reading…
Kevin Smith, Crescat Capital founder and chief investment officer, has managed money through the tech bubble, dotcom bust, housing bubble,
Slovene Export and Development Bank is a national promotional, development and export bank, as well as an export credit agency.
Kuwait Telecommunications Company (stc) believes the pandemic highlighted the importance and necessity of a strong telecom infrastructure. "People were eager