SegurCaixa Adeslas: The Year that Put Healthcare in Focus
It's certain that 2020 will go down in history as the year of Covid. The pandemic has affected almost all the world's population, and put healthcare in prime position of every country's agenda.
Healthcare has been the main tool to battle and contain the spread of the virus, and that universal effort has hinged on the dynamic efforts and collaboration of the private sector.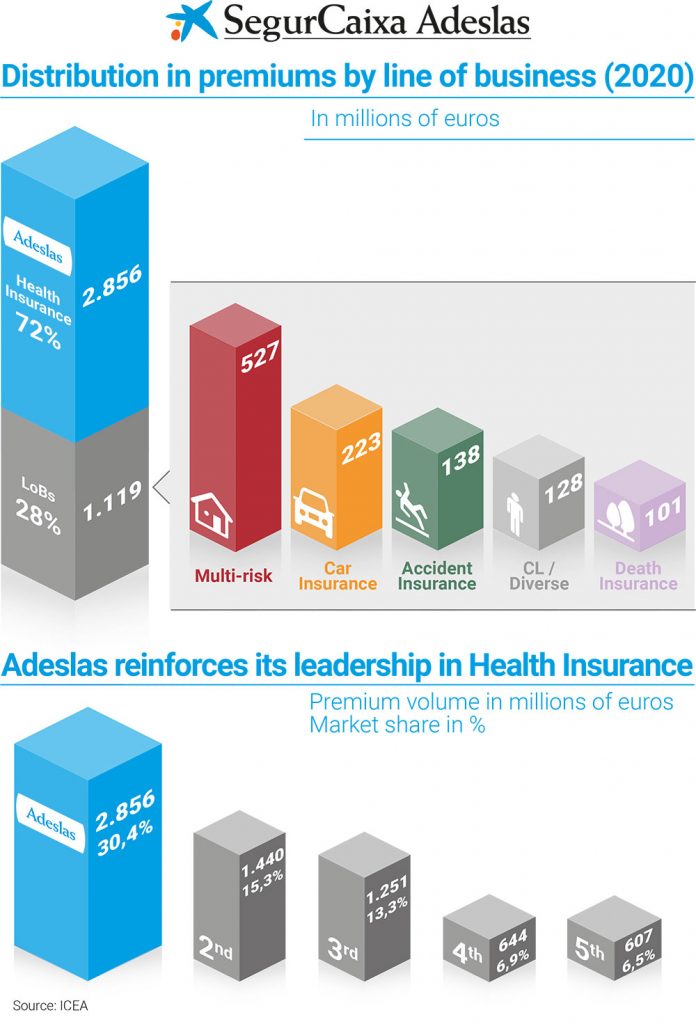 Insurers made a noteworthy contribution to the battle. In Spain, SegurCaixa Adeslas was determined to protect its customers – despite the fact that the health policy explicitly excluded coverage in the event of a pandemic-. The company rapidly adopted measures to protect its employees, customers and service providers. It implemented new processes and procedures to maintain the service in challenging conditions.
Digitalisation, one of SegurCaixa Adeslas's strategic pillars, has been strengthened to adapt to the unfolding scenario. For two years, the company has been offering the Adeslas Salud y Bienestar health and wellbeing digital platform, and that has been reinforced to bolster remote assistance. SegurCaixa Adeslas has remote guidance services and functions, including electronic prescriptions, which have minimised unnecessary trips during lockdown. That same objective galvanised the extension of healthcare provided by telephone or video-conferencing to the entire healthcare system.
In addition to the insured persons infected by covid who had to be hospitalised, a service was established by SegurCaixa Adeslas to remotely monitor insured those quarantined at home who displayed mild symptoms that could be linked to Covid-19. A team of professionals contacts them by telephone to provide support, therapeutic guidance and protection advice for the patients, and people living with them.
The speed of SegurCaixa Adeslas's response is due to a corporate culture that places customers at the centre of any strategy, aiming to aid them in their day-to-day lives, giving them with an active role in their own healthcare and providing them with relevant information at every turn.
These commitments are at the root of innovative insurance solutions such as MyBox Health and MyBox Health Seniors, whose approach opens novel channels to ensure solid, lasting relationships. The launch of another service, MyBox Business, has been crucial for the banking insurance channel. It has been an especially difficult time for business, and SegurCaixa Adeslas has become a leader in Shop insurance.
Each year, the firm strengthens its leadership position in the healthcare insurance sector and solidifies its position as a benchmark in the whole non-life Insurance sector. Last year, it earned €3,975m in premiums, up 2.9 percent on the previous year and up 1.8 percentage points above the market average.
It has a 30.4 percent share of the healthcare market – more than its two most immediate rivals put together.
---
Tags assigned to this article:
spain
---
You may have an interest in also reading…
A strong focus on green and sustainability and to provide environmentally-friendly and cost-effective alternative to conventional power plants has always
Sustainability issues are global business issues. For example, data security—a social issue—is important to companies in the software industry. Water
Switzerland-based and Africa-led, the Brahms Group was born as a consultancy in 2009 — and has grown into an established