EQDOM, subsidiary of SOCIETE GENERALE GROUP: Inclusivity, Fintech Power and Agility Provides Competitive Edge to Moroccan Consumer Credit Provider
Consumer credit, carefully designed and fairly implemented, has the power to transform lives, promote financial inclusion, boost social mobility, and increase the resilience of households. In Morocco, home to one of Africa's most buoyant and vibrant economies, the rise of a of a strong middle class is widely considered key to the country's future.
It is at this junction, where business acumen meets social expediency, that consumer finance powerhouse Eqdom proves its value. A pioneer and leader of the sector, Eqdom's corporate trajectory spans 45 years. The company has been a disruptor long before the term became fashionable. As such, Eqdom has received CFI.co's 2020 award for Best Inclusive Consumer Finance North Africa, which recognised its 45-year history as a pioneer of inclusivity, and its financial partnership with Moroccans from all walks of life, and acknowledged the company's bold moves to fill the gaps created by the credit requirements of traditional banks. In a sector with good liquidity and high growth, empowering clients remains a cornerstone of the company ethos.
With innovation as a core value of the company, Eqdom has established a reputation, both solid and well-earned, for detecting and leveraging new industry trends and dynamically adapting its suite of products to match shifts in consumer demand. By erecting its business around the needs – and aspirations – of its customers, Eqdom inspires levels of client loyalty and trust that have become industry benchmarks.
"Now available everywhere in the country 24/7, Eqdom's new digital platform gives the company a truly nationwide footprint, reaching out to new customers whilst offering added convenience to existing ones."
The recently concluded rebranding exercise is but the outward sign of a much deeper corporate transformation that addressed all aspects – human, technological, and organisational – of the business. Whilst keeping its celebrated customer centricity, including the human touch to all front office operations, Eqdom has completed its offer by a new customer digital channel, designed with the best standards in terms of customer experience, that marks a turn in the way of addressing customer needs. Customer relations have been streamlined with the implementation of a fully digitised management platform that significantly speeds up decision-making processes, thus reducing response times – adding to the overall efficiency of internal as well as customer-facing operations.
This data-driven approach to consumer finance not only benefits all stakeholders, but also reaffirms Eqdom's corporate mission statement which emphasises the company's dedication to the well-being of its customers. Not just a set of hollow phrases or a generic set of good intentions, the mission is enshrined in the company's DNA and explains its corporate longevity and health: "To accompany and support customers in achieving their goals, moving their projects forward, and manage unforeseen events."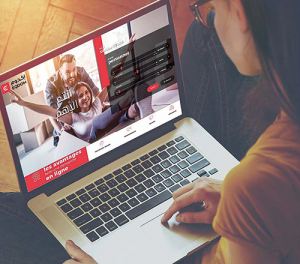 Thanks to a corporate structure that features built-in flexibility, Eqdom was able to adapt with remarkable nimbleness to the market upheavals caused by the corona pandemic. The company kept its network of branches open throughout the lockdown in order to stand by its customers throughout the emergency – and provide relief. The company's agility immediately proved its worth by allowing back office staff to telecommute, thus reducing health risks whilst ensuring the continuity of operations. Front office processes were swiftly strengthened in order to provide quick, accurate, and prompt answers to queries from concerned customers. Moreover, Eqdom arranged hassle-free payment holidays to distressed clients.
In a sense, the pandemic has served as a massive stress test for the company – one that it passed with flying colours. In fact, the distinguished leader of Morocco's non-banking financial services sector offers solid and incontestable proof that continuous corporate transformation is not only possible, necessary, and feasible but adds to institutional resilience as well. The company's multichannel digital platform was designed around the core concept of remote interaction. The philosophy employed effectively detaches corporate operations from any physical infrastructure and thereby allows customers to connect instantly to a fully featured online service centre by means of any internet-enabled computer or mobile device.
Now available everywhere in the country 24/7, Eqdom's new digital platform gives the company a truly nationwide footprint, reaching out to new customers whilst offering added convenience to existing ones. Users of the system may apply for credit with just a few clicks, taps, or swipes and can expect an immediate response. Nonetheless, Eqdom customers are not 'talking' to a machine and can at all times and stages request human assistance to clarify doubts, receive guidance, or supply additional information. By embracing technological progress without letting go of the human dimension, or losing sight of its corporate mission, Eqdom proves that transformation can promote financial inclusiveness when implemented thoughtfully – and with the customers' best interests at its core.
Last but not least, it is interesting to highlight that Eqdom extends inclusion to its board of executives, which consists of a young and dynamic team from diverse professional backgrounds in perfect gender parity. This enhances Eqdom's distinction as a looking-forward company that values competence, commitment and diversity. Also reflected in its overall staff headcount, 50-50 male-female ratio: the company sees this positive position as leverage for more effective and inclusive performance.
---
Tags assigned to this article:
morocco
---
You may have an interest in also reading…
Headquartered in New York, and with offices in London, Tokyo, Singapore, Dubai, San Francisco, Boston, and Washington DC, Mercury Capital
Carole M. Laible is on a mission: to harness the power of finance to build a better world. Since joining
What excited you about the businesses you worked for during your earlier career, and what excites you about the business