Innovate to Overcome: Financing Health Systems Against NCDs
Non-communicable diseases (NCDs) account for a growing global health burden — and 41 million mortalities each year.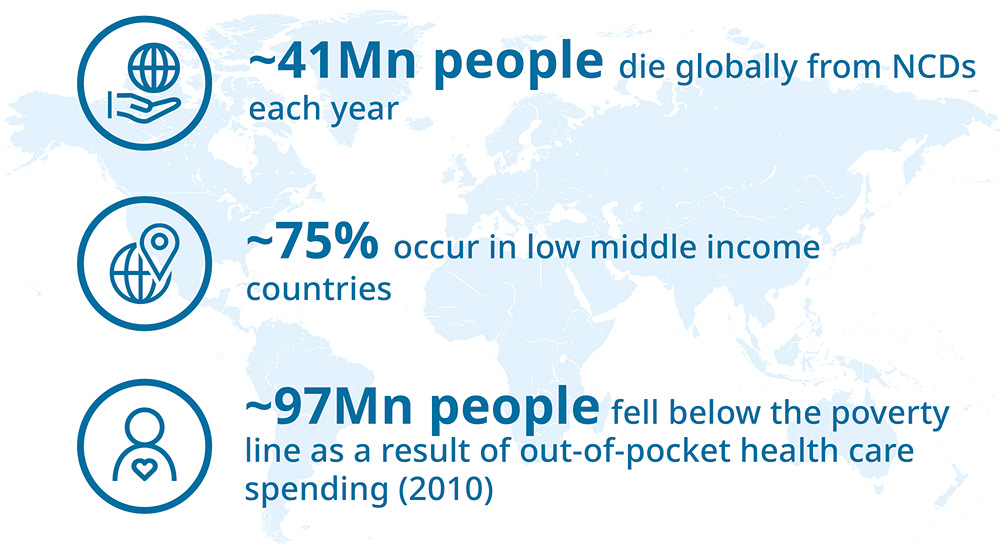 Low- to middle-income countries (LMICs) are disproportionately affected by NCDs. An estimated 97m people (or 1.4 percent of the world's population) fell below the poverty line because of out-of-pocket healthcare spending in 2010. A lack of investment in NCDs will contribute towards an estimated global financial loss of $47tn in GDP from 2011 to 2025.
The costs of NCDs to health systems, businesses and individuals are significant. Within the next 10 years, cancer treatment costs are expected to rise by one-third , creating pressure in public and private sectors.
There are two key examples global movements taking action to prevent or treat NCDs. The Sustainable Development Goals 3.4 (to reduce one-third of premature mortality from NCDs by 2030), and the increase in countries moving towards Universal Health Coverage (UHC).
Despite these advances, around 100m people are still pushed into extreme poverty by the financial burden of healthcare.
Management of long-term, chronic NCDs is resource intensive, and the risk of catastrophic healthcare expenditure increases in LMICs. Insufficient public coverage and reimbursement for innovative therapies — coupled with the disease burden — exposes patients to treatment costs. Those unable to afford care have no choice but to go without.
Disease funding and optimal cancer-treatment outcomes are linked, and there is a need for innovative models to address the funding gaps.
The global landscape study, Innovative Funding Models For Treatment Of Cancer And Other High-Cost Chronic Noncommunicable Diseases, discovered a range of exciting funding models. While complementing traditional funding, these can have a major impact on those who suffer because of poverty.
The challenge for stakeholders is to identify the models most appropriate for their health system, the needs of the population — and to take action.
An effective NCD response requires strengthening the functions of a health system: providing health care, resource generation, financing, and stewardship. Lack of adequate management for any of these components could devalue efforts. That would result in wasted public resources, unnecessary pain and premature deaths.
The funding challenges are universal and unavoidable, with an increasing financial impact for patients, health systems and economies. Responses vary from region to region, country to country. But there are also commonalities of collaboration that can create win-win partnerships.
Creating opportunities and sharing knowledge ensure that funding innovations are sustainable and scalable in other markets and regions. Successful efforts are often driven by collaborations between funding partners with a shared interest in improving patient care and minimising financial hardship. These collaborations are increasingly driven by the private sector (healthcare industries, private insurers and financers) seeking partnerships with traditional funders.
The NCD funding gap is significant and — without action — it will grow. Innovative health financing can address this challenge, and ensure that patients benefit from the latest scientific and technological advances. Effective control of cancer and other NCDs is possible, and all stakeholders — communities, governments, non-profit organisations, the private sector — have roles to play.
*Details and footnotes for this article are available upon request.
About the Author
Pablo Ignacio Morales is a Health Systems Strategy Leader at Roche's Global Access organization. In his role, Pablo collaborates with public and private stakeholders to support the development of innovative and sustainable models to finance access to healthcare. He is currently exploring the potential of financial technology to strengthen health system funding in low and middle-income countries. His educational background is in Industrial Engineering and holds a Masters in Health Economics from the University of Queensland, Australia. Before joining Roche, he built a career as a Strategic Management consultant working for top consulting firms as E&Y and PwC. Additionally, as a consultant for the Inter-American Development Bank he led the design of national health policy changes in Costa Rica. Pablo Morales is currently a full-time resident in Basel, Switzerland.
---
You may have an interest in also reading…
Europe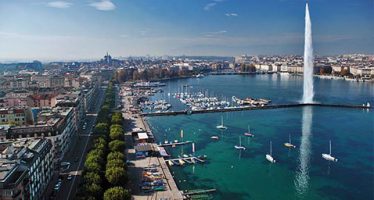 At first glance, the showdown between the US government and the Swiss banks seems to have produced a satisfactory outcome:
Finance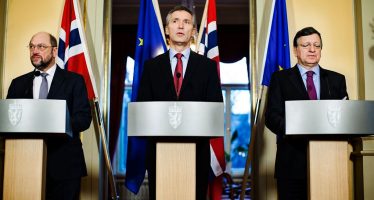 On Monday Dec 10th Norway's Prime Minister Jens Stoltenberg hosted a working lunch for EU leaders who will be in
Finance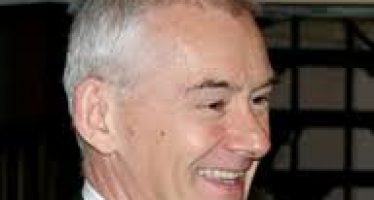 By Jon Moynihan The West's economic dilemma will not be solved until those countries have not just restructured their balance