Zero Freitas: All Yesterday's Parties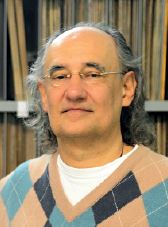 Gravity, scientists explain, is a function of mass. The more massive an object, the greater the pull it exerts. The same applies to collections: once a certain volume has been attained, their mass increases almost exponentially. Libraries take over entire homes and record collections balloon until they fill acres of warehouses.
Infected with the vinyl-bug, an unassuming Brazilian businessman is quietly buying up all the world's records – or at least a fair-sized chunk of them. Waving stacks of dollars, his agents buy up the inventories of iconic music stores, mostly bankrupted by MP3s and online streaming.
The three million or so LPs and 45s amassed by Paul Mawhinney, founder of Pittsburgh's now defunct Record-Rama music emporium, changed hands and departed for Brazil. It took no less than eight semitrailers to dispatch the haul.
The inventories of Colony Records, a New York landmark for 64 years, and Music Man Murray of Los Angeles also ended up in Brazil with José Roberto "Zero" Alves Freitas (1955). The Brazilian doesn't quite understand what drives him to buy any record that crosses his path. Even four decades of therapy has failed to unearth an explanation.
A successful entrepreneur, Zero Freitas is happy to indulge. He did lose track of the exact number of records he now owns. A conservative guesstimate runs to eight million. Apart from the around 100,000 LPs he keeps at home, a number originally calculated to fall safely within the wife acceptance factor (WAF – a hard upper limit), the records are kept at a 2,500m2 warehouse in São Paulo where a crew of seventeen workers, mostly interns, processes on average 500 LPs per day – inspecting, cleaning, cataloguing each one, never able to catch up.
Mr Freitas's frenetic record-buying is hard to keep up with, especially since he divorced his first wife in 1997, just as his bus company took off making him a rich man. As two-metre-high jumbo bins covered by tarps and filled with LPs accumulate at his warehouse, the businessman shows no signs of slowing down. He maintains a network of buying agents across the world who scour faraway markets. Mr Freitas' Man in Havana recently scored a deal comprising some 110,000 records while his US agent managed to buy the unique collection built by Bob Hope (1903-2003) from the comedian's daughter.
Prodded by a visiting American music archivist to find a use for his collection, Zero Freitas decided to house his records in a purpose-built facility that will be open to the public and boast an online presence. He is now working with the Archive of Contemporary Music in the US, supported by Columbia University and recording artists such as Keith Richards, donating duplicate copies of records and receiving technical archiving assistance in return. Zero Freitas has also started to digitise part of his record collection in order to preserve – and disseminate – rare music.
Angling for an explanation of Mr Freitas' compulsive record-buying, the best friends and associates can come up with is the loss to flooding of the almost 200 albums that graced and livened-up his childhood home. As an adult, Zero Freitas replaced each one of them, including more than a hundred copies of the first LP he bought in 1964 – Canta para a Juventude by Roberto Carlos, Brazil's most-loved crooner. It's an album that can still bring a tear to his eye. Which, of course, explains the need to keep a few extra copies.
---
Tags assigned to this article:
brazil
---
You may have an interest in also reading…
Andrey L. Kostin is the Dean of the St. Petersburg University GSOM. He fits this role around an already very
Human rights activist Betsy Kawamura, founder and director of Womer4NonViolence, works relentlessly to provide a platform for survivors of gender-based
She's none too serious, loves joking around and utterly fails to get the point of forced sex. Meet Magatte Wade,