CFI.co Meets the Management Team: Fideicomiso Hipotecario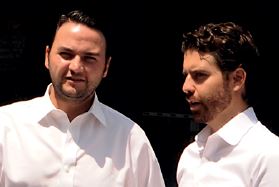 Fideicomiso Hipotecario – FHipo for short – is a mortgage REIT created for the sole purpose of acquiring, originating, co-participating, servicing, and managing mortgage loan portfolios in Mexico. FHipo was formed on late 2014 by Concentradora Hipotecaria (CH), advisor and manager of this special and most innovative REIT in the country.
FHipo, after three years of operation, continues to be the first vehicle that allows the general public to invest in residential mortgage portfolios in Mexico, whilst at the same time, contributing to the development of the housing sector and providing liquid resources for the two biggest mortgage originators in Mexico – Infonavit and Fovissste whose social mandate is driving change in their borrowers' life.
As of today, FHipo is the only mortgage REIT (MREIT) listed on the Mexican Stock Exchange (BMV). FHipo initiated its operations with the main objective of creating a unique opportunity for national and international investors to invest in mortgage portfolios, expanding their investment horizon and, at the same time, creating an attractive dividend play based on the performance of payroll deducted mortgages that represent an optimal risk reward opportunity.
FHipo has delivered on all goals and objectives established since its IPO: i) equity deployment, having invested 100% of the resources attained through its equity issuance in less than a year, ii) mortgage diversification, managing to participate in three mortgage origination programs through Infonavit and Fovissste, iii) profitability, creating the highest dividend play in the local industry, iv) credit quality, maintaining a low and stable non-current portfolio, and v) an efficient leverage strategy, having achieved leverage financing through different types of leverage structures, such as securitisations, short term bonds, warehousing line facilities, and the first covered bond issued within the local market, showing the management's capacity to innovate and create new asset classes in the Mexican market.
FHipo has been fully operational for approximately three years. During this time, FHipo has achieved significant growth, its portfolio worth more than MXN $25,000m (approx. $1,5bn), which translates into more than 80,000 loans granted throughout the entire country.
As a result of FHipo's success and achievements, institutional investors through the capital markets continue to reward FHipo, by demanding its bond issuances at competitive rates and healthy conditions, facilitating FHipo's funding capabilities.
This success is mostly owed to FHipo's experienced and sophisticated team. FHipo continues to thrive with the same young and entrepreneurial management. The same executives that started this project in 2014 – a team characterised by diversity, knowledge, and experience – continue to direct such efforts.
FHipo's management team, which has consolidated its business plan within a couple of years of its IPO, continues to demonstrate its ability and professionalism within the Mexican mortgage industry. A team lead by Daniel Braatz (33) and Ignacio Gutierrez (29), the youngest CEO and CFO in the Mexican Stock Exchange, combined with Jesus Gomez, FHipo's COO, considered one of the most experienced and sophisticated mortgage bankers, jointly have created a business that is both profitable and has a pronounced social element.
With the resources obtained through the capital markets, FHipo has created greater competitiveness within the industry and contributed to the improvement of terms and conditions for the entire mortgage industry. The firm allows home buyers, regularly unattended by commercial banks, to access the housing sector at significantly lower interest rates through origination programmes with Infonavit and Fovissste. The firm participates in housing projects that directly impact the quality of life of Mexican workers, by offering borrowers increased security and proximity to job opportunities, reducing daily commutes, thus increasing the quality of life of its borrowers and providing one of the most important assets for a family, its house.
Furthermore, it is important to comprehend that Mexican pension funds (AFORES) are FHipo's main investors, holding the largest portion of its outstanding shares. FHipo, as a public vehicle and 100% floated in the capital market, contributes to the generation of value for both Mexican savers and workers: i) Mexican workers, through the AFOREs participate in FHipo; ii) FHipo then provides residential mortgage loans to Mexican formal workers through Infonavit and Fovissste; iii) as a result, workers have greater opportunities and facilities to acquire a house, and finally; iv) FHipo distributes its profits, benefiting investors (AFORES), which represent the workers savings. i
---
Tags assigned to this article:
mexico
---
You may have an interest in also reading…
For banks, shuffling deposits around is so last century. While taking deposits and extending credit – both in a plethora
Stock brokerage in Bangladesh is not the most obvious of career choices ambitious students mull in Bangladesh. The few people
Dr. A. Klagsbald & Co. Law Offices is one of Israel's leading law firms, founded by Dr. A. Klagsbald, who