EBRD: Investing in Sustainable Infrastructure Helps Advance the UN's SDG Agenda
At the beginning of this year, the European Bank for Reconstruction and Development (EBRD) created the Sustainable Infrastructure Group (SIG).
The bank merged its energy and infrastructure businesses to capitalise on synergies between these sectors. It delivers investments that ensure a cleaner, healthier, and more inclusive economic development, while also addressing the rapidly growing concern about the climate emergency.
Establishing the cross-sectoral group — covering the old transport, municipal, and energy teams — fits the needs of today. The market is driving more and more towards the integration of solutions that these sectors offer, through increasing electrification of services, decarbonising sources of electricity and increasingly important digitalisation.
When bringing these together, while considering the challenges of climate change and sustainable development, it is also critical to address the challenges of timing and scale. The infrastructure ensures quality of life in the countries EBRD operates in, helping to mitigate climate change and increasing resilience to it. But the historic rate of investment in sustainable infrastructure needs to double over the next 15 years. These investments need to be of the highest standard, in made in an inclusive manner to involve the local population and apply rigorous safeguards.
The need for high quality, clean and future-ready infrastructure investment is evident. We are in the midst of a global infrastructure boom, and investment choices made now will determine the level of emissions, the quality of life, and economies for decades to come. Framing this work are a series of international agreements, including the Paris Agreement and Agenda 2030, supporting a strategic long-term vision for development, as set out in the United Nations' Sustainable Development Goals (SDGs).
There is also substantial market pull. The drop in the cost of renewable power generation, the increasing digitalisation of infrastructure services (smart cities), and the prospect for scaling-up the electrification of transport and other public services offer new opportunities. SIG believes that EBRD is uniquely placed to support the private sector in this.
The 17 SDGs are an international currency, a multilateral concept that is recognised by donors and countries of operations as well as other development partners. Pursuing the SDGs also dovetails with the delivery of the EBRD's mandate, as encapsulated in the six Transition Qualities through which impact is measured. These define a sustainable market economy as competitive, well governed, green, inclusive, resilient, and integrated.
EBRD investments already deliver against a number of SDGs, because it is pursuing projects that lead to positive results. To develop this further requires the integrated delivery of multiple SDGs in a single project or programme, as well as the ability to measure its impact through the SDGs.
An excellent example of such an initiative is EBRD Green Cities, the framework for investment in cities that want to lead the sustainability drive. This initiative is unique in the world of development finance, taking the policy-based approach of, for instance, the late EU Covenant of Mayors, and merging it with investments in concrete projects that will have an impact on urban areas and residents.
The Green Climate Fund has recognised this initiative, and supports EBRD Green Cities with €87m of concessional and grant co-finance. The range of projects under way already includes a fleet of electric buses in Sofia, Bulgaria. and a new district heating plant in Banja Luka, Bosnia and Herzegovina that runs on sustainably sourced biomass. So far, 32 cities have signed up, with the aim to reach 100 Green Cities projects by 2024.
Case studies include Green Cities in Moldova, Green City Planning in Tirana, Albania, Public-Private Delivery of Connectivity in Turkey, and Comprehensive Power Sector Climate Action in Tajikistan. One example is the investment in the modernisation of residential and public buildings in the city of Chisinau in Moldova, a €25m project supported by the E5P donor fund. Modernising buildings has positive impacts. It enhances has positive impacts on health, energy use, and longevity of the asset. It reduces heating costs, by reducing energy use by up to 50 per cent, and can make a significant difference to poorer families.
Refurbishment of schools provides students with a more amenable learning environment. The project was what EBRD calls a "trigger" project for Chisinau's participation in EBRD Green Cities. In parallel with its implementation, the city commenced a planning process to become an EBRD Green City. This requires Chisinau to develop a tailored Green City Action Plan to instil a more conscious framework to address short-, medium- and long-term sustainability issues.
In Chisinau, this initial project addresses six SDGs:
SDG 1: No poverty;
SDG 3: Good health and well-being;
SDG 4: Quality Education;
SDG 7: Affordable and clean energy;
SDG 11: Sustainable cities and communities;
SDG 13: Climate Action.
Tirana Action Plan
Tirana completed its Green City Action Plan (GCAP) in April 2018, setting out a clear vision for a sustainable future. The GCAP identifies a programme of over half a billion euros of investment in five priority areas: sustainable mobility, green spaces and biodiversity, sustainable energy, resource management, and climate change resilience and adaptation, along with growing the resources and capacity of Tirana to implement and manage these projects.
The GCAP identifies projects to address major challenges faced by Tirana: a move to sustainable urban mobility by shifting traffic away from the car, reducing congestion, air pollution, and travel times, or by creating new green spaces close to the city.
Tirana's GCAP is a locally driven, comprehensive planning document for the municipal government that will enable the city to continue to develop and thrive when these projects are implemented by the municipal government and its partners.
The first project to be financed under Green Cities is a loan of up to €30m to Ujesjelles Kanalizime Tirana, Tirana's Water & Wastewater Utility Company, in two tranches. The priority will be the extension of the capacity of the Bovilla Water Treatment Plant and the construction of a new water pipeline. The pipeline will provide gravity transfer of water from the plant to the north-western part of the city.
In Tirana, the implementation of the GCAP will address the following nine SDGs:
SDG 3: Good Health and Well-Being
SDG 6: Clean Water and Sanitation
SDG 7: Affordable and clean energy;
SDG 8: Decent work and economic growth;
SDG 9: Industry, innovation, and infrastructure;
SDG 10: Reduced Inequalities;
SDG 11: Sustainable cities and communities;
SDG 12: Responsible Consumption and Production;
SDG 13: Climate Action.
Linking Continents via Eurasia Tunnel
EBRD provided US$150m to finance the construction of the Eurasia tunnel, linking the European and Asian continents in Istanbul.
A Turkish-South Korean consortium manages the 33-year concession, and a partnership of 10 development and private banks provided the financing. The tunnel was also the first public-private partnership (PPP) project in Turkey piloting the concept of a direct agreement with the Ministry of Transport and where a debt assumption agreement was put in place with the Ministry of Treasury and Finance.
The 3.34km-long tunnel presented construction challenges, as the deepest double-deck undersea tunnel in the world. Its deepest point it is 106 meters below sea level, and it is capable of carrying over 40,000 cars per day.
Since opening in December 2016, it has cut the commute between the two sides of Istanbul from 90-minutes to 30. This provides savings in time, fuel and money. In a country facing economic volatility this is an important benefit for people. On the macro-economic level, the tunnel has a beneficial impact on congestion, with positive effects on cross-Bosporus integration and economic growth.
Eurasia Tunnel addresses the following five SDGs:
SDG 8: Decent work and economic growth;
SDG 9: Industry, innovation, and infrastructure;
SDG 11: Sustainable cities and communities;
SDG 13: Climate Action;
SDG 17: Partnerships
Climate Action in Tajikistan
In the power sector, the recently launched second phase of the US$196m refurbishment of the Quairokkum hydro power station on the Syr Darya river is an excellent example.
The work on the station, in northern Tajikistan, was supported by bilateral and multilateral donors, including the Climate Investment Funds and the Green Climate Fund. Quairokkum plays an important role in the provision of clean water and irrigation for agricultural land.
Constructed in the 1950s, it is in urgent need of refurbishment for safety reasons. The operator, Barqi Tojik, will replace obsolete power generation systems and adapt the dam to a changing climate. Installing new turbines will add 48 MW of generation capacity, and reconstructing spillways will help the dam cope with changing rainfall patterns. EBRD also works with the operator Barki Tojik, to integrate modern climate and weather science into the operational regime of the dam. When the new power generation equipment is operational, the clean power production will produce over 800 GWh of power per year.
The Qauirokkum dam refurbishment addresses the following four SDGs:
SDG 7: Affordable and Clean Energy;
SDG 8: Decent Work and Economic Activity;
SDG 9: Industry, Innovation, and Infrastructure;
SDG 13: Climate Action.
As the case studies show, addressing the SDGs is something that is integral to the operations of the EBRD. Its approach to Sustainable Infrastructure rests on its unique ability to mobilise cross-sectoral teams, the setting and enforcing of high-standards for ESG considerations, and the investment to deploy best available technologies.
A continuous drive to mobilise private investment and to maximise connectivity of public services supports this, together with our ability to raise donor support. This blending of finance allows EBRD clients to respect affordability constraints and maintain fiscal stability over the long-term, while delivering first-class infrastructure projects.
More needs to be done to fully link up the three sectors in the EBRD, and this will be achieved by proactively seeking out system-level linkages between renewable energy generation projects and increased electrification, in particular of individual and public transport and municipal services.
The bank will continue to offer its clients and countries policy dialogue to deliver policies that promote legal and regulatory change to enable this, such as regulations that create positive economic externalities and minimal rent-seeking behaviour. To be able to deliver this the bank will also continue to create blended finance packages for clients and use a broad base of donor resources in a targeted and economically efficient manner in line with its IFI principles.
Sustainable infrastructure is rightly receiving a lot of attention amongst global investors, and EBRD will continue responding to this increased demand. i
About the Author
Nandita Parshad is the Managing Director of the Sustainable Infrastructure Group at the European Bank for Reconstruction and Development (EBRD).
Parshad has 30 years' experience in financing and investing in the energy and infrastructure sector in diverse emerging economies such as India, Eastern Europe, former Soviet Union, Mongolia, Turkey, Middle East and North Africa. Since joining EBRD in 1992, Nandita has led several complex project financings involving debt, equity, syndications and intensive policy dialogue at the highest level in governments and with reputable domestic and international strategic investors.
Parshad led the Energy & Natural Resources Business Group prior to her current role. She is a member of the Energy Transition Commission and the World Economic Forum Global Future Council on Energy. Nandita Parshad has also held various supervisory board and Board of Directors memberships in investee companies, and served as a director on the International Board and Trustee of the United World Colleges.
Prior to working at the EBRD, Parshad worked as a consultant for the World Bank in the Finance Department in Washington D.C. in 1986-1987 and from 1988-1992 as a Project Officer in the Energy Sector in New Delhi, India.
She was born in Kolkata, India, and holds undergraduate (AB 1986) and graduate degrees (MPA 1988) from the Woodrow Wilson School of Public and International Affairs at Princeton University. She supports a number of charities in India and is an active volunteer with the Princeton Alumni Schools Committees in India and the UK.
About the EBRD
The European Bank for Reconstruction and Development (EBRD) was founded in 1991 to move into a post-Cold War era in central and eastern Europe. It is now doing more than ever before — across three continents — to progress towards "market-oriented economies and the promotion of private and entrepreneurial initiative".
The Sustainable Infrastructure Group at the European Bank for Reconstruction and Development (EBRD) consists of 200 staff covering the power, energy, transport, social infrastructure, and municipal infrastructure sectors in all the bank's countries of operation.
This group invests more than €3.5bn a year on EBRD's account in over 100 new transactions, representing a third of the bank's annual business activity. The group holds a portfolio of about €20bn.
---
---
You may have an interest in also reading…
Asia Pacific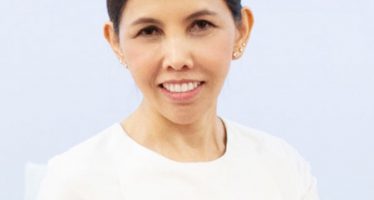 Under the leadership of Mr Vitai Ratanakorn, Secretary General, Thailand's Government Pension Fund (GPF) has taken a new approach to
Brave New World
The V-shaped economic recovery expected to unfold next year is merely an illusion sourced from wishful thinking. Yesterday, EU Commissioner
Asia Pacific
Rashesh Shah is Founder, Chairman & CEO of Edelweiss group – one of India's most diversified financial services conglomerates. An