Acharya Balkrishna: Billionaire Monk Makes Modesty and Empathy Watchwords for Progress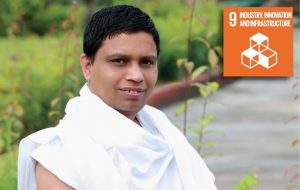 Acharya Balkrishna projects an aura of modesty, often clad in a traditional India dhoti, the simple garment of the people — which is fitting for someone who is a billionaire monk.
Balkrishna's journey to wisdom and wealth began with a chance encounter with Baba Ramdev, a charismatic and yoga disciple in the Gangotri caves in the Himalaya. Decades later, the business the two men cofounded, Patanjali Ayurved Limited, has catapulted Ramdev to international fame as a yoga guru, and has landed Balkrishna on the Forbes rich list.
With at estimated net worth of $5.2b, Balkrishna ranks as the 25th wealthiest person in India. Patanjali Ayurved has a reported annual revenue of $1.6bn — selling everything from clove and turmeric toothpaste to cow-urine floor cleaner — and Balkrishna owns 98.6 percent of it.
The principle of Ayurveda is "the belief that health and wellness depend on a delicate balance between the mind, body, and spirit". The company abides by that philosophy, and specialises in herbal and mineral preparations to provide natural solutions for every health and household need. Patanjali formulas may be crafted according to ancient traditions, but they offer prevention and treatment options for many modern ailments.
Patanjali aims to "nurture and develop the science that is present in our tradition, and spread it to the benefit of the masses", says Balkrishna. "We want to use this wealth to serve others and not ourselves."
Thousands of farmers form part of Patanjali's agricultural network to produce the herbs and plants — some of which are rare or endangered — for its products. Patanjali research centres fuel Ayurvedic development as a viable branch of modern medical science, with a mission to establish a model for the rest of the world. Patients suffering from chronic maladies have been successfully treated at Patanjali hospitals and clinics with a regime of yoga, Ayurveda, and science. Co-founder and managing director Balkrishna has documented these cases in books he's authored.
National pride and concern for people's wellbeing govern Patanjali's daily operations, but diversification has always been a clear business focus for Balkrishna. Under his leadership, Patanjali has given multinational heavyweights a run for their money, offering fast-moving consumer goods that celebrate India's revered traditions while embracing sustainability standards. Balkrishna is driven by the desire to tap India's rich consumer market — with the Patanjali perspective. "We consider our consumers as family," he says, "and our sensitivity is towards achieving their welfare."
Patanjali aims to "nurture and develop the science that is present in our tradition, and spread it to the benefit of the masses", says Balkrishna. "We want to use this wealth to serve others and not ourselves."
Ayurvedic products appeal to India's sense of tradition, as well as to the growing global interest in natural and holistic trends. Its products have begun to have an impact in international markets, and Patanjali exports to 10 strategic countries and boasts a global reach. Registration with the US FDA and alliances with international trade organisations have further greased the wheels for Patanjali's expansion.
The company's steady growth — with revenues rising from Rs500 crore ($72m) and Rs 10,000 crore ($1.44 bn) by 2016 — has slowed recently. Balkrishna attributes the unexpected lag to demonetisation policies and new tax requirements that cut into profits — just as product demand began to outpace production capabilities.
He has corrected the company's course, with strategic investments to strengthen its supply and distribution infrastructure. Freshly inked agreements with several e-commerce giants, including Amazon and Flipkart, should boost Patanjali's online product sales.
Balkrishna is a Sanskrit scholar who has been pushing the boundaries of alternative medicine, while combining a scientific approach with pragmatic planning — an enlightened entrepreneur.
---
Tags assigned to this article:
india
---
You may have an interest in also reading…
Author of no less than twenty books, over 200 scholarly essays in peer-reviewed academic journals and more than 750 articles
The job of German chancellor is not one for the faint of heart. It all boils down to leading one
Born in 1939 to an Oslo family in which politics and medicine were part and parcel of daily life, Dr.