CFI.co Meets the CEO of Amaar Group: Munif Treish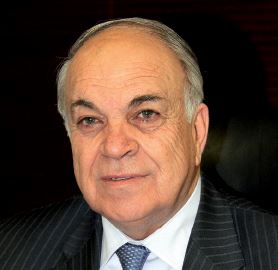 Engineer Munif Treish of Ramallah, Palestine, assumed his current position as chief executive officer of Amaar Group in October 2012. Since then his challenge within the organization has been to guide the expansion and coordination of the Amaar Group's diverse operations, thereby ensuring that the company maintains its key position as the leading real estate developer and investor in Palestine.
Prior to joining Amaar Group, Mr Treish was general manager at the Al Reehan Real Estate Investment Company – a wholly-owned Amaar Group subsidiary – until his appointment as the Amaar Group CEO. In this capacity as Al Reehan's general manager, Mr Treish was closely involved in the conceptual design, and its subsequent implementation, of the planned neighbourhood that recently welcomed its first inhabitants.
Al-Reehan, on the outskirts of Ramallah, aims to provide a comprehensive solution to the shortage of lower middle class housing units in Palestine by offering high-quality apartments, fully connected to all services, set in pleasantly green surroundings, and close to major urban centres.
Additionally, Mr Treish also played a key role at a number of affiliated companies involved in the continued development of strategic commercial and recreational venues and centres in various Palestinian cities.
Furthermore, Mr Treish has been a consultant to several international entities dedicated to urban planning and infrastructure, and municipal capacity building. For over twenty years, Mr Treish worked for the Al-Bireh municipality as city engineer.
Armed with a bachelor's degree in civil engineering from North Carolina State University, Mr Treish is a member of the Jordanian and Palestinian Engineering Union.
At Amaar, the experienced engineer is plotting the company's path to both excellence and sustained growth derived from the construction and management of world-class projects ranging from fully-integrated commercial centres to carefully planned residential neighbourhoods. Under Mr Treish's expert guidance, the Amaar Group aims to redefine the Palestine real estate sector.
In that vein, Mr Treish was instrumental in the recent launch of Moon City, an ambitious project in the Jordan Valley that entails both residential and commercial estates. Moon City is another development designed to offset the current shortage of developed land suitable for affordable housing in the Jordan Valley. Moon City is not envisioned just as a residential community, it will also include commercial and entertainment facilities that will attract domestic and international tourism.
With unparalleled commitment and drive, the Amaar Group continues to navigate the unique challenges presented by the Palestinian market, and to deliver on the company's promise of delivering unmatched quality to its customers. This dedication to a job-always-well-done has enabled the Amaar Group to position itself as the real estate developer of choice in the country.
Mr Treish emphasizes that Amaar's portfolio of pioneering ventures such as the Ersal Centre – the first master-planned commercial hub in Palestine and the group's flagship project – and the Al Reehan and Al Jinan residential neighbourhoods, now stand as the epitome of the group's enduring success in creating prime real-estate assets that provide top-quality lifestyle options for customers. In the process of developing the residential and commercial infrastructure of the future State of Palestine, the Amaar Group also creates thousands of employment opportunities and invigorates local ancillary industries.
Mr Treish is convinced that Amaar Group will continue to expand the reach of its property portfolio to include new locations and segments that span the real estate investment spectrum. The group will also continue to focus on its three target segments: Planned residential communities that provide quality affordable housing; commercial centres and hubs that serve Palestinian businesses; and, investments in hospitality projects that boost the nascent Palestine tourism industry and leverage Palestine's rich and diverse history and the country's unique setting.
---
---
You may have an interest in also reading…
TRUMPF, family owned and founded nearly a century ago, is synonymous with innovation and a key contributor to the Industry
Being part of Raiffeisen Centrobank (RCB) more than twenty years, Wilhelm Celeda knows best what his company stands for: "RCB
Linda started working for Edgars as Group Financial Director and, after executing various roles in the business, became CEO on