SATORP Knows the Value of People, Pride, Professionalism, and Partnership: Four Ps That Are Keeping This Giant Refinery At The Top of Its Game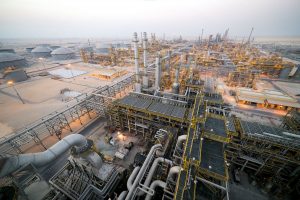 One of the world's largest refineries, the Saudi Aramco Total Refining and Petrochemical Company (SATORP) joint venture, recently increased its capacity to 460,000 barrels per day (bpd) from the planned 400,000.
The refinery always aims to maximise shareholder value — and consider the environment: its refined products meet the most stringent global specifications. SATORP is capable of refining Arabian Heavy Crude oil to produce diesel, jet fuel, gasoline, LPG, and petrochemical products such as paraxylene, aromatic benzene, and propylene.
The company benefits from being close to the Arabian Heavy Crude supply system and its prime location within the excellent facilities and infrastructure of the Jubail Industrial City. It also has access to the export facilities at the King Fahad International Port (KFIP).
"SATORP always looks for more efficient and innovative ways to streamline and increase shareholder value."
SATORP is blessed with assets like no other, as it is operated by a highly professional workforce committed to growing the company into a world-leading integrated refinery and petrochemical facility capable of benefitting from fuel and petrochemical cycles.
On its continuous journey towards the excellence, SATORP has won many important awards which reflect its best performance in Operational Excellence, Health, Safety and Environment. Satorp excellence awards included 2019 and 2021 Saudi Aramco President's Excellence Award, 2018 Total Refining and Petrochemical Orient Safety Award, 2021 Total Safety Award 2021, and crowned its achievements with King Abdul Aziz Quality Award, the highest prestige award in Saudi Arabia
Key Advantages
SATORP's process facilities feature proven technologies that include the deep conversion technology that enables production of a high percentage of light products and value-added petrochemicals. The design configuration incorporates an integration between fuels and petrochemicals.
The refinery treats 100 percent Arabian Heavy Crude with a profound conversion, leading to no fuel-oil production with its coker. It is the first refinery in Saudi Arabia — and one of the biggest in the Middle East — to produce petroleum coke and paraxylene.
Its configuration is based on two crude oil trains, and both trains include a Crude Distillation Unit and a Heat-Integrated Vacuum Distillation Unit. The twin-train arrangement provides operating security and flexibility.
Compared to other refineries, SATORP is a step ahead when it comes to economic diversification and maximisation of hydrocarbon value. It provides ultra-clean fuels and chemical products that create value and meet growing global demand for greener products.
SATORP is mainly an export refinery; its production meets the most stringent global specifications to reach the profitable markets of Europe, the US and Asia. SATORP started the ISF facility to supply the Saudi Aramco bulk plant with diesel and gasoline (P91 and P95) for the domestic market. This ensures the safe and efficient distribution of fuels to the Eastern Province, with positive impacts downstream.
The refining process is top-of-the-line in terms of conversion, with zero percent fuel production. It aims to maximise the value of each molecule processed: hydrocracking capacity, FCC conversion, and naphtha reforming. These units are all part of a scheme geared towards petrochemicals components and high-value fuels (10ppm diesel, low-density jet fuel).
At an early stage, a strategy was put in place at the very start to use proven and best-in-class technology. This strategy includes very advanced tools in terms of data processing and unit optimisation.
SATORP's main units are equipped with advanced process control to monitor units' performance and improve entire performance with better yields, minimal give-aways and reduced stabilisation periods.
A complete software package links operations — maintenance, mass balance, performance control — in the projects.
SATORP leverages digital technology to efficiently manage plant optimisation, inspection, maintenance and project change-management. All individual process units are represented with process models linked to represent the whole refinery, a key tool to monitor actual vs theoretical performance.
The refinery has been designed to meet the stringent environmental regulations of the Royal Commission for Jubail and Yanbu. A state-of-the-art bio-treating facility ensures effluents and sulphur recovery units comply with the highest standards. All stack emissions and effluent releases are monitored.
Project Financing
SATORP is considered as a key strategic asset for Saudi Aramco and TotalEnergies. SATORP enjoys a strong relationship with top-rated banks from local and international financial institutions.
SATORP always looks for more efficient and innovative ways to streamline and increase shareholder value.
It has won the King Abdul Aziz Quality Award, the most prestigious award in Saudi Arabia, as well as the 2019 and 2021 Saudi Aramco President's Excellence Awards, and top honours for Operational Excellence and most improved Health, Safety & Environment. This award and others
The execution of the factoring facility which was created within project finance parameters was recognised by CFI.co, reflecting the overall team spirit and present SATORP culture of excellence inspired by SATORP's 4Ps: People, Pride, Professionalism, and Partnership.
---
---
You may have an interest in also reading…
Région Île-de-France is home to more than 12 million inhabitants — a fifth of the country's population — and accounts
CFI.co meets the high-powered management team of Germany's RENAIO Assets, experts in sustainability Oliver Platsch and Andreas Grassl had "had
The past two years have been exceptional — and during an unprecedented set of global challenges, Tunisian bank BIAT has