First Ally Capital: Ebenezer Olufowose has Sharp Eye for Financial Solutions
In attendance were representatives from the oil and gas, finance, agriculture, insurance and other sectors of the Nigerian economy. FACL offers an array of products and services capable of raising the standards of the financial services industry. Over the course of 2019, the group acted as Co-Issuing House in respect of a major bond issue by a tier one Nigerian bank. It also acted as M&A advisor to the Mauritius-based acquirer of a leading Nigerian asset management business, and launched its first money market fund.
That fund was over-subscribed and listed on the FMDQ Securities Exchange. The Group extended its network to Abuja and acquired its new corporate headquarters in the highbrow Ajose Adeogun Street in Victoria Island, Lagos.
The First Ally brand has commanded attention for its achievements within a short time. The firm was licensed by the Nigerian Securities & Exchange Commission (SEC) as an advisory, issuing house and underwriting firm in November 2014.
FACL was founded with a vision to redefine the financial services landscape through the adoption of global standards and exceptional service delivery. After its first full year of operation, the Nigerian economy slipped into recession, bringing economic and business challenges. Key amongst these were a loss of confidence in Nigeria's economic direction, the withdrawal of foreign investors and a contraction of the capital market.
Established as a dynamic, forward-thinking financial services firm, the company was built to serve the high-end, middle-class and under-served socio-economic sectors. Different vehicles were established to serve these segments. While FACL, the parent brand, provides corporate/project financial advisory and capital raising services to corporates; FAAM, its asset management subsidiary, provides funds and wealth management services on pooled and segregated bases.
Particular attention is placed on attracting retail investors into the capital market, which had been the almost exclusive preserve of portfolio investors and wealthy individuals.
Its second subsidiary, Personal Trust Microfinance Bank (Personal Trust) was established 25 years ago as a savings and loans organisation. It was acquired by FACL and converted to a microfinance bank in 2014. The re-positioned bank has a mandate to provide services to small- and medium-scale businesses, as well as to under-served sectors of the economy. The growing demand for retail lending products and the fintech evolution have been instrumental in revolutionising banking services in Nigeria.
With the advances of technology, the path to new banking transactions has opened. Personal Trust plays in this space via a partnership with a leading fintech company. The bank has also developed its own digital lending product, MoniNow, aimed at low- to middle-income salary earners.
FACL's third subsidiary, First Ally Bureau De Change, has its headquarters at the Murtala Muhammed International Airport, providing retail foreign exchange services to the group's clients as well as travellers. It provides personal and business travel allowances, offshore school fees and mortgage payments, as well as retail foreign-exchange purchases and sales. First Ally harnesses digital technology to build its growing retail franchise.
In the words of the founding managing director and CEO, Ebenezer Olufowose, "corporations and individuals face a number of remarkable opportunities and challenges".
"They are tasked with finding lucrative areas for expansion, growth and value-creation," he said. "They seek insight and direction to decipher where opportunities are highest. They also seek financial support to maximise every opportunity. We fill the gap by supporting organisations and individuals in their move to the area of largest opportunities. For us, it is courage in the face of reality."
Olufowose, an alumnus of the Harvard Business School, is a respected professional in the investment banking world. He holds a first-class honours Bachelor Degree in Economics from the University of Lagos, and a Master's in International Economics from the University of Sussex, England, where he studied as a Sir Adam Thomson Scholar.
Prior to setting up First Ally Capital, he was a director with Citigroup, and executive director with Citibank Nigeria and Access Bank. He started FACL with a select group of professionals as shareholders and directors, with Olufemi Akinsanya as chairman. Akinsanya is one of the founders of the Nigerian Economic Summit Group, and a major player in modernising the Nigerian securities market.
Other directors include engineer Funsho Kupolokun, a former special assistant to the President of the Federal Republic of Nigeria on petroleum matters. He was previously group managing director of the Nigerian National Petroleum Corporation (NNPC). Biodun Arokodare was group executive director at NNPC, and Ayoola Oduntan is the group managing director of Amo Farm Sieberer Hatchery, whose initiatives have been the subject of a case study by the Harvard Business School.
Ebenezer Olufowose says the swift achievement of FACL was noteworthy. "We are particularly proud of the combined track record of our team," he said, noting the diverse industry background of shareholders and directors, management's wealth of experience and performance record. He also gave credit to the firm's robust business network and strong capital base.
"Our team's record and complementary skills position us to effectively support clients' transactions," he said, "and enable us to create continual growth opportunities for all stakeholders."
"First Ally is a group driven by excellence and integrity through commitment to ethical behavior, innovation and quality. Our core values of trust, integrity, professionalism, client-focus, teamwork and innovation underlie all that we think and do.
"We are committed to making First Ally the best place for smart, inquisitive and ambitious people to thrive. We are committed to improving productivity and empowering every person to do, and achieve, more".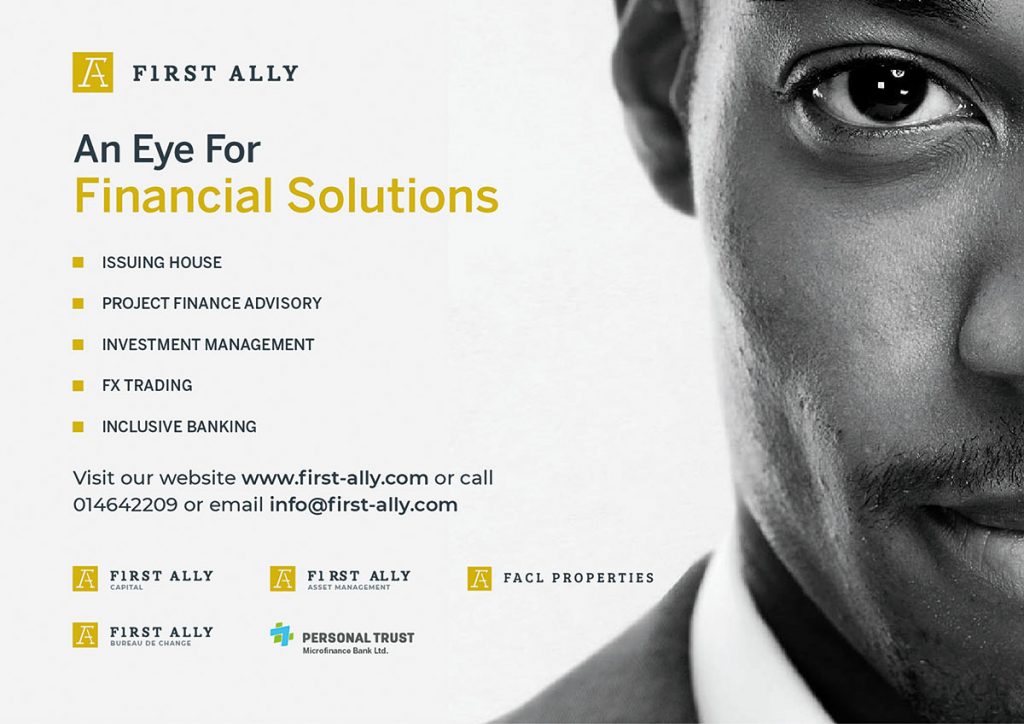 ---
Tags assigned to this article:
nigeria
---
You may have an interest in also reading…
California-based Retail Opportunity Investments Corp. (ROIC) acquires, owns and manages grocery-anchored, open-air shopping centres on the US West Coast. Since
Alternative asset fund manager Hemisfério Sul Investimentos began operations in São Paulo some 15 years ago, when real estate private
A silent revolution is helping thousands of Brazilian families to plan and take care of the things that matter most