ADAM Global: Global Reach, Personalised Service Proves a Winner
ADAM Global provides a platform for independent professional business services and networks, operating out of London and Dubai.
It all began back in 1999, with a group of close friends and business associates who shared a vision of cultivating long-term relationships, and enhancing their global business exposure, through networking.
The concept was first implemented in 2012, and ADAM Global has grown to become the world's largest platform for multi-disciplinary professional business services, with unparalleled global reach across industries, geographies and 12 vertical markets.
The firm has brought business and thought-leadership to its clients and members, and is run by Yogan Yoganandan, a seasoned marketing and management executive.
ADAM Global is a B2B operation, a multi-disciplinary platform of professional services, from law to accounting, finance to business consulting.
It brings together independent professional companies and enables them to have a global presence through trusted, accredited members. It focuses on bringing in projects that are relevant to its members' businesses, and facilitates and executes deals — but it can also stretch beyond its members' disciplines.
The firm has 500 members and eight networks, and it is in scale-up mode. ADAM Global hopes to soon have thousands of members, and move into the consumer sector. There are plans afoot to become a B2C operation, and ADAM's sights are set on becoming the best-known brand in the category. It wants to change the way people interact with professional services, and grow its multi-disciplined platform to include immigration, education, healthcare and wealth management. It also aims to facilitate its referral business as its core offering.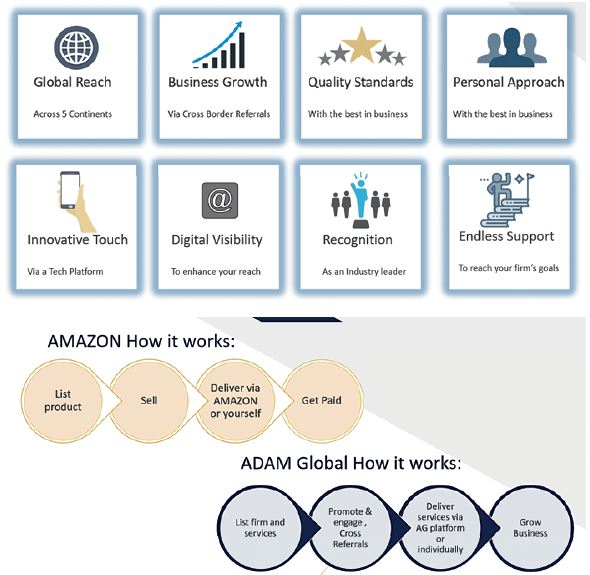 ADAM Global was founded by Dr Tahir Akhtar, who says he wants to elevate the firm's members to become the preferred supplier of services wherever a consumer interaction is relevant. "We want to grow our business to be relevant to all users of the online space," he says, "and become the 'Amazon of professional services'."
Akhtar is a serial entrepreneur based out of London, a government advisor and a regularly featured keynote speaker. He started his career as a consultant at King's College Hospital, London, with a specialist interest in cardiac and liver transplantation anesthesia and Intensive Care Medicine.
He was a director of Intensive Care Medicine at Queen Mary's Hospital, London, and completed the Chartered Director's Programme at The Institute of Directors, London, in 2003.
Recently, Tahir Akhtar was appointed as a Member of the Independent Monitoring Board in London by the British Home Secretary. His awards include Best Medical Entrepreneur of The Year from the House of Lords, Houses of Parliament, and the UK. ADAM Holdings, ADAM Global Network, ADAM Consulting are his "brainchildren".
He is also an advisor to governments in the Middle East and Africa.
---
Tags assigned to this article:
uae
---
You may have an interest in also reading…
Equador's FINCA Impact Finance (FIF) is a network of 20 microfinance institutions and banks that focuses on reaching low-income clients
Euro Exim Bank Ltd (EEB) is one of the fastest growing international financial institutions. Established in 2015, the bank is
Banco Hipotecario President Celina Padilla Meardi has a vision to create better opportunities for her fellow Salvadorans through banking services.