Kuwait International Bank (KIB): Full Service Islamic Bank
Kuwait International Bank KSCP is a public Kuwaiti shareholding company incorporated in the State of Kuwait on 13 May 1973 as a specialised bank and is regulated by the Central Bank of Kuwait. The Bank's shares are listed on the Kuwait Stock Exchange.
in June 2007, CBK licensed the bank to operate as an Islamic bank from 1 July 2007. From that date, all activities are conducted in accordance with Islamic Sharia, as approved by the bank's Fatwa and Sharia Supervisory Board.
The bank is engaged principally in providing Islamic banking services, the purchase and sale of properties, leasing, and other trading activities. Trading activities are conducted on the basis of purchasing various commodities and selling them on murabaha at negotiated profit margin which can be settled in cash or on an instalment credit basis. As an Islamic bank, Kuwait International Bank has a dedicated group of Islamic scholars who review the bank's internal and external operations, new products, investment transactions, and contracts in order to certify that these financial activities are compliant with Islamic Sharia rules and regulations.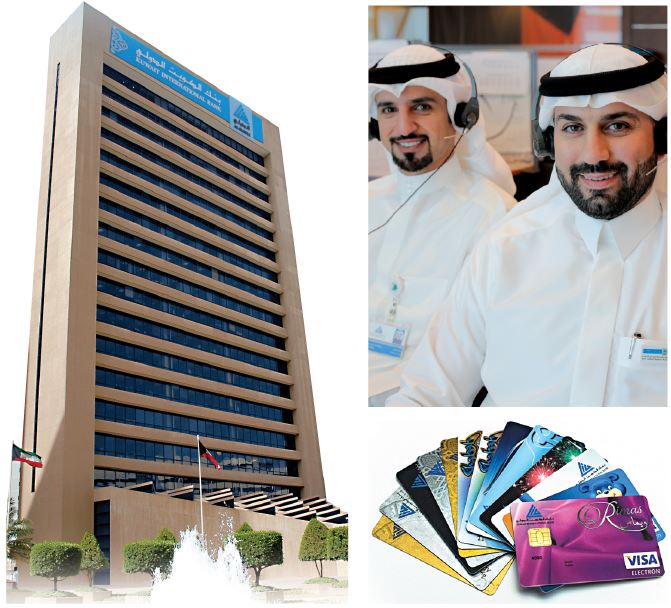 Best Sharia-Compliant Bank in the Middle East 2015
KIB's continued operational excellence, outstanding performance, and unrivalled reputation have allowed it to win the 2015 Best Sharia-Compliant Bank in the Middle East Award issued by Capital Finance International.
KIBs' management is aspiring to achieve ever-higher objectives related to its performance, products, and services and thus become the fastest-growing Islamic bank in Kuwait and the Middle East.
The bank's commitment to adhere to the highest ethical standards, and its unmatched customer-centric philosophy, have allowed KIB to become a leading Islamic financial institution and a financial advisor to private and corporate clients. Each year, CFI.co looks for individuals and organisations that play an important part in affecting the economies of the world and add value to stakeholders. The awards programme aims to identify and recognise businesses that exercise an outstanding influence.
KIB Services and Solutions
KIB maintains a solid network of 28 branches throughout Kuwait and keeps growing so as to reach all the major areas of Kuwait and meet its customers' diverse needs. The bank provides customers with a full suite of premium and innovative financial services and products that include deposits, financing transactions, direct investments, Murabaha (auto, real estate and commodities), Ijara Muntahia Bittamleek (lease-to-own), Istisna'a, Tawarruq, credit cards, Wakala and many other products. The bank also offers services such as safety deposit boxes, travel insurance, and SMS banking. In addition, KIB operates a dedicated call centre and an around-the-clock online and mobile banking service.
Corporate Services and Solutions
Corporate customers benefit from treasury services, issuance of letters of credit (LCs), letters of guarantee issuance (LGs). Additionally, KIB has an in-house real estate division that attends customers' real estate requirements such as financing the purchase of investment, commercial, and residential properties. The bank also offers various accounts that cater to the specific needs customers such as the Al Nafees, Rimas, Habboub, and Shabab Al Dawli accounts.
Real Estate Appraisal
Since KIB's inception, the Real Estate Appraisal Division (READ) has developed to such a degree that it now serves as a key reference for numerous governmental authorities, banking institutions, and investment and real estate companies. The division was approved by the Central Bank of Kuwait (CBK) to appraise real estate debts settlements. The division has recently also been approved by the CBK to undertake real estate appraisal for companies governed by Financial Stability Law.
Moreover, the division was officially appointed as one of the entities authorised to evaluate the projects of the Partnership Technical Bureau, an affiliate of the Ministry of Finance, in accordance with Law No 7 of 2008. READ has also been approved by the Ministry of Trade and Commerce as a certified appraiser, which is attributed to the accumulated experience of the division's technical team, as well as the credibility and expertise of dealing with customers.
Property Management
The Property Management Division offers comprehensive and integrated services for different types of properties and their management. The division offers special services at competitive rates for the marketing and managing of properties, collection of rent, online rent payment for tenants, preparing accounting reports, maintenance services, and legal services. The last service is available for recovering, via the courts, monies owed by defaulting tenants. KIB lawyers specialised in property law are experienced in pursuing the proper legal course of action or coordinating financial settlements with renters willing to reach an extrajudicial solution.
Innovative Services within Customers' Reach
KIB offers a full range of services that enable clients to access their accounts anytime, anywhere. Al Dawli Weyak is a dedicated 24/7 call centre that caters exclusively to KIB customers and may be reached from anywhere in the world.
Services offered through Al Dawli Weyak include obtaining account details, reporting lost or stolen credit cards or debit cards, requesting credit card account statements, acquiring information on products and services, inquiring and applying for Islamic financing facilities, requesting account statement by fax, obtaining details on Murabaha and investment accounts, besides many others.
KIB has deployed a highly encrypted, industry-standard technology and infrastructure to give customers a fully-secure electronic banking experience. With Al Dawli Online, customers can enjoy the convenience of managing their accounts from anywhere around the clock. Al Dawli Online offers a host of features and benefits such as viewing all account balances and statements including up-to-the-second details on all KIB accounts. Customers may also transfer funds between their own accounts, and to other bank accounts both domestic and international. They may also request credit card or Islamic financing, certified cheques, money orders, cheque books, increased credit card spending limits, and view currency exchange rates.
The Al-Dawli Mobile service is a smart, convenient, user-friendly, safe, and secure mobile banking app. The mobile application allows for a convenient round-the-clock banking experience for any smart phone in both English and Arabic. Some of the services that may be easily accessed include account balance and transaction details, requests for printed statements of account and cheque books, credit cards payment, prepaid card payments, finance account details, investment account details, map locations of KIB's branches and ATMs, bank news and events, and the reporting of lost, stolen, or damaged cards.
Payment Gateway
KIB offers its corporate clients an electronic payment service solution that allows companies to process payments for their goods and services over the Internet. This service is provided via a state-of-the-art platform which incorporates the latest IT security enhancements such as a secure payment channel that uses SLL encryption technology. This service accepts electronic payments of K-Net debit cards and verifies its validity. It is a safe and convenient way to shop and pay online for purchases. It allows for direct credit of the net amount of sales over the Internet to the account of the company and thus saves time and improves the efficiency of the sales process.
SMS Banking Services
Customers can access all the information about their account using SMS on their mobile phones. To acquire the service, customers may subscribe to it by visiting their nearest branch or calling the Al Dawli Weyak telephone service. The SMS banking service subscriber will receive information on account activities and alerts that can facilitate the detection of suspicious transactions.
Customers can also retrieve account details by sending a specific keyword. The response comes in the form of a text message which will be sent to the subscribed mobile phone number within seconds. Some of the services that customers can access are viewing the account balance, request a mini-account statement, transfer funds between own accounts, and inquire about the nearest KIB branch or ATM location.
---
Tags assigned to this article:
kuwait
---
You may have an interest in also reading…
Pennsylvania's Lackawanna County is heading back to the future thanks in part to a $366 million investment by a Polish
Kommunalkredit Austria is a specialised bank for infrastructure and energy financing with a clear objective: to create sustainable value to
Three-and-a-half centuries ago, France's Banque Neuflize OBC was founded by entrepreneurs and philanthropists — and social responsibility has been a