Peter Carington: The Sole Survivor of a Bygone Era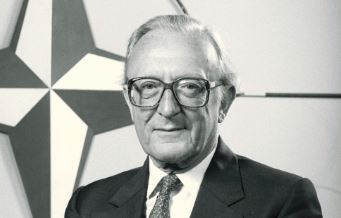 The first casualty of the 1982 Falklands War, and one of the last scions of the empire-building Eton / Sandhurst generation, Lord Peter Carrington played a major – if not always visible – role in British conservative politics between 1946 and 1982. A failure to foresee the Argentine invasion of the Falkland Islands caused him to resign from the Foreign Office and exit domestic politics.
However, the 6th Baron Carrington was not ready for retirement yet: In 1984 he became the 6th secretary-general of NATO, succeeding Joseph Luns. That same year, Lord Carrington was appointed chancellor of the Order of St Michael and St George, a prestigious position he was to hold for ten years.
Ever active behind the scene, Lord Carrington in 1991 led an ultimately doomed diplomatic initiative aimed at the orderly disassembly of Yugoslavia. The plan entailed granting each of the country's constituent republics full independence.
Last May, Peter Carington celebrated his 95th birthday. He is the last surviving member of the Churchill ministry of 1951. Though not a full cabinet member, Lord Carrington served the third government of Prime-Minister Winston Churchill as parliamentary secretary to the Ministry of Agriculture and Fisheries.
From this humble perch Lord Carrington rose fast: high commissioner to Australia, first lord of the Admiralty, leader of the House of Lords, secretary of state for defence, secretary of state for energy, and finally secretary of state for foreign and commonwealth affairs. Outside government, Peter Carington held an impressive number of directorships and other positions of note and influence.
An inside man at home in that rarefied atmosphere discreetly inhabited by earls, viscounts, barons, and a few men of slightly less elevated station, Lord Carrington was a natural to chair the Bilderberg Conferences. In this setting, for most of the 1990s, he mingled with the world's high and mighty as experiences were swapped, solutions cooked up, and ideas debated. An Atlanticist though-and-through, Lord Carrington laboured unswervingly for the deepening of transatlantic relations and understanding.
Recently on Radio 4, Lord Carrington lamented the collapse of the Soviet Union and the end of the Cold War: "While the bipolar world wasn't conducive to a strengthening of international cooperation and quite expensive in terms of defence, it did impose a discipline on nations that has now disappeared."
Lord Carrington considers the current lack of constraints on countries to be responsible for the emergence of many smaller wars: "Previously nobody dared do anything which could conceivably bring about a nuclear war. If the Cold War had still been going on, Yugoslavia would never have broken up because people would have been too frightened. Saddam Hussein would never have invaded Kuwait. Afghanistan would never have happened."
With so many offices and duties to fulfil, it should come as no surprise that Lord Carrington at times landed on the wrong side of history. During the troubles in Northern Ireland, he reportedly sanctioned the use of torture while minister of defence in 1971.
Later, in 1979, Lord Carrington chaired the Lancaster House Conference which brought the Rhodesian Bush War to a close and Zimbabwe into existence. Lord Carrington's stated preference for entrusting the newly independent country to Robert Mugabe and his fellow revolutionaries, helped pave the way to Africa's most enduring autocracy.
However, these few blots on an otherwise impeccable reputation in no way detract from Lord Carrington's remarkable career as one of Britain's last true insiders for who honour and country meant so much more than just a sound bite or a set of principles to be jettisoned at convenience.
Note from the editor: Whereas Mr Carington's surname is spelled with a single r, his hereditary title Baron Carrington is spelled with double r. It is Lord Carrington because Peter Carington took his seat in the House of Lords (in 1940) as the 6th Baron Carrington.
---
---
You may have an interest in also reading…
He is almost universally hailed as a miracle worker; a scientist who can release minds trapped inside bodies on artificial
A young lady from the Australian outback, determined to become part of the famed Paris art scene, Catherine Abel has
He is the man eurosceptics, and quite a few others, love to hate – the embodiment of all that is