CFI.co Meets the Management of The Indian Hotels Company Limited (IHCL): Puneet Chhatwal & Beejal Desai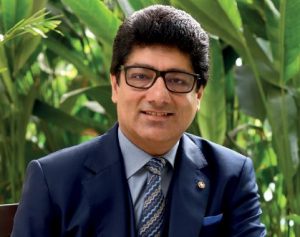 On the 6th of November, 2017, Mr Puneet Chhatwal joined IHCL as the Managing Director and Chief Executive Officer. He is a global professional with over three decades of leadership experience at highly-acclaimed hotel groups in Europe and North America. His vision is to drive performance and oversee the next phase of expansion. In February 2018, the group unveiled the Group's five-year business strategy titled Aspiration 2022 to drive growth and strengthen market leadership. He sits on many Tata company boards including The Indian Hotels Company Limited, Taj GVK Hotels and Resorts Limited, Piem Hotels Limited, ELEL Hotels and Investments Limited, Oriental Hotels Limited, Taj Sats Air Catering Limited and Roots Corporation Limited.
Prior to this, Mr Chhatwal was the Chief Executive Officer and Member of the Executive Board of Steigenberger Hotels AG – Deutsche Hospitality. He was also the Chief Development Officer of The Rezidor Hotel Group – Carlson Hotels Worldwide. Mr Chhatwal is a graduate of both Delhi University and Institute of Hotel Management, Delhi. He has completed an MBA in Hospitality from ESSEC, Paris and an Advanced Management Program from INSEAD.
Mr Chhatwal has won awards including the prestigious Carlson Fellowship and was rated as one of Europe's 20 extraordinary minds in Sales, Marketing and Technology – HSMAI European Awards 2014. He was also the First Alumni included in the ESSEC-IMHI Hall of Honor 2014.
Beejal Desai
Mr Desai is a Senior Vice President – Legal & Company Secretary and Chief Compliance Officer of The Indian Hotels Company Limited. He holds an L.L.B. degree from Mumbai University and is a Fellow Member of the Institute of the Company Secretaries of India. He has previously worked across various leadership positions with different organizations and has over 32 years of cross-functional experience in the areas of Legal, Secretarial, Compliance and Investor Relations. He also closely liaises with SEBI, RBI and various regulatory authorities. He has pioneered digitalisation of various legal and compliance projects within the organisation and won several awards.
---
Tags assigned to this article:
india
---
You may have an interest in also reading…
Barry Rawlinson believes in strong foundations. While his first foray into the world of sustainable plantations and agroforestry wasn't premeditated,
Bashir Amini was born in 1962 in Herat, Afghanistan. He attended the Economy School in Kabul as well as the
It is difficult to find top-tier service levels in a small firm. Indeed, Optimum Asset Management offers an excellent level