Carmakers Running on Fumes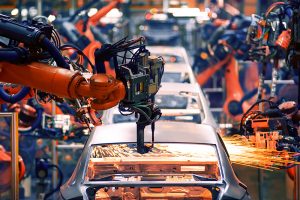 French car manufacturer Renault can be bought for a mere €5.7 billion, a trifling sum in an environment defined by trillions gushing from central banks and state coffers to troubled businesses. Already before the pandemic hit, the company was suffering. Last year, profits slumped 99 percent to a paltry €19 million. This year, Renault needs billions in state-backed loans to survive.
In 2019, the company's almost 181,000 workers pushed over 4.1 million cars through the assembly lines. The Groupe Renault is active in 128 countries and attained a turnover just north of €55 billion, awarding the company the ninth place on the global ranking of carmakers.
However, investors have fallen out of love with Renault as they did with the entire automotive sector, except for newcomers such as Tesla which saw its market capitalisation almost quadruple over the past twelve months. In that same period, Renault shares have lost 75 percent of their value.
The company's management has now formally suspended its forward guidance to investors, arguing that the future is uncertain whilst admitting that it looks bleak. Renault's acting CEO Clotilde Delbos put it this way: "Visibility for 2020 remains limited due to expected volatility in demand, notably in Europe."
In a tell-tale move, Renault abruptly exited the Chinese market by ending its alliance with state-owned car manufacturer Dongfeng. The company reportedly lost €200 million on its China bet after failing to charm buyers. The annual production capacity of 110,000 vehicles dedicated to the joint venture was never fully used and churned out only 19,000 cars last year.
Meanwhile, contributions from Japanese carmaker Nissan, in which Renault holds a controlling stake, dropped by 85 percent. In Q4 2019, annual operating profits fell to €440 million, down 83 percent from a year before.
In another setback for Renault, a proposed merger with Fiat Chrysler Automobiles (FCA) was blocked by the French government over synergy fears and possible job losses resulting from increased economies of scale.
That argument sounds particularly hollow after Prime Minister Edouard Philippe last month showed considerable excitement over a possible merger between FCA and PSA (Peugeot, Citroën, Opel, and Vauxhall) which would create the world's fourth-largest carmaker.
The tentative marriage proposal is expected to deliver up to €3.7 billion in savings without layoffs or the need to close any production facilities. That pleases Prime Minister Philippe who has repeatedly vowed to protect the country's 'industrial heartland'. However, as the push to consolidation gathers speed, Renault may well become the spinster of the car industry. Without a partner to embrace during the lean years ahead, the company will find it increasingly difficult to hold on to its market share.
Renault management last month announced that it will renew efforts to further develop the shaky alliance with Nissan. However, the Japanese car manufacturer faces issues of its own and for now offers cold comfort. Dipping into the red and still reeling over the arrest and subsequent flight of alliance CEO Carlos Ghosn in 2018, Nissan is looking for ways to streamline its production facilities, attract investors, and return to profit. According to French media, the Mitsubishi conglomerate mulls acquiring a 10 percent stake in Renault. A decision is expected later this month.
In the car industry's equivalence of a Gordian knot, Mitsubishi maintains a 20 percent interest in the eponymous carmaker which, in turn, is 34 percent owned by Nissan Motors that is, for its part 44 percent owned by Renault. To make this scene yet more interesting, Nissan owns 15 percent of the French carmaker's share capital. The French state also has a 15 percent stake in Renault and a 12 percent interest in the PSA group.
The government of France is very much aware that Renault's pitiful market capitalisation extends an open invitation to Chinese car manufacturers to gobble up one of the country's industrial crown jewels. It is not about to let this happen. With the backing of their government, Chinese companies are looking for additional ways to buy into Europe, putting EU governments on edge and sparking a rebirth of economic nationalism.
The BAIC Group (Beijing Automotive Industry Holding Company) already owns 5 percent of German truck and luxury car manufacturer Daimler and has announced its intention to double that stake in order to gain a seat on the company's board and pass its rival Geely which maintains a 9.69 percent interest.
In 2010, Hangzhou-based Geely surprised markets by taking over Volvo Cars from Ford which at the time was offloading its niche brands, including Jaguar and Land Rover. Geely also owns 8 percent of truck maker Volvo AB.
With car production falling off a cliff almost as soon as the first covid-19 cases popped up in Europe and North America, industry watchers expect a delayed rebound. It is likely to take years, if not a decade, for production volumes to reach pre-corona levels. Consolidation, however, will not be long in coming but may be affected by increased levels of protectionism.
According to Axel Schmidt, an automotive industry consultant cited in The New York Times, former competitors will likely team up to deal with the new normal. He points to the successful collaboration between Volkswagen and Ford for the development of autonomous driving software and associated electronics as a model for cooperation.
This year was supposed to see the global automotive industry turn the long-anticipated 100 million car mile marker. The turn came but headed in the opposite direction with production and sales volumes expected to retreat by well over 25 percent. Discounting China, the first to be hit by the novel virus and also the first to emerge from the pandemic, the decline would be greater still. The almost unprecedented rise in unemployment numbers as an expression of the sharp Corona Recession will undoubtedly cause prospective buyers to postpone purchases and keep their old clunker on the road for a little while longer.
Consumer and business confidence plunged to near-record lows in March and stayed there in April, showing no signs of recovering any time soon. In France, statisticians attached to the ISEE Business School registered the steepest decline in confidence since measurements began in 1980. In Germany, consumers haven't been this pessimistic in over four decades. The European Commission's own gauge of morale in the 27-member bloc last month dropped to -22.7, down from -11.6 in March.
For the automotive industry the question 'how long' takes precedence over 'what's next' and is increasingly accompanied by an existentialist undertone. The difference between a V-, U-, or L-shaped recession may turn into a matter of life and death for some of the more isolated car manufacturers such as Renault.
In a recent report on the global automotive industry, the World Economic Forum (WEF) calls for a review of outdated legislation that it has identified as the main stumbling block for technological progress. In its assessment, the WEF notes that crises usually also bring opportunities to break with old habits and experiment with new ways. The development of self-driving cars, the WEF suggest, may be accelerated if lawmakers manage to keep up with the dynamics of technological progress. The forum calls for a global standard for registering and certifying self-driving vehicles.
As it happens, Renault has invested heavily in its EZ line-up of all-electric concept cars. The company's EZ-Ultimo urban transporter, unveiled at the 2018 Paris Motor Show, resembles a motor yacht on wheels and comes equipped with lounge chairs, lamp shades, and other old-world creature comforts. Last year, a slimmed down version of the vehicle received permission for trial runs as a conveyor of the well-heeled between Paris airports and luxury hotels.
A consensus is building around the notion that, in order to survive the pandemic and prosper in later years, carmakers need to break the mould and reinvent the future. Manufacturers did not actually need a novel virus to be reminded of the fundamental change coming to their industry. If anything, the pandemic may speed up the dawning of a new era in individual and collective mobility.
The considerable resources required for adaptive processes cannot be supplied by states. The aid now being dispensed is only meant to secure jobs and ensure the short-term survival of the car industry. Once the pandemic starts to recede into history, carmakers must intensify cooperation and work towards attaining even larger economies of scale than those forged in earlier years. Renault's job is to find a partner.
---
---
You may have an interest in also reading…
The Swedes are a trusting lot. Asked if they usually confide in 'other people', almost two-thirds of Swedes answered 'yes'.
Luigi di Maio owes his rapid ascendancy in Italian politics to an almost virulent display of Euroscepticism. It propelled the
The Great Society is making a comeback with Big Brother possibly in attendance. After a decades-long retreat from public life,