PwC, South Africa: Contributing to the Development of South Africa
All businesses need to know about Broad-Based Black Economic Empowerment (B-BBEE). 
Following the demise of the apartheid regime in South Africa in 1993, the new government introduced Black Economic Empowerment to promote positive discrimination in an attempt to counter the effects of inequality among the inferior racial groups in South Africa. The apartheid regime commenced in 1948 when blacks, coloureds and Asians were segregated from the whites through land demarcations with the aim of making the whites the majority nation in South Africa.
This also resulted in blacks losing their citizenship in South Africa and all non-whites having access to services and facilities which were inferior to that of the whites. Of course this led to protests and unrest in the country which was controlled for a while by the imprisonment of anti-apartheid leaders. The laying of sanctions against South Africa from the west along with internal unrest and violence caused the South African government to bow to the abolishment of apartheid in 1990. The first democratic elections in 1994, won by the African National Congress, marked the end of the apartheid era and the birth of Black Economic Empowerment.
"South Africa now needed to strive for equality within its rainbow nation. A strategy was to be developed to act upon the injustices in the past."
South Africa now needed to strive for equality within its rainbow nation. A strategy was to be developed to act upon the injustices in the past. It began by the government effectively procuring goods and services from BEE suppliers. This was supposed to have a massive impact considering the government was the single largest buyer of commodities within the economy. However, this proved insufficient and so began the steps to improve the strategy to promote Black Economic Empowerment.
The Department of Trade and Industry was tasked to implement a strategy and various other initiatives like affirmative action, preferential points system and financial support from government entities were also introduced. This culminated in the final Broad-Based Black Economic Empowerment Codes of Good Practice (Codes) being promulgated in 2007.
This incorporated different criteria which companies should adopt either directly or indirectly at all operating levels to promote B-BBEE. The final codes (Generic) introduced seven elements which are included on the next page together with the scoring of each element:
Ownership – This incorporates black ownership as a percentage of all shareholders. Additional points are gained should there be black women, black people with disabilities and broad-based ownership and employee ownership schemes, trusts with black beneficiaries meeting the subminimum percentage
Management control – Black members on the board of the company or representing top management in an entity. This is calculated using the adjusted recognition for gender formula.
Employment equity – Black representation in the entity's workforce using the adjusted recognition for gender formula. An entity can only obtain points under employment equity when the sub-minimum of forty percent of the targets has been achieved.
Skills development – A measured entity's spend specifically for the development of black employees through formal/informal training. A learning programme matrix is specified to assist in the allocation of points in this element.
Preferential Procurement – Spend from suppliers according to their B-BBEE status where the recognition level is used to recalculate the supplier spend. There are certain exclusions which incorporate certain public- sector spend, taxation, employee costs.
Enterprise development – This encompasses contributions made to beneficiary entities with the ultimate aim of assisting or accelerating the development, sustainability and financial and operational existence of the entity. This may entail grants, loans and guarantees to beneficiaries or investments in beneficiaries. A popular use is the preferential credit and procurement terms or discounts provided that are unique to black beneficiaries.
Socio-Economic development – Non-recoverable contributions made with the objective of creating sustainable access to the economy. Grants, securities, direct and overhead costs to beneficiaries as well as development capital advancement and time spent on training and mentoring black beneficiaries are included as socio-economic development contributions. The effective score is then inserted into the table below to provide the entity with its status and recognition levels.
The above scoring creates a competitive advantage for a company with a higher B-BBEE status during the tender process, especially for Government contracts. In order to improve your score, you were required to procure from suppliers with a higher recognition level. This therefore had a snowball effect in terms of black economic empowerment as it forces companies to try to maximize their status to retain and increase their customer base.
Companies now strive to employ black people, train and develop them, procure from black entities, assist emerging black entities and sustain the socio-economic environment. Fronting becomes quite prevalent because of the specific criteria of all elements in the scorecard. This will however be curtailed by the new legislation to incorporate audited B-BBEE certificates.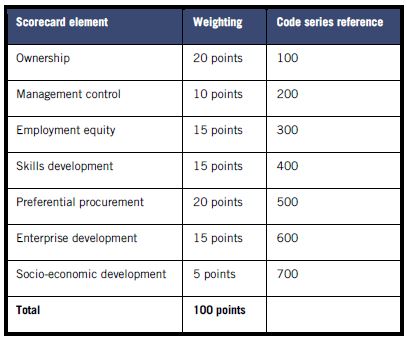 Apart from the Generic Codes of Good Practice that is applicable for entities with an annual turnover/revenue above R35 million, the Codes also cater for smaller entities. Entities with an annual turnover of less than R35 million (Qualifying Small Entity – QSE) may choose any four of the seven elements to be scored against. The criteria in each element are also less stringent than that of the Generic Codes. All entities with an annual turnover below R5milllion are exempt from obtaining a scorecard (Exempt Micro-enterprise – EME) and automatically obtain a level 4 contribution status. EME's can be a level three should the black shareholding exceed 50%.
The points in the generic scorecard (entities exceeding R35 million) proved difficult to obtain for certain industries due to the nature of the entities operating therein. Industry sector codes which were based on the Codes of Good Practice incorporated differences in either the scoring or the criteria in certain elements were then brought into legislation. In certain cases, even the annual revenue thresholds were decreased.
South Africa had issued Draft amended Codes in 2012 which is awaiting approval. There are several differences with the New Codes with the most significant for multinationals being:
The seven elements may be reduced to five with management control and employment equity being merged as well as Preferential Procurement and Enterprise Development being merged;
There may be subminimum criteria introduced for certain elements with prospects of your total score being reduced thus dropping in recognition levels should these not be met;
Annual turnover thresholds for EME's and QSE's may be increased;
Mandatory elements will be applicable for QSE's; and
Goods and services procured from foreign entities irrespective of whether the commodity can be obtained locally may not be excluded from the Preferential Procurement element resulting in a decreased score.
As a foreign investor with a subsidiary in South Africa, there are various implications in terms of B-BBEE. Multinationals argued that they did not partake in apartheid and should not be subject to the principles of B-BBEE. They still however, embraced the other elements but found compliance with the ownership element a difficulty. Some entities included black SA residents as minority shareholders or have introduced black employee share-based schemes. The Codes incorporated a special code series for multinationals – the Equity Equivalent Programme which is permissible only if the established global practice of the foreign holding company restricts the sale of shares to other foreign subsidiaries. Furthermore, the entity will not be allowed to assess itself under any criteria of Code series 100 – Ownership.
The Equity Equivalent Programme is subject to approval from the Minister of Trade and Industry before being implemented. A documented detailed description of the objectives and forecasted outcomes of the initiatives with expected timelines and anticipated milestones is required.
The initiatives, according to the Codes, can incorporate accelerated and shared growth, joint initiatives for priority skills, programmes that promote enterprise creation in respect of co-operatives and socio-economic advancement and development of blacks in South Africa. This results in increased contributions in the Skills development, Enterprise development and Socio-economic development elements of the scorecard.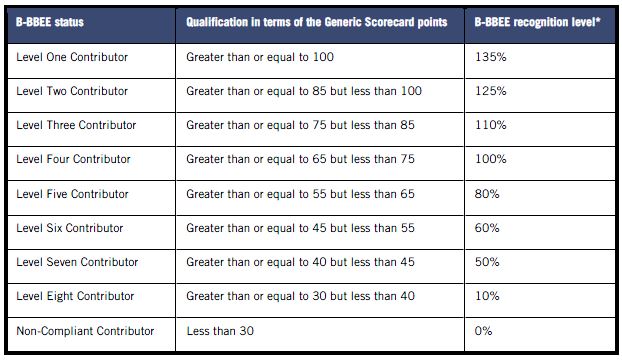 However, the initiatives which are specific to the equity equivalent programme may not be assessed under either the Enterprise development or Socio-economic development Code series. The score for the ownership programme is calculated on the South African entity's contribution of either 4% of annual turnover (irrespective of profitability) over the period of continued measurement or 25% of the value of the South African operations determined by a standard valuation on a time-based graduation factor as elected by the entity.
The regulations of B-BBEE in South Africa will be more stringent as indicated with the release of the new Codes as the expected outcome of economic empowerment to date appears to be below expectations. Let's hope that in the spirit of enhancing B-BBEE in South Africa, all individuals both resident and foreign, partake in the process of opting to abide by the Codes and that this concept spreads throughout Africa to alleviate the poverty and suffering of native Africans and historically disadvantaged groups.
PwC South Africa is proudly a Level Two B-BBEE contributor. PwC South Africa is committed to this cause and has been recognised and awarded for its transformation strategy. PwC South Africa won Africa's Transformation award during the Oliver Empowerment awards.
The Oliver Empowerment Awards recognise outstanding leaders that have exemplified inspiration, vision, innovation, leadership and action for Empowerment and Transformation whose success today is legendary in the world of business. In addition, PwC South Africa has been recognised by ABASA (Association for the Advancement of Black Accountants of Southern Africa) for qualifying the most black accountants in the Gauteng region for 2013.
About the Author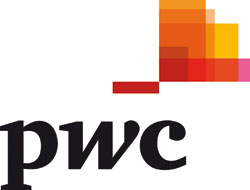 Michelle Govender is a Partner in the Assurance line of service at PwC. She is a qualified South African Chartered Accountant and registered with the South African Independent Regulatory Board for Auditors (IRBA). She has gained exposure in the private and public sector through auditing, consulting and investigations over the past ten years. She currently specialises in Private Company Services (PCS) in Gauteng. This division caters for the typical family businesses, not-for-profit entities and non-listed entities by servicing the client as a Trusted Business Advisor. We consider a Trusted Business Advisor to be "the person you turn to for objective support at every stage of running your business without compromising our independence." Michelle has also completed her certification in B-BBEE. She is an approved IRBA registered B-BBEE auditor.
---
You may have an interest in also reading…
Projects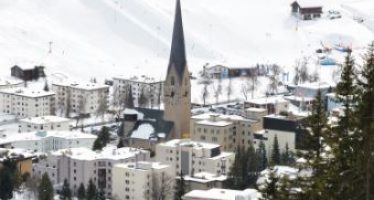 The emergence of a global market place may already be grinding to a halt. Before long, economic integration, a process
Finance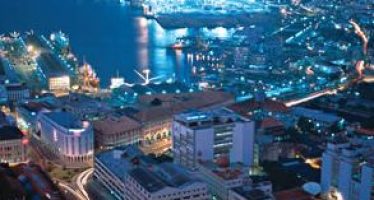 An IMF staff mission visited Colombo January 30 – February 13 to discuss possible financial support for Sri Lanka's economic
Africa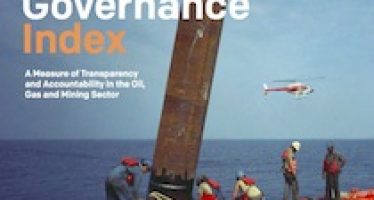 The Resource Governance Index (RGI) measures the quality of governance in the oil, gas and mining sector of 58 countries.