Solar Industry in the MENA Region: Sunny Prospects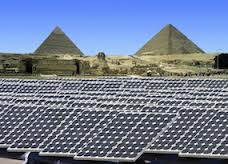 A trend towards generating electricity from solar power is on the horizon for the countries of the MENA region (Middle East and North Africa); The regional market for photovoltaics (PV) and solar thermal power plants is expected to reach 3.5 GW by 2015. While Saudi Arabia and Turkey are tipped to be the largest investors in PV and solar thermal installations, Egypt and Morocco are also starting to think differently with a move away from fossil fuels and towards solar energy. From June 19–21 at Messe München, Intersolar Europe takes an in-depth look at how the energy policy in this region is changing. In addition, different exhibition and conference events shed light on the prospects for the international solar industry.
The solar industry in the Middle East and North Africa (MENA) is geared up for growth: By 2015, the regional market for photovoltaics and solar thermal power plants is expected to grow to a total output of 3.5 gigawatts (GW). Saudi Arabia in particular is planning to move away from generating electricity using crude oil in favor of photovoltaics and solar thermal technologies. A study conducted by GTM Research, Boston, USA, puts this development down to high solar irradiation and rising electricity prices and requirements that arise from an increasing population size. By 2017, the expansion of solar energy is expected to exceed a combined output of 10 GW in the MENA region. With a share of 70%, the majority is set to be implemented in Saudi Arabia and Turkey.
Sunny prospects for solar energy in North Africa
The sun also ranks among the most valuable resources in North African countries. Egypt benefitted from crude oil exports in the 1990s; however, current reductions in yields produced by oil fields and increasing energy subsidies are forcing the Egyptian government to take action. In the financial year 2012/2013, subsidies reportedly account for a quarter of the entire Egyptian state budget. As the largest energy resource in the country, the sun offers an ideal alternative to dwindling oil and gas. Every year, each square meter in Egypt receives more than 2,200 kilowatt hours of solar energy. The Egyptian Solar Energy Development Association (SEDA) in Cairo sees potential application areas for solar energy in the form of solar installations for producing drinking water and intelligent lighting concepts for hotels. In addition to concentrating on tourism, statements from the Egyptian Ministry of Housing reveal that, over the next few years, standard measures will see public housing equipped with solar installations.
"Once completed, the power plant will reach an output of 500 MW."
In Morocco, solar plants with a combined output of 2 GW are set to be installed by 2020, which means that the share of renewable energy in the Moroccan power grid could reach a total of 42%. Alongside solar energy, wind energy and hydropower are also expected to form part of this share. Under the supervision of MASEN (Moroccan Agency for Solar Energy), the construction of a large, impressive project has already begun in the Moroccan province of Ouarzazate, which will be the world's largest solar thermal power plant. A capacity of 160 megawatts (MW) will be installed in the initial expansion phase alone. Once completed, the power plant will reach an output of 500 MW.
Intersolar Europe 2013 focuses on the solar market in the MENA region
This year sees Intersolar Europe offer several events shedding light on development in the countries of the MENA region. Like last year, Morocco will be represented at the exhibition with its own country pavilion. In addition to promoting interdisciplinary exchange with the countries of that region, various country delegations with high ranking political members allow businesses and visitors to increase their personal contacts. Under the title Global PV Markets: MENA Region, prominent representatives from local industry associations and government institutions speak about current conditions, market developments and prospects for the solar industry in these countries at the Intersolar Europe Conference on June 19, 2013.
In February this year, the PV Briefing & Networking Forum in Riyadh, Saudi Arabia, highlighted the solar industry's great interest in the regional energy policy's new direction. Under the motto "Saudi Arabia targets 41 GW of solar by 2032 – what does this mean today?", 15 representatives from politics, research and the solar industry discussed the future of solar energy in the region in front of an audience of around 180 attendees. The event was organized by Intersolar Europe and EuPD Research (Bonn) in collaboration with the Saudi Arabia Solar Industry Association (SASIA) from Riyadh, Saudi Arabia, as the local partner.
---
---
You may have an interest in also reading…
Middle East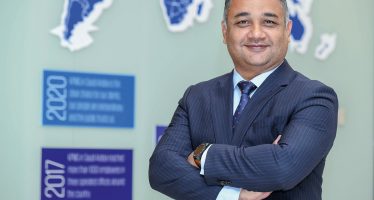 KPMG is a global network of independent member firms offering audit, tax and advisory services, operating in 147 countries. Here,
Sustainability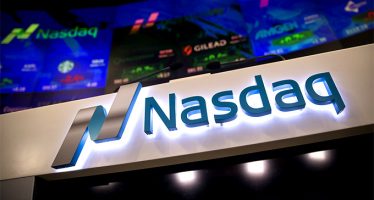 For many years, investors have been searching for more perfect sources of non-financial information: data that may not be on
Technology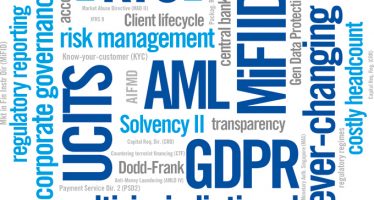 The banking and other parts of the financial services industry are undergoing an all-encompassing digital transformation. Soon, disruptive technologies will