An Inspiring Trajectory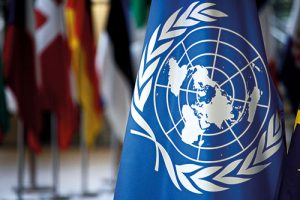 Amina J Mohammed has been called one of the world's greatest leaders (Fortune magazine), Diplomat of the Year (Foreign Policy magazine), and Climate Warrior (Vogue).
The UN Social 500 praised her for her transparency. On social media she shares her experiences, workload, and accomplishments in daily tweets and posts. CFI.co would like to add its name to that roll by commending the UN deputy secretary-general on the unwavering determination that marks her personal life and professional trajectory.
Hers is an inspiring tale of a personal and professional quest that starts in North-eastern Nigeria and continues today in New York. He father, a civil servant and veterinarian, sent Amina to a boarding school in the UK where her mother, a registered nurse, already lived. Later, after leaving school, she worked in retail, sold insurance policies, helped in a nursing home, and managed a restaurant.
Her CV also includes a stint in Italy, studying hospitality management. Returning to Nigeria, Mohammed joined an architecture and constructing company. She learned the business on the fly, almost by osmosis, for 11 years, before setting up her own engineering company.
Convinced that ambition trumps talent, Amina J Mohammed has never allowed her career to be side-tracked. Nor did she waver in her commitment or rest on the laurels gathered along the way. The eldest of five daughters, she knows what it takes to run a household as well. It is, perhaps, not that different from running an, at times, unruly and quibbling group of nations.
"We don't always communicate very well the effect that we have on the ground, and the lives that we change. That needs to be done better and, once we have the changes, we will see the United States doing probably even more."
Before joining the United Nations, Mohammed had already served three Nigerian presidents in various capacities. In 2005, she was entrusted with the management of the state funds after Nigeria became eligible for inclusion in the debt-relief programme of the Paris Club of major creditor countries, which ultimately shaved some $30bn off the country's debt stock. Mohammed was in charge of the rerouting of funds towards initiatives in support of the millennium development goals (MDGs).
For six years, she acted as senior special assistant to Nigeria's president for all matters relating to the MDGs. Towards the end of 2015, she assumed office as Minister of Environment in the cabinet of President Muhammadu Buhari. At the time, she was already helping then-UN secretary-general Ban Ki-moon with the planning of a set of post-millennium development goals. She was instrumental in formulating and selecting the 17 Sustainable Development Goals (SDGs).
At the UN, Mohammed stresses the importance of shared responsibility as a tool to change attitudes, reach agreement, and forge unity. Her job hasn't become any easier as the current US administration continues to question the UN's usefulness, direction, and budget. At the insistence of the American ambassador to the UN, Nikki R Haley, the organisation saw its $5.7bn budget cut by almost $300m this year.
The US contributes about $1.2bn towards the annual UN budget. At the instigation of Washington, the $6.8bn budget for UN peacekeeping operations was cut by $500m for the 2018-2019 exercise. Earlier, UN Secretary-General António Guterres agreed that his organisation does stand in need of some moderate pruning to improve efficiency.
Mohammed remains is eager to engage with the sceptical US administration to ease its concerns and show the value of the UN's work and accomplishments. In an interview with The Guardian she said: "We don't always communicate very well the effect that we have on the ground, and the lives that we change. That needs to be done better and, once we have the changes, we will see the United States doing probably even more."
Outside the UN, Mohammed has one rather big ambition: fixing her own country. Her leitmotiv – "there's always a job to be done" – will see Amina J Mohammed eventually return to Nigeria, where she may well rack up a long list of additional achievements.
Mohammed is far from done. In fact, she may only just have started.
---
---
You may have an interest in also reading…
WIF2018
Any and all talk about a determined, sustained, and final push to eradicate poverty from the face of the earth
WIF2018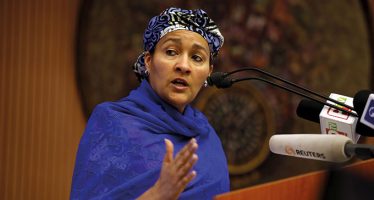 If, by way of magic, cynicism and indifference could be banned, the world would undoubtedly be a much happier place.