Ingvar Kamprad net worth
What was Ingvar Kamprad's net worth?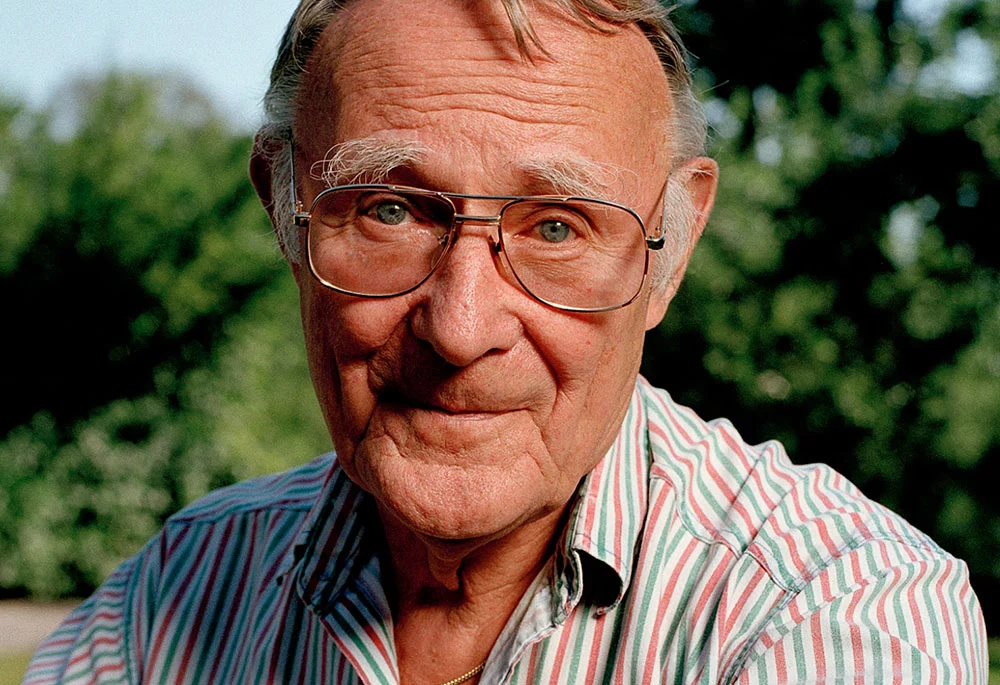 Net Worth:  $42.5bn
Born:  March 30, 1926
Died:  January 27, 2018
Country of Origin:  Sweden
Source of Wealth:  Entrepreneur
Last Updated:  August 2, 2022
Introduction
Ingvar Kamprad was a Swedish businessman. He is best known for founding the multinational retail company IKEA.
IKEA generates more than $40bn per year in revenue today.
He controlled IKEA through a combination of mildly complex foundations and investment trusts. In 2006, the INGKA Foundation was reported by The Economist to be the world's wealthiest charity.
At his time of passing in January 2018, Ingvar Kamprad's net worth was estimated to be roughly $42.5bn.
Early Life
Ingvar Kamprad was born on the 30th of March 1926, in Pjätteryd, Sweden.
Kamprad grew up in Älmtaryd. Kamprad had a good sense of trading from childhood and as a young child. He often would make calculate and make a profit by purchasing matches in huge amounts.
He then traded in fish, seeds, pencils, and pens. Kamprad was also good at studies, and as a prize for getting good scores, his father presented him with a sum of money. He then came up with the idea of establishing a start-up company.
Career
In 1943, the venture was launched with the name IKEA. The initials were coined with the letters of his name and his family's farm, Elmtaryd. The company started with mail-order business mode dealing in small stuff like photo frames, wallets, stockings, and pens.
In 1948, Kamprad expanded his start-up company by including furniture. The company then started to transport their goods through trucks and cargoes in a train from small order deliveries. IKEA earned a good name in the furniture trade, and by 1950, IKEA was transformed into a company that dealt only in furniture.
Kamprad founded the charitable organisation 'Stichting INGKA Foundation' in 1982. Over the next years, the company encountered a huge expansion in business, and to date, it has around 300 showrooms worldwide.
In 2000, IKEA launched a new business venture by making its commodities available for sale on the internet. IKEA now has an online store, and this has boundless prospects for the expansion of the business.
The IKEA furniture's catalogue is printed by 2009; they had their catalogue published in over twenty languages. This shows that the company has many customers who belong to varied regions of the world.
At his time of passing, Ingvar Kamprad's net worth was estimated to be roughly $42.5bn.
How Did Ingvar Kamprad Spend His Money?
Ingvar Kamprad didn't like to spend his money on lavish things. He drove a Volvo for two decades and purchased clothes from flea markets. The car was worth around $22,000, but at the time he got rid of it, it wouldn't go for more than a few thousand dollars.
Highlights
Here are a few highlights from Ingvar Kamprad's career:
Founded IKEA (1943)
INGKA Foundation (1982)
Featured in Forbes Magazine (2010)
Kamprad resigned from the board of Inter IKEA Holding SA (2013)
Favourite Quotes from Ingvar Kamprad
"An optimised tax structure gives us the possibility of flexibility in using our assets that have already been taxed in one market. They can be used in new markets for further business development without the additional burden of double taxation." – Ingvar Kamprad
"I feel many responsibilities — to our customers, to our employees, to the environment, to the world at large. But I don't want to feel responsible to investors, to outsiders with financial concerns that may differ from those of the welfare of IKEA." – Ingvar Kamprad
"We have to develop the IKEA group still. We need many billions of Swiss francs to take on China or Russia. Making mistakes is the privilege of the active — of those who can correct their mistakes and put them right." – Ingvar Kamprad
"The IKEA spirit is a strong and living reality. Simplicity in our behaviour gives us strength. Simplicity and humbleness characterise us in our relations with each other, our suppliers and our customers." – Ingvar Kamprad
"Being humble isn't the same as keeping a low profile. If you have something important to say, say it. Being humble means admitting your weaknesses, and trying to put them right." – Ingvar Kamprad
"I'm a bit tight with money, but so what? I look at the money I'm about to spend on myself and ask myself if IKEA's customers can afford it… I could regularly travel first class, but having money in abundance doesn't seem like a good reason to waste it. If there is such a thing as good leadership, it is to give a good example. I have to do so for all the IKEA employees." – Ingvar Kamprad
Four Lessons from Ingvar Kamprad
Here are the top lessons to learn from the success Kamprad achieved:
Ok To Make Mistakes
Making mistakes is the privilege of the active. It is always the mediocre people who are negative, who spend their time proving that they were not wrong.
Time
Time is your most important resource. You can do so much in ten minutes. Ten minutes, once gone, is gone for good.
Be Creative
Creativity and believing in your work is absolutely a necessary part of success.
Be Happy
Happiness is not reaching your goal. Happiness is being on the way.
Summary
Ingvar Kamprad is one of the best-known entrepreneurs of today.
He has turned his start-up venture IKEA into one of the largest furniture companies in the world.
As a child, he would often figure out the business system. He is credited with heralding the concept of flat boxed furniture. This has revolutionised the modern world as it is style incorporated with ease.
At his time of passing in January 2018, Ingvar Kamprad's net worth was estimated to be roughly $42.5bn.
---