If This Is Man / The Truce
"A country is considered the more civilised the more the wisdom and efficiency of its laws hinder a weak man from becoming too weak and a powerful one too powerful."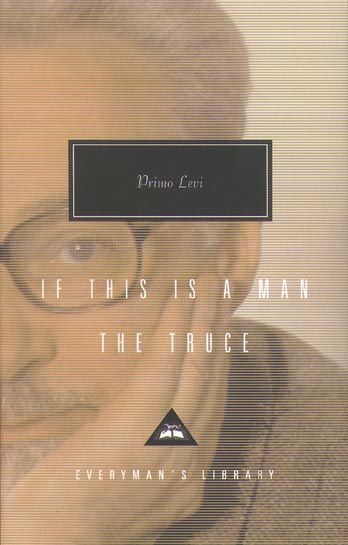 A Jewish chemist from Turin, Primo Levi was picked up on December 13, 1943, by Italian militiamen and sent to the Fossoli internment camp near Modena. Put on a transport to the death camps on the eastern fringes of the already shrinking Third Reich, Primo Levi arrived at Monowitz – one of the three main camps of the Auschwitz complex and home to the IG Farben factory – with 650 Italian Jews of whom only twenty were to survive.
Luck, cunning, wit, and – most importantly – the generosity of fellow inmates allowed Primo Levi to cling to life and tell the story. In his book, Mr Levi does not seek to explain the supreme wickedness he encountered at Auschwitz; he merely seeks to describe the horror, offering the reader a glimpse into a grim world of inverted truths and lost morals.
What makes If This Is Man particularly powerful is that for all the mindless cruelty, human kindness ultimately prevails. Mr Levi ascribes his survival mostly to luck. However, he also acknowledges that a daily ration of soup delivered by Lorenzo Perrone, a bricklayer and forced labourer from Fossano, ultimately saved him from starvation.
Mr Perrone – recognised as one of the Righteous among the Nations in 1998 – never asked anything in return for the life-saving meals he unfailingly brought at great peril to himself. "But Lorenzo was a man; his humanity was pure and unblemished, and he was outside this world of denial. Thanks to Lorenzo I happened not to forget I myself was a man."
After the war, Mr Perrone was unable to deal with the indelible memory imprints Auschwitz had etched on his mind and descended into alcoholism. Though Primo Levi repeatedly did his utmost to help his friend and benefactor, Mr Perrone passed away in 1952.
Whereas If This Is Man describes the depravity of state-organised mass murder, its twin volume The Truce deals with the, at times agonisingly slow, ascend from these depth. The Truce tells the story of the liberation of Auschwitz by the Red Army and the plight of the wandering masses of survivors in the chaotic times leading up to the final defeat of Nazi Germany.
Mr Levi again succeeds in portraying this confusing moment in history with a sense of reasoned optimism. The return home turns into an epic journey – tragicomic at times – through the ruined remains of Poland, Belarus, Ukraine, Soviet Union, Romania, Hungary, Austria, Germany, and Italy. As such, The Truce is perhaps best categorised as a road novel avant-la-lettre. Gracious, devoid of hatred or wagging fingers, and unfailingly to the point, Primo Levi's diptych stands at – or close to – the apex of the literature that reminds humanity of its darkest days and the awesome power of the individual for shaping his/her own world.
| | |
| --- | --- |
| Title | If This Is Man / The Truce |
| Author | Primo Levi |
| ISBN | 978-0-3491-0013-5 |
| link | http://www.amazon.com/gp/search?index=books&field-isbn=9780349100135 |
---
---
You may have an interest in also reading…
"For there is no folly of the beast of the earth which is not infinitely outdone by the madness of
"Love is a striking example of how little reality means to us." A novel in seven volumes with a total
"Man, unlike any other thing organic or inorganic in the universe, grows beyond his work, walks up the stairs of