The Pursuit of Love
"Always either on a peak of happiness or drowning in black waters of despair they loved or they loathed, they lived in a world of superlatives."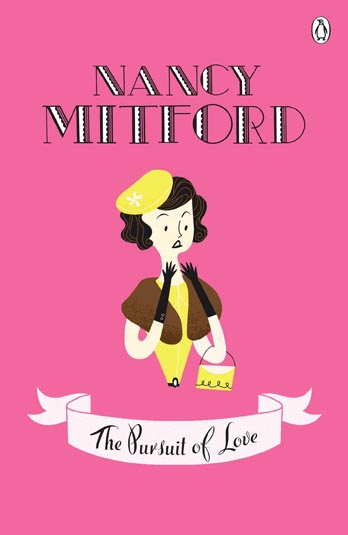 A Bright Young Thing from the roaring twenties, Nancy Mitford perhaps best epitomises the carpe diem essence of a sadly bygone bohemian era that evokes nostalgia for a happier and simpler world still holding the promise – soon to be broken – of a golden, everlasting peace.
One of the six (in)famous Mitford sisters*, who collectively left indelible stamp on British history, Nancy Mitford (1904-1973) is most remembered as an authority on manners and breeding.
Her writings – novels, dramas, and biographies – are unfailingly sharp, witty, chatty, and refreshingly and thankfully devoid of the idealised views and didactic reasoning that characterised most preceding Victorian authors. Heralding modernism, Nancy Mitford became closely identified with the former in the "U" and "non-U" ("U" standing for upper class) debate on popular discourse that ignited as a joke but soon became both a linguistic and social pursuit.
During the interbellum, the later discredited notion that one could ascend the social ladder by mimicking one's "betters" still held plenty of sway. A comedy with a tragic fringe, The Pursuit of Love may be read as Nancy Mitford's autobiography. The novel's leading role is awarded to Linda who perambulates the pages looking for the Right One as she samples a wealthy banker and a devout idealistic Christian before arriving in Paris the find Fabrice – duc de Sauveterre.
In real life, Nancy Mitford pursued a lasting, though intermittent, affair with Gaston Palewski – a womaniser of considerable repute and a close associate of Charles de Gaulle – whom she met in London during the war. Though Nancy Mitford moved to Paris in 1946, the relationship was never publically acknowledged and continued even after Gaston Palewski in 1969 married Helen-Violette de Talleyrand-Périgord – duchesse de Sagan.
The pathologically unfaithful duke features prominently in both The Pursuit of Love and its sister volume Love in a Cold Climate, first published in 1949. Though hopelessly in love, Nancy Mitford portrays her wayward beau with crushing honesty including his many charms and flaws.
A masterpiece of escapist literature, The Pursuit of Love reads as an ode to romance unbound. Those who seek may find but a school of hard knocks. Persistence is not guaranteed to pay off, though will result in a most interesting, and intensely lived, life. Nancy Mitford loved and lived, but never quite lost.
*) Diana, the beauty queen; Unity, the unrepentant fascist who became Adolf Hitler's flirt; Nancy, the gifted writer; Jessica, the communist who went to fight for the Spanish Republic; Deborah, the Duchess of Devonshire; and Pamela, the least known of the sextet who never wrote a book, took up a cause, or defied authority but once confided that she would have preferred to have been born a horse.
| | |
| --- | --- |
| Title | The Pursuit of Love |
| Author | Nancy Mitford |
| ISBN | 978-0-3077-4081-6 |
| link | http://www.amazon.com/gp/search?index=books&field-isbn=9780307740816 |
---
---
You may have an interest in also reading…
"Absolute truth is a very rare and dangerous commodity in the context of professional journalism." For a meticulous dissection of
"Man, unlike any other thing organic or inorganic in the universe, grows beyond his work, walks up the stairs of
"Oh the brave Fisher's life, It is the best of any, 'Tis full of pleasure, void of strife, And 'tis