Sparkling Dubai: Tourism and Business Hub — and the Perfect Events Venue
CFI.co puts questions to Dawood Al Shezawi, AIM organiser and CEO of Strategic, one of the world's leading exhibition, conference and event organisers.
The Strategic group operates across sectors to facilitate a healthy ecosystem for investment promotion, start-ups, real estate, wood and woodworking equipment, and environment tech.
Since its establishment in 2000, the company has operated to international standards, underpinned by strong, clear business principles and ethical values.
More than 25 million visitors are expected at its crowning event, AIM (Annual Investment Meeting) Expo 2021-2022, to be held in Dubai in March. It's seen as one of the most important business events on the global calendar.
What are your expectations for Expo 2021-2022?
It will be the greatest show in Dubai and in the UAE, a showcase of innovation, a celebration of human brilliance, bringing together the highest talents from over 190 countries.
More than 25 million visitors are expected, 70 percent of them from overseas. It is the world's largest meeting place, with pavilions dedicated to countries offering opportunities for investment, networking, creating partnerships and meaningful relationships. It's become an amazing way to enrich one's cultural experiences and gain a wealth of knowledge.
The Expo will create job opportunities in sectors such as tourism, construction, ICT, marketing and logistics. It will generate opportunities, and highlight UAE as a preferred investment destination. It also contributes to the country's economic, cultural, and social initiatives.
How has the pandemic influenced Dubai?
The pandemic has been an enormous challenge, not just for Dubai but for every city and country. But on the other hand, it has also become a great opportunity for Dubai to prove its resilience and its generosity.
It has made strides to improve the lives of its people and support them during the trying times by implementing beneficial initiatives for individuals, families and businesses. It has launched several measures to address the challenges and adapt to the demands of the pandemic.
We have also seen the utilisation of innovative technologies and AI in the healthcare, finance and real estate sectors, for faster and easier transactions and for improving the business environment. The pandemic has given the city the time to explore, understand, and work quickly to ensure a strong post-COVID recovery.
The challenges ahead remain vast, but these will continue to catalyse the Dubai government and business leaders to work together to leverage new technologies and opportunities to build a more sustainable and diverse economy.
What sets Dubai apart from other venues?
Dubai is one of the most influential cities and is a world-class tourist destination. It's home to landmarks such as the Burj Khalifa. It also has the Dubai Mall — the world's biggest — and many other attractions. It's multicultural and diverse, has a large expat community, and welcomes millions of tourists each year; 16 million in 2019. Even during the pandemic, Dubai saw 417,000 visitors July-September 2020. The city is a leading financial hub, also for infrastructure, healthcare, AI, fintech and many other sectors. Dubai sets itself apart with constant growth; it's the perfect venue.
What live events or conferences do you have coming up?
We hold the International Property Show (IPS) physically, from March 23-25 at the Dubai World Trade Centre. IPS attracts thousands of visitors across the globe every year and the numbers are expected to grow for this 17th edition. We're excited and keen to offer a world-class event for the global real estate community.
We'll use the powerful combination of live and the virtual environments to offer a more dynamic platform for the global audience. The Annual Investment Meeting will hold its Hybrid Edition on the same dates. We will offer both physical and virtual activities.
WoodShow Global will also have a series of Hybrid Editions this year; we have Cairo WoodShow from February 18 to 21, Dubai WoodShow from March 9 to 11 and Gabon WoodShow from June 10 to 12.
Any virtual events or conferences in the pipeline?
The Annual Investment Meeting will be having its series of digital regional focus editions to generate opportunities in specific regions of the world and highlight their economic potential. The first edition is the AIM EURASIA 2021 which will be held in February 9-10. AIM Africa will be held in June, AIM Latin America in September and AIM Investment Network in October.
What are the advantages and disadvantages of virtual conferences?
During these times they have helped to realise the full potential and flexibility of the event industry. Holding virtual conferences is an excellent option to connect and continue business transactions, despite the limitations caused by the health crisis. Another huge benefit is that virtual events have no geographical limitations, eliminating travel costs for participants. The number of attendees and the opportunity for more exposure grow exponentially.
Virtual events also maximise opportunities for networking, building solid partnerships and collaborations among governments, among businesses and organisations.
The format provides a wide range of metrics that will help organisers plan for future events, such as the engagement rate of activities, live polling response rates, deals closed, attendee satisfaction and retention, website visits, generated revenues. These KPIs are a lot easier to track when your event is online.
On the other hand, going virtual can be challenging for those who do not have access to fast internet. For those who prefer interpersonal connections for high-stake meetings, joining a virtual conference could be seen as a setback.
What business and leadership lessons have you learned over your career?
One of the most important things is that successful long-term business relationships stem from integrity. Professionalism, honesty and practising the right business etiquette — all the time — are crucial to trust and reputation in the industry.
Commitment and passion will also go a long way. No matter what hindrances you encounter, if you stay committed and if you're passionate about what you do, nothing can stop you. And as a leader, your passion inculcates new energy in your team, which serves as their motivation to work harder and perform better.
As an entrepreneur, it's important to embrace change as part of the growth process. Especially during these times where technological advancements are crucial for survival. You need to be open-minded and be willing to keep learning and cultivating your knowledge to stay abreast of the latest trends and innovations. It is not a skill you can learn in a day but we learn through our challenges.
What are your expectations and hopes for 2021?
The pandemic has changed lives around the world, how we work and live. For sure, the use of innovative technologies will continue to rise and expand. I expect 2021 to be a much better year where businesses find more innovative, sustainable and flexible ways to an economic recovery.
We have proven our resilience; we've found new ways to do business through smarter solutions. As the global situation improves, I am optimistic that we will be able to hold physical exhibitions and conferences as well as hybrid editions. We'll bring excitement to our audiences through our state-of-the-art activities, and continue to explore possibilities. We stay true to our commitment to deliver world-class events and create rewarding opportunities for everyone. No matter what it takes.
---
Tags assigned to this article:
uae
---
You may have an interest in also reading…
Middle East
Dedication to good governance and a philosophy of community service have stood Afghanistan International Bank (AIB) in good stead —
Projects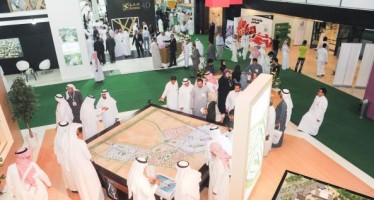 Cityscape Jeddah 2015, the Jeddah Urban Development and Real Estate Investment Event, will give you the best view into the
Europe
Macroeconomic fragility and policy uncertainty for investors has led to an 18 per cent decline in global foreign direct investment