ICBC Middle East: Resilience in Times of Crisis
Founded in 1984, ICBC has grown into the largest commercial bank with an extensive global network through 426 institutions covering 49 overseas countries and regions, as well as over 18,000 omnipresent outlets inside China. Since the start of ICBC's journey to serve the MENA region in 2008, the Institution strives to be a grand bridge connecting the Middle East, North Africa and China. As a long-term strategic partner, the Institution works extensively with leading corporates and governments of the MENA region to support development in key areas such as infrastructure, power and water, oil and gas. At the moment, ICBC maintains 5 branches in the GCC region, namely ICBC Dubai (DIFC) Branch, Doha (QFC) Branch, Abu Dhabi Branch, Kuwait Branch and Riyadh Branch, which are collectively known as ICBC Middle East Institution.
The COVID-19 pandemic has a far-reaching influence over the world by infecting millions and dragging economic activity to a near-standstill. Resilience is of greater importance ever to corporations today under the shadow of the pandemic. ICBC Middle East Institution took coordinated efforts and actions to support the real economy, to provide continuous financial services, and to uphold the spirit of persistence and endurance as a responsible global bank in the fight of COVID-19.
ICBC Middle East Institution consistently supports local pandemic prevention policies and contributes to local COVID-19 containment work. The Institution successively held several sessions of COVID-19 Prevention webinars to provide knowledge and experience to local institutions and corporates by inviting Chinese frontline experts as speakers. More than 200 representatives attended the webinars. To support the local frontliners with their ongoing efforts, the Institution donated varieties of medical equipments to charities and Red Crescent societies.
In support of the real economy, the Institution collaborates with sovereign institutions and leading corporates to align with local long-term strategic goals, to name infrastructure construction, economic diversification and green development as a few. The Institution has always been a keen contributor for major local projects and prioritises its support to the development of sustainable energy and green economy.
To help its clients to go through this difficult period of pandemic, the Institution is committed to continuously support corporates with various financial services. On top of that, the Institution provides fee waivers of certain services and a well-equipped online banking platform with strong IT infrastructure for clients to ensure their smooth operation. To promote the local economic and social recovery, the Institution also provides targeted financial services to struggling corporates in infrastructure, trade and other sectors. It actively participants in the Chunrong Action launched by ICBC group to bolster business of its customers and stabilise the global industry chain.
"Facing so many world-shaking, paradigm-shifting economic and social disruptions in a single year, ICBC Middle East has shown great resilience in dealing with crisis and maintaining its steady growth."
The Institution is an active player in the regional bond market, acting as the lead manager or bookrunner. The Instituion underwrote several major bond issuances. The ever-growing participation in the financial market exhibits its commitment to the region and continuous strengthening of its relationship within the GCC region. Furthermore, ICBC Middle East assists many local institutions to better understand the opportunities in the Chinese Financial Markets. Since 2019, the Institution organised a series of forums on "China's Capital Market Opportunities" in GCC countries to help local institutional investors to seek new investment opportunities in China Bond Market.
ICBC Middle East insists on creating value for its customers with excellent services and continuous innovation. The Institution formulated a series of online events to help Middle East corporates to expand their business in China. In 2020, the Institution hosted the 3rd China International Import Expo Middle East online roadshow with "non-contact" cloud methods. Over 80 key organisations from the GCC countries participated in the event. Their innovative and tailored products and services provided a momentum to the development of bilateral trade and business cooperation between China and the GCC. This forms a crucial part of the Insititution's post-pandemic revitalisation plan to seek a win-win growth led by cooperation and innovation.
Emphasised by the Chairman of ICBC Middle East Regional Committee, Zhang Junguo, "we shall remind ourselves that every single step of the bank's development is attributed to the trust and support from our clients, partners and employees. In this unprecedented time, what we need is to forge ahead together to build a promising new era in joint hands."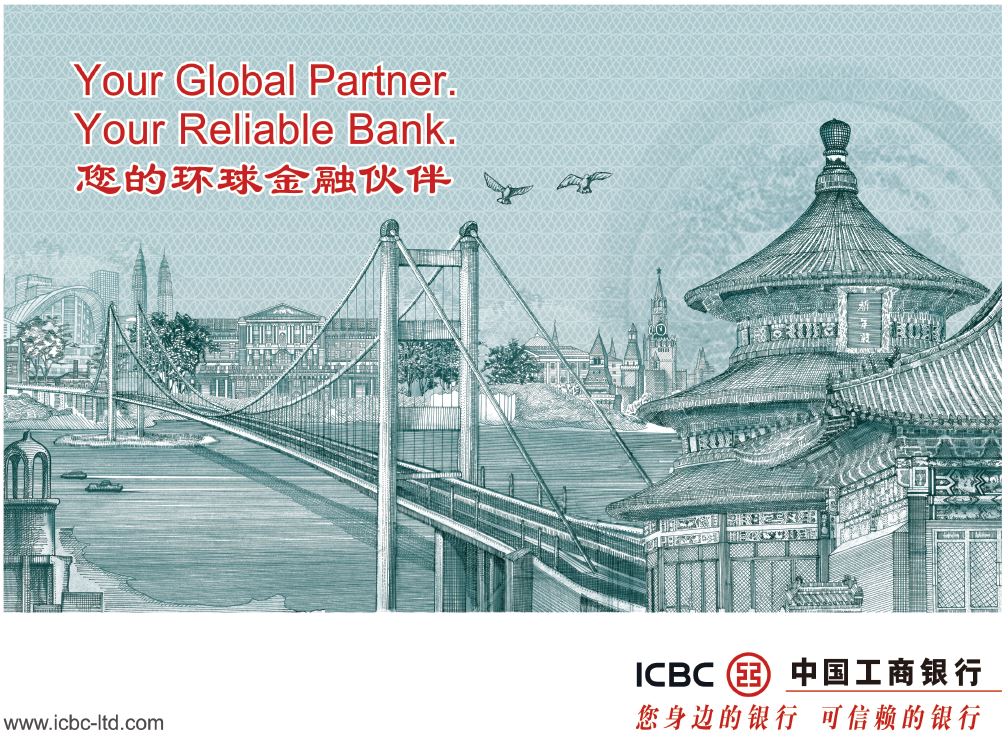 Putting the wellbeing of employees as a priority, the Institution came up with various strategies to safeguard the health and safety of its employees and their families, setting up a special leading COVID-19 response team on pandemic containment, updating its bank-wide prevention measures in accordance with the latest pandemic situation in the region. The Institution cares for not only the physical health but also mental health of its people under work-from-home arrangement. By organising more than 20 sessions of Virtual Reunion events and online lectures, the Institution aimed to convey positive spirits and promote cross-cultural communication among employees of more than 10 nationalities.
The past year of 2020 was a year like no other. Facing so many world-shaking, paradigm-shifting economic and social disruptions in a single year, ICBC Middle East has shown great resilience in dealing with crisis and maintaining its steady growth. Looking forward, the Institution will continue to support high-quality economic development, serve the real economy, and make new contributions to the sustainable development.
For more information, please see www.icbc-ltd.com
---
---
You may have an interest in also reading…
3VC is a Vienna-based venture capital fund that invests in a hand-picked group of European technology startups with global ambition.
Bedrock Group partner Maurice Ephrati outlines his philosophy for family governance and next-generational financial education. The key ingredients for successful
Euro Exim Bank Ltd (EEB) is one of the fastest growing international financial institutions. Established in 2015, the bank is