BLKB: Regional Bank that Favours a Future-Orientated Approach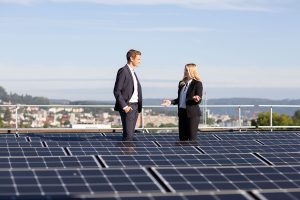 What impact do corporate actions have on individuals, society and the environment? Can we take responsibility for the world we live in, and if so, how? Swiss bank BLKB has some answers.
Swiss bank BLKB has been taking responsibility for its region for over 150 years. Established to meet the financial needs of the population and the local economy, it promotes sustainable development for people, society and the environment.
Although the Covid-19 crisis has brought sustainability to public attention, BLKB began addressing the issue some time ago. As a forward-looking regional bank, BLKB has been taking responsibility for people in the region and promoting economic development since its establishment. Sustainable thinking and action are at the heart of the bank's business operations and the basis of its mission statement.
Sustainability is much more than just being "green"; it remains closely identified with environmentalism in the public discourse. But that is too narrow a definition for BLKB, which sees sustainability as an enduring mission.
The bank takes a far-sighted approach — and the question of whether what it is doing today is also right for tomorrow. "That's why at BLKB we talk about our future-orientated approach," explains Marilen Dürr, head of Sustainability at BLKB. "Our view reflects our deep conviction that sustainable development benefits everyone, and we assess issues from a comprehensive, long-term perspective."
As a sustainable financial services provider, BLKB places an emphasis on environmentally responsible banking operations. The bank also demonstrates the requisite far-sighted approach when it comes to advising customers and helping them to make decisions. BLKB has been tasked by its owner — the canton of Basel-Landschaft — with contributing to the region's economic and social development. BLKB is the bank for the people of the canton and the north-west region of Switzerland. "Their future should have a home in the region," says Dürr.
BLKB's regional importance has been revealed by the Covid-19 pandemic. During the crisis, BLKB has been able to support SMEs and start-ups in a straightforward way — with loans and bridging measures — thanks to its solid capital and liquidity base.
The bank is able to help where needed, strengthening the regional community as a whole. BLKB is more than just a financial services provider. It is also a reliable partner for local business, supports cultural life through targeted sponsorship, and plays an important role as employer.
"Sustainability is our business model. It's about our responsibility towards people, society and the environment," says John Häfelfinger, the bank's CEO. "At an operational level, that means our products and services, in particular the advice we give our customers, and our role as an employer and our business policy."
Sustainability is Teamwork
The wellbeing and development of its employees are important elements of the bank's holistic understanding of sustainability. BLKB views capable, highly committed employees as a crucial success factor in a highly competitive market.
The bank promotes a values-based, motivating work environment as well as a far-sighted, responsible corporate culture. "As a financial services provider, we will achieve sustained success if we all adopt and embrace a forward-looking approach," says Daniela Strohmeier, HR Development Specialist. To ensure employees are fit for the future, BLKB systematically invests in their personal and specialist training and development.
The bank set up a training initiative in 2019, and has around 20 percent of its staff currently in training or development. Older members of staff in particular are encouraged to undertake more training. The bank sees the promotion of staff aged 50-plus as an opportunity to address the upcoming retirement wave among the Baby Boomer generation. BLKB always accommodates its employees' individual circumstances through flexible work models and methods.
Sustainable Products
BLKB understands that sustainable investment brings long-term success for its stakeholders. Studies show that responsible investment is becoming increasingly important in Switzerland, and enjoys strong customer demand.
BLKB identified this trend at an early stage, and quickly came to focus almost entirely on sustainable investment products. "BLKB is one of the few banks in Switzerland to have a comprehensive ESG approach across the breadth of its product line-up," says Andreas Holzer, Sustainable Investment Specialist at BLKB.
ESG criteria have been standard in the bank's investment business for many years. Its goal is to systematically integrate these criteria in all products and services. In addition to credit checks, BLKB takes into account the sustainability of companies before granting a loan. This year, it also began examining ESG criteria within the area of commercial lending. If a company exhibits shortcomings in relation to sustainability, BLKB — as a responsible bank — discusses the benefits of sustainable business management. The bank sees this as a forward-looking approach that will support the region on its path to becoming a resource-efficient economy.
Responsibility for the Environment
Climate protection, particularly in relation to CO2 emissions, is a major focal point for BLKB. The bank is committed to adhering to the 2015 Paris Agreement and is reducing its direct and indirect CO2 emissions on a continuous basis (Scope 1 – 3 of the Greenhouse Gas Protocol).
The bank already operates on a carbon-neutral basis and participates in numerous climate protection projects. The "Forest of Tomorrow" regional project combines climate protection with the promotion of biodiversity. Across the region's forests, BLKB is funding the planting of 1,000 trees that are well suited to changing climatic conditions.
The forests of north-west Switzerland are suffering from the impact of climate change. Increasing drought and rising average temperatures are leading to the death of less heat-resistant native species. The bank's customers can contribute to the project and indirectly support the initiative, as well as the funding of investment in energy-efficient buildings.
As a bank anchored within the region, BLKB believes it is important to couple its own CO2 offset with its commitment to a sustainable future. The bank has funded and launched a local climate protection project where the soil in the canton of Basel-Landschaft is used for CO2-storage through humus formation.
"From 2021, we'll be providing our carbon offsets on a completely local basis," says Marilen Dürr — thus ensuring the region has a bright future.
---
Tags assigned to this article:
ESG
---
You may have an interest in also reading…
Europe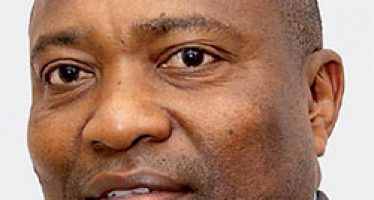 Nigerian-born Dr Solomon Fubara did not quite set out to become a member of the UK diaspora community. In fact,
Europe
There are moments in time when the proverbial storm in a teacup serves to underscore a point. The World Bank
Projects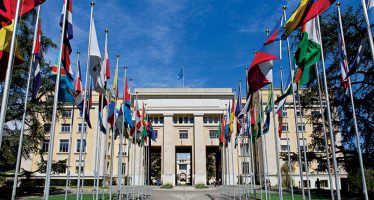 James Zhan suggests world leaders make a joint effort to formulate effective investment policies to help build investment firepower to