CFI.co Meets the CEO and Founder of Auka: Daniel Döderlein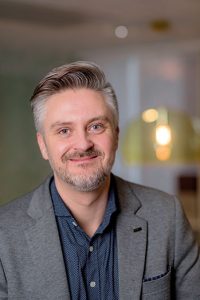 Norwegian native, fintech pioneer and Top 200 European fintech influencer, Daniel Döderlein is the CEO and founder of Auka. He has more than twenty years of entrepreneurial experience in the fields of IT, product development, advertising, and financial services. He was awarded Entrepreneur of the Year in 2014 by the Norwegian Venture Capital Association.
Sitting on the Google cloud advisory board, Mr Döderlein has a string of firsts to his name. He was the first to develop mobile payments technology in Scandinavia, the first to launch a mobile payment service in Norway (mCASH), and the first to create and run a regulated financial services platform on public cloud.
After Norway's second largest bank, Sparebank 1, acquired mCash for exclusive use in the country, Mr Döderlein started his current company, Auka. Auka helps banks anywhere in the world to create, launch, and monetise their own mobile payments offering, following the same successful formula of banks in Scandinavia. Auka has been awarded Deloitte Fastest Growing Fintech in EMEA and best mobile payments platform by CFI.co magazine.
Mr Döderlein explains the origins of the business: "I started my first business when I was fourteen, and my first formal company at age seventeen. So besides working in a local telecom store during school, I have never worked for anyone. I have worked alongside my fellow colleagues in companies I have built. I made a lot of mistakes, and still do. But I don't think you could learn in school, or working for others, what I have learned from my journey and would never trade my scars from this with anything."
"My job as a leader is to get trouble out of the way for the people I serve. And I serve my colleagues. I strive to be transparent and honest in everything I do, and I expect that from everyone I work with. If we can't deal with the truth, whatever plans we make will be a longer route to a solution if we ever get there. At Auka, your title means virtually nothing. We have open doors, and believe that good ideas, strategies, and solutions come from talented and dedicated people, wherever you are formally placed in an organisational chart."
"Fintech is the most funded industry from an investor perspective at the moment. Financial services is listed as the Number 1 industry for total transformation, and we have never seen more innovation and regulatory changes in any industry at any time as far as I see it. What a ride it has been, and it has just started!"
On corporate leadership, Mr Döderlein emphasises competence: "I'm surprised all the time that the decision makers in the financial services industry do not know how their business actually works, except looking at business cases from a spreadsheet perspective. I could live with that if the person is a prolific leader who inspires and motivates. But I don't see many of those in financial services, sadly." i
---
Tags assigned to this article:
norway
---
You may have an interest in also reading…
It is, perhaps, the ultimate countercyclical business: corporate recovery. The UK's leading independent business rescue and restructuring specialist Begbies Traynor
What helps to differentiate you from the competition? Gabriel Chaleplis: Since the beginning of the internet, platform-providers around the globe
Mr Sanjay Sagar is the Joint Managing Director and Chief Executive Officer of JSW Energy Limited. An alumnus of Modern