President Trump Silenced by Major Networks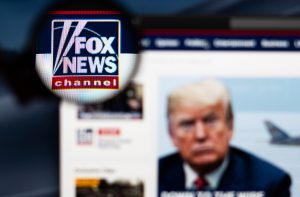 Whilst you were not looking the five largest US tech companies added some $700 billion to their combined market cap since election day. The slightly muddled new political order taking shape in Washington is expected to benefit Big Tech. It heralds a standoff between the White House and the US Senate with little chance of enacting sweeping legislation to curb the power wielded by the likes of Google, Facebook, Amazon, Apple, and Microsoft.
The tech bulls are also emboldened by the absence of a 'techlash'. Facebook in particular seems to have learnt from its mishandling of the 2016 vote and cleaned up its act by blocking hashtags that were spreading misinformation about the vote count. The social network is also adding 'friction' to its sharing function and plans to 'demote' content on its news feed that contains dubious election-related claims. On the eve of the vote, Facebook had already suspended political advertising. On Thursday, Facebook took down 'Stop the Steal', alleging the group – which attracted almost 320,000 members in under 24 hours – had been set up with the specific purpose of 'delegitimising' the electoral process. The company's moderators also detected 'worrying calls' for violence.
Though a minnow by comparison, Twitter received praised for consistently flagging dubious claims and outright lies posted by politicians, pundits, and private users alike. Tweeting from the White House, where he spent most of yesterday sulking and conferring with lawyers, President Trump suffered the ignominy of watching eight of his messages labelled either 'disputed' or 'misleading'. Meanwhile, his aides were desperately trying to keep their boss off the air to save him further embarrassment. It was not to be. Trump burst out of confinement in the early evening to accuse the Democrats of committing 'fraud' and trying to 'steal' the election.
Outfoxed
At this point, only seconds into the president's improv performance, all major television networks switched back to their anchors with ABC's David Muir asking the reporter on the scene to help 'discern what he is talking about'. MSNBC anchor Brian Williams could not control his rolling eyes and deadpanned that there has been no Trump victory that 'we know of'. CNBC's Shepard Smith explained that his network was interrupting the president's speech 'because what he is saying in large part is absolutely untrue'.
Though both CNN and Fox News carried Trump's speech in full, their reporters immediately followed up with rigorous fact checking and flagged the full range of unsubstantiated claims made during the presentation. Fox News, which the US president is known to watch assiduously during his waking hours, has replaced CNN as Trump's whipping boy of choice. The network was the first to call Arizona for Biden and doggedly refused to back down even after the irate president demanded a retraction from Fox Corporation owner and chairperson Rupert Murdoch who reportedly got annoyed and hung up the phone.
Though Fox News' notoriously opinionated primetime talking heads bravely continued to parrot the White House line, the network's newsroom stuck to a more 'fair and balanced' approach with several journalists challenging Trump's claims and assertions. Shut out of most mainstream media channels, the president turned to the rabblerousing online Breitbart News Network, sharing a number of its more colourful stories via Twitter.
It is an article of faith amongst comms professionals that they will stand by their protégé right up to the edge of the precipice – at which point their sense of self-preservation requires them to step back and let go. For all its prestige, power, and pizzaz, the White House is no exception. Public interventions by top presidential aides have all but ceased whilst leading Republicans are stealthily moving away from their now tainted president, creating as much distance as political etiquette and expediency allow. Not a single Republican senator has supported Trump's scattershot claims of wholesale election fraud.
Steep Hill
Though bipartisanship is no longer a given on many, if not most, of the most pressing issues facing the nation, the US political system as such is proving robust and resilient. Unproven claims of fraud, often based on nothing more than flimsy affidavits, have already been laughed out of court in Nevada and Pennsylvania. Opting for a third time lucky approach, Trump's lawyers filed a new petition in the Keystone State to invalidate ballots that arrived by mail after election day. The US Supreme Court considered and turned back the case twice before. Eleventh hour Republican appointee Amy Coney Barrett declined to weigh in. She did, however, join her five conservative peers in a statement that the court could still consider the case when asked to do so.
Litigation and recounts are not expected to tip the balance in Trump's favour. The Pennsylvania case affects at most a few thousand ballots whilst recounts seldom move the final tally by more than a couple of hundred votes either way. Should Biden remain on his present path to victory, he'll likely secure 300+ electoral votes – 30 or so more than needed to credibly claim victory and too steep a hill to climb for the incumbent.
Also, whilst you may have been looking elsewhere, the number of corona infections has continued to rise with the US on Friday reporting more than 100,000 new cases for the second consecutive day. The news prompted Federal Reserve Chairperson Jay Powell to express 'particular concern'. Powell cautioned that even without lockdown, economic activity could take a hit as consumer curtail spending.
Dr Anthony Fauci, long-time head of the National Institute of Allergy and Infectious Diseases and whom President Trump repeatedly threatened to fire, already in June told a senate committee that the US case rate could top 100,000 absent a robust outbreak containment policy.
Gone Rogue
Yesterday, the über-conservative podcast of former Trump strategist and whisperer Steve Bannon was permanently banned from Twitter and suspended on Facebook after he called for the beheading of Dr Fauci and FBI Director Christopher Way. Bannon suggested both severed heads be placed atop pikes and displayed outside the White House. Bannon was released on a $5-million bond after being arrested on August 20. He has been charged with defrauding donors to his non-profit group dedicated to building the border wall. Prosecutors allege that Bannon diverted $1 million to his private accounts. A spokesperson for Bannon denied that the former White House advisor had gone rogue and explained that his comments were merely of a 'metaphorical nature'.
---
---
You may have an interest in also reading…
It's the elephant in the room, quite literally, that most CEOs would prefer to quietly sulk in the far corner
Once upon a time, Japan was said to pose a menace to the economic hegemony of the industrialised countries of
Keep South Africa Safe: the slogan is stamped on President Cyril Ramaphosa's favourite facemask, and could refer to more than