Chinese Tech Companies Face US Ban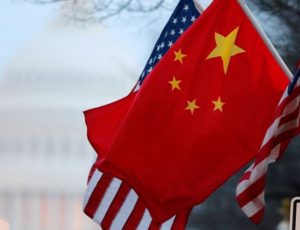 This is perhaps not the best time to confront China. The corona pandemic is far from over and its effects on global markets has only begun to reverberate. An economic depression may well be in the making. Not that the US stock market has taken note: there, the party never seems to end. Until, of course, it does – as it must.
In fearsome times such as these, concerted joint action is the probably the better option. However, live to fight another day is an alien concept to US President Donald Trump whose all-or-nothing attitude to life has caused him to file six times for bankruptcy in his chequered career as a self-described and -anointed real estate mogul.
On Friday, Mr Trump signed a vaguely worded executive order giving US companies 45 days to unwind their business dealings with the messaging app WeChat and the video-sharing platform TikTok. Almost immediately after the order was unveiled, investors dumped shares in Chinese tech companies, lopping off some $75 billion in market value. Shares in WeChat owner Tencent, traded on the Stock Exchange of Hong Kong, nosedived ten percent within minutes of the announcement before recouping almost half their initial losses when bottom feeders intervened. Other Chinese IT giants such as Alibaba and JD.com, two ecommerce platforms, also took a severe hit.
Whilst political pundits regard the president's move as opportunistic and an attempt to revive his sagging political fortune and standing, investors are worried that the ambiguous wording of the order may herald a much wider ban on US dealings with Chinese tech firms. This would be particularly damaging to Tencent's gaming business which has benefitted handsomely from lockdowns and stay-in-place orders. Before Friday's sharp retreat, the company's stock was up 40 percent for the year.
Tencent is remarkable not only because it managed to claim the top spot in the global online gaming industry after a string of strategic acquisitions, but also because the company had so far managed to stay well under the White House radar. In 2017, Tencent bought a five percent stake in electric vehicle manufacturer Tesla for $1.78 billion, prompting Elon Musk to proclaim the new stakeholder a 'valued adviser'.
In May, Tencent caused some concern amongst Western policymakers after the University of Toronto Citizen Lab, an interdisciplinary research effort that tracks the interplay between digital media, global security, and human rights, proved that the company actively monitors foreign accounts on WeChat to filter out messages with a political content and use these to finetune the censorship algorithms to which it subjects domestic users of its apps. A recent Citizen Lab research paper detailed Tencent's prominent role in helping Chinese authorities perfect their mass surveillance system and detect – and silence – any dissenting voices.
Though President Trump's executive order is not entirely misguided given China's brazen use of high-tech to muzzle its society, his timing is both off and suspect. So far, US investors have largely ignored the Trump Administration's brinkmanship. Even in this plague year, the Nasdaq Composite has scaled record heights, ignoring both the pandemic and the threat of a major trade war as it added 22 percent to its value.
However, US tech companies are not immune to the woes now besetting their Chinese competitors, counterparts, and partners. Apple generates about a fifth of its sales ($260 billion last year) in China. CEO Tim Cook noted that three out of every four iMacs or MacBooks sold in the country are snapped up by first-time buyers. Apple shares doubled in price over the past five months and the company is now on the cusp of becoming the world's first $2 trillion corporation in living memory.
The Dutch East India Company, in business from 1602 until its demise in 1796, would have possessed a $8.3 trillion market cap today. Even the British South Sea Company, which never turned a profit and created the mother of all asset bubbles, was once valued at $4.5 trillion. Apple has some way to go yet before it truly leaves an indelible mark on history.
China is crucially important to other large US tech companies as well. The five largest chipmakers – Broadcom, Intel, Nvidia, Qualcomm, and Texas Instruments, each depend on China for between a quarter and half of their sales volume. Though Facebook is banned from the country, Chinese companies still advertise on the social network, spending multiple billions of dollars annually to reach new customers.
Even the iconic NBA receives $300 million annually from Tencent in return for the right to broadcast its teams' games in China. Other major sports leagues such as the NFL (football), NHL (ice hockey), and MLB (baseball) have similarly lucrative deals in place with Chinese content distributors.
President Trump now wants all that gone in under seven weeks. It may take a few days for the news to sink in at Silicon Valley headquarters. Perhaps, no-one believes that Mr Trump will actually have his executive order carried out. After all, just a few days ago the Microsoft executive team had to deal with an entirely new form of corporate taxation invented on the spot by a president who seems increasingly detached from reality. During one of his daily ramblings, Mr Trump demanded Microsoft hand over a sizeable chuck of cash to the Internal Revenue Service should it succeed in buying the video-sharing app TikTok from its Chinese owners for $34 billion. Mr Trump claims some form of ownership of the impending deal and demands a cut even though no legal provisions currently exist to tax mergers and acquisitions. These are interesting times indeed.
---
---
You may have an interest in also reading…
Looking to score without breaking a sweat, European politicians of almost every ideological persuasion often turn on 'Brussels', assigning blame
Shopkeepers in Wales have reported a disconcerting increase in the number of scarcely clad patrons visiting their premises, often sporting
The imminent departure from the White House of the self-styled dragon-slayer does not necessarily bode well for Chinese President Xi