Reed Hastings: richer or poorer?
What is Reed Hastings' net worth?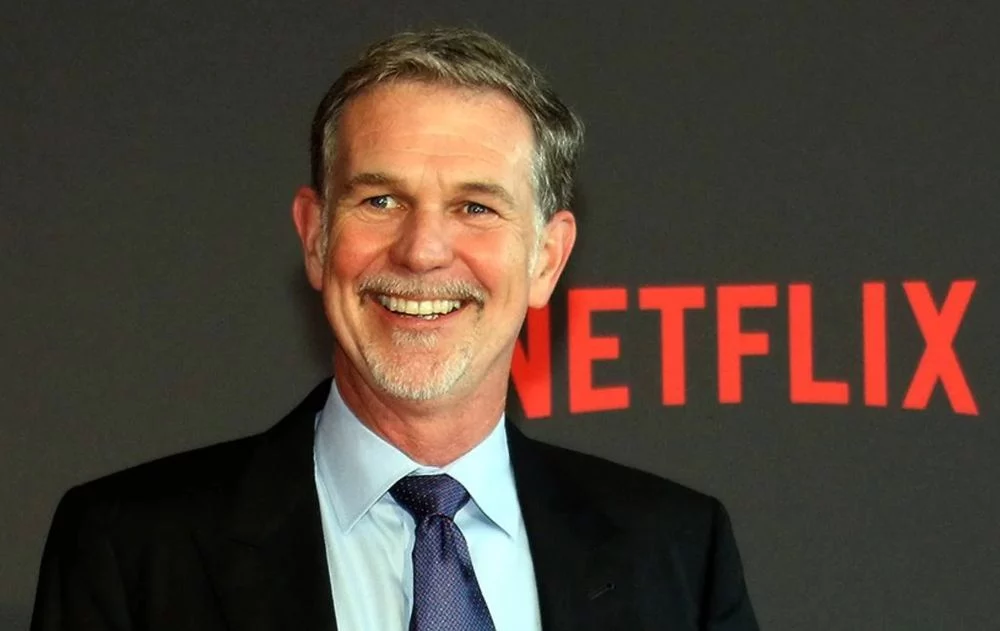 Net worth as of August 2022: $3.7bn
If you watched a TV show recently, chances are you watched it on Netflix. Today, in 2022, the company is worth $95bn, but 25 years ago it all began with a $40 late fee. That's if you believe co-founder Reed Hastings, who says he came up with the idea for the company after forgetting to return a VHS rental on time. The other co-founder, Marc Randolph, disagrees – he remembers them having a light-bulb moment whilst driving in the car together.
Whatever story you believe, Netflix is now recognised across the world as the original online streaming service. But aside from "Stranger Things" and "Squid Game", CEO Reed Hastings' 2009 127-page slideshow – dubbed the "Netflix Culture Deck" – is by far the company's most famous, or infamous output. CEO of Meta Platforms (Facebook) Sheryl Sandberg once described the slideshow as "the most important document ever to come out of Silicon Valley". The document outlines the key principles of Netflix's culture.
Reed Hastings believes that as long as his employees are performing, they can do whatever they want. They make deals without sign-off, claim expenses on anything, and are encouraged to speak to recruiters offering them better packages. All they have to do in return is make money – "adequate performance gets a generous severance" is one of the Culture Deck rules. Hastings himself refuses to use an office, or even a cubicle to conduct his own work. Everything should be out in the open. Criticism is encouraged, and failure to speak up if you disagree with something is "tantamount to being disloyal to the company". If an employee's idea fails, they have to submit a comprehensive assessment of what went wrong. This is a process Hastings calls "sunshining". Netflix doesn't want good employees, they want great ones.
Does it work? Each Netflix employee generates an average of $2.6m in annual revenue – three times more than someone at Google. The result is a company that has gone from one that once mailed out DVD rentals to 20 million subscribers to boasting 193 million members across 190 countries. Netflix has been touted as everything from the death of Hollywood, to the saviour of cinema.
Reed Hastings may have helped reinvent Hollywood, but the man behind the "culture of reinvention" is no typical Hollywood mogul. Hastings is a self-described "math wonk" who trained in the Marine Corps and Peace Corps. He taught math in Swaziland and received an MSCS in Artificial Intelligence from Stanford University in 1988. His first business venture – a foot-operated computer mouse – was a failure. Hastings has called himself an "Igber wannabe". He once told reporters "I'll never be Steve Jobs, the creative, brilliant person" and admitted Elon Musk is "100 times more interesting a person" than he'll ever be.
But it is perhaps his ultra-ordinary life that informs his most extraordinary ideas. His mother, he has said, was a debutante who hated high society and taught his children to disdain elitism and pretensions. His father, a lawyer for the Nixon administration, rarely discussed emotions. After attending marriage counselling, Hastings decided radical transparency was the way forward – even in business.
It is his brief career as a ninth-grade math teacher has informed some of his most radical projects. Now 61, Reed Hastings has a net worth of $3.7bn, and he has become one of the most prolific philanthropists in education reform. He served on the California State Board of Education from 2000 to 2004. He is currently on the board of several educational organisations including The City Fund, KIPP, and Pahara. In 2016 he created a $100 million fund at the Silicon Valley Community Foundation. He has donated $120 million to fund scholarships at two historically Black colleges and donated to the United Negro College Fund. A recent investigation found that Hastings was the man behind a mysterious luxury 2,100-acre retreat for teachers in the foothills of rural Colorado. The retreat will allegedly operate as a training ground for American public school teachers aligned with the education-reform movement.
But if you ask Reed Hastings why his next project is radically transforming the education system, don't expect a radical answer.
"I had a bunch of money" he once told a reporter "and I didn't really want to buy yachts."
---