Delen Private Bank: Best Digital Private Bank Belgium 2017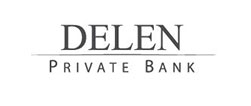 Some private banks have been slow to embrace the digital era. Not so at Belgium's Delen Private Bank, recognised as a trailblazer in harnessing the power of IT to deliver a superior private banking product, with the attendant excellence in client services. Recently celebrating its 80th year in business, Delen Private Bank believes it can do things better – and clients agree. The bank boasts an IT backbone developed – and updated – in-house by a dedicated staff of professionals.
Likewise, Delen Private Bank's front office, including its app for mobile devices, is a far cry from the generic platform most users have to contend with. Delen Private Bank account holders enjoy real time access to their portfolio's performance data. The Delen app also allows access to the world's markets. The platform has been aptly described as a pocket-sized private banker.
However, while Delen Private Bank drives technological innovation, the bank maintains an eminently human touch. Whilst 75% of its clients access their accounts via digital platforms, the bank offers instant access to highly trained and experienced professionals.
In addition to its domestic network, Delen Private Bank has branches in Luxembourg, Switzerland, The Netherlands, and the UK where it acquired a majority stake in JM Finn and Co in 2011.
The CFI.co judging panel agrees that private banking need not be limited to oak-panelled offices. The judges congratulate the Belgian bank on adding a superior digital dimension to its operations and declare Delen Private Bank winner of the 2017 Best Digital Private Bank Belgium Award.
---
---