Saraïlis: The Canadian Boutique Intellectual Property Law Award Winner in Canada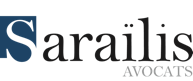 The CFI.co Judging Panel compliments Saraïlis Avocats on the quality of its intellectual property work and good, solid litigation. This small Canadian law firm was founded by Christian Saraïlis, two years after graduating from the Université Laval Law School in 2004. The firm has offices in Québec. Building on his experience as a trademark agent, Mr Saraïlis' firm specializes in business law and commercial litigation with a special emphasis on intellectual property law.
The CFI award programmes seek out excellence regardless of size. Panel members were particularly impressed by the extent of voter endorsement of this firm. Saraïlis Avocats is the Canadian member of Avrio Advocati, an international legal network that aims to foster the exchange of professional know-how and facilitate global legal research.
Mr Saraïlis teaches commercial law at Bart College in Québec. He also supports business communities as an active member of the Québec City Young Chamber of Commerce and is a published author.
The judges expect to hear more from Christian Saraïlis over the coming years and applaud his boutique operation for its accomplishments to date and what they regard as the firm's promising future prospects.
---