Dispute Resolution Award, UAE, 2013, goes to Galdari in Dubai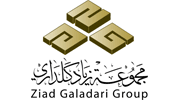 Galadari and Associates in Dubai work in dispute resolution very effectively and across most industry sectors. 
The firm has excellent litigation skills which now result in some 75 per cent of turnover. The CFI judging panel decided to make the award to Galadari because of its excellent track record of court success. Construction is a very real strength of the firm and the expertise of the firm's local advocates is paying very real dividends. This firm is moving from strength to strength.
---