Best of Both Worlds at Baker & McKenzie, Bahrain 2013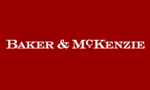 Baker & McKenzie Limited is the CFI.co Islamic Finance team winner in Bahrain this year.
The judging panel agreed that this team stands out from the competition to a significant degree and is moving further ahead. Baker & McKenzie has been active in the region for thirty years and has practised in Bahrain since 1998. The CFI panel pointed to the firm's 'best of both worlds' advantage in having deep understanding of the region through its strategic location alongside the massive resources of Baker & McKenzie offices throughout the world.
---