Zimbabwe Research Team IH Securities Wins CFI's Southern Africa Award for 2013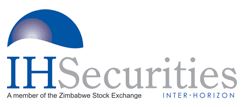 The CFI Judging Panel is delighted that IH Securities, Zimbabwe, has been dedicated to the sort of key, client- focused and world-class services that justify a pan Southern Africa award in the 2013 Exchanges and Broker Awards Programme.
The firm's equity research team includes outstandingly talented individuals. As a result, the quality of work carried out is consistently very high. It is also noted that IH Securities ensures a strong post-trade experience for its clients and boasts a highly efficient back office operation. The panel has named IH Securities as possessing the Best Investment Research Team, Southern Africa.
---