The Art of Living Meets the Art of LIVV: Creating the Homes the Modern World So Badly Needs
LIVV is a company that believes in shattering antiquated and outdated paradigms — and taking the technology of the real estate industry into the future.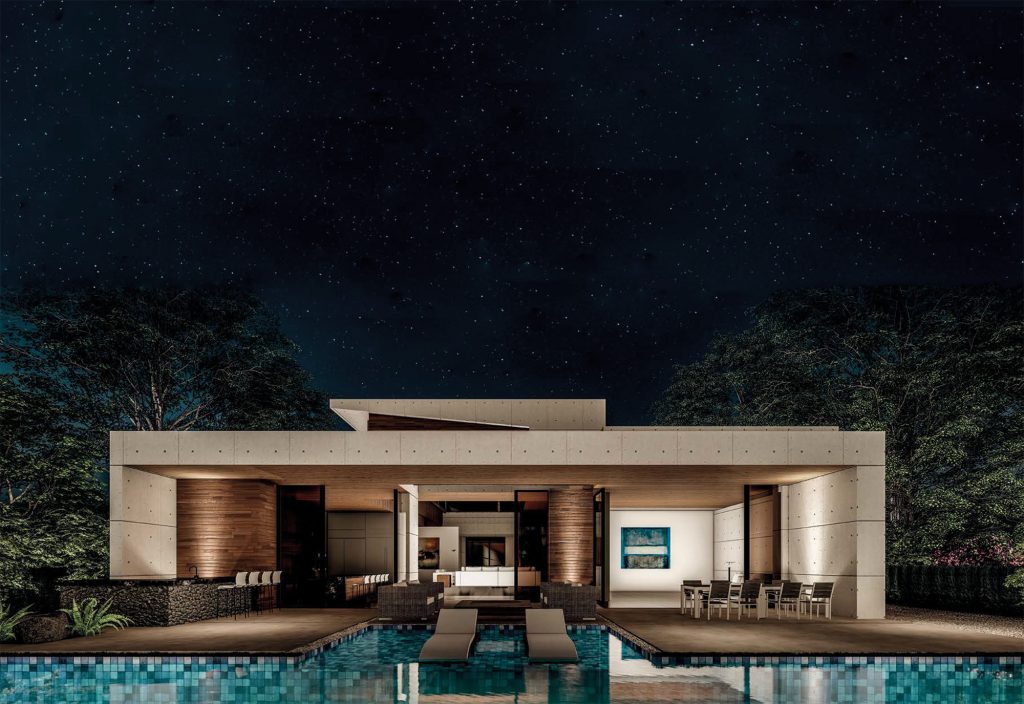 The construction of luxury homes over recent decades has been expensive, inefficient in energy use, and too rigid and costly to maintain, says LIVV co-founder and CEO Philippe Ziade.
"We are innovators by nature, and we believe that by connecting minds across three major sectors — technology, real estate development, and renewable energy — we are creating the next generation of homes, and, in a sense, the future of living."
Advanced AI powers the LIVV community, diversifying and individualising each living space. "LIVV communities are made up of homes as unique as the people who live inside of them," says Ziade. "With such a wide array of technologies to power, there's only one environmentally friendly source that has the capacity to do it — and that's Tesla." All LIVV communities are powered by batteries from Elon Musk's famous firm.
The company is "next-gen" in terms of tech innovation and sustainability. "We take the core to heart," adds Ziade. "Beauty, sophistication of design, location, and quality of construction."
The goal is to redefine "the living experience" as a driver for health, sustainability and innovation. "We combine decades of experience in real estate with innovation, technology and smart systems to build a greener, smarter, and healthier environment, with an intuitive, user-centric approach."
LIVV adapts to customer behaviour, and so does the technology it embraces. "Your home learns your behaviour and adapts to it as you live there, getting smarter and smarter — because of you," says LIVV co-Founder and executive chairman Alex Bouzari.
A Complete Solution
Many tech companies are innovating in the residential sector, but mostly at the level of a specific item or function: a doorbell, a camera or a specific health sensor. LIVV provides a full solution, advancing the industry as a whole.
"Soon, our homes will take care of themselves and manage our lives for us," predicts Bouzari. "They can tailor everything to your liking and keep all your devices running smoothly. From energy optimisation to child- and pet protection and the monitoring of health and allergies."
Tesla Power
LIVV is the world's first Tesla-powered net-zero energy community. It is developing a roadmap to move the industry towards a net-zero energy community and greater sustainability in building construction and maintenance.
By producing more energy than it consumes and storing the excess, the cost of power consumption drops to zero. "Better yet, it sustains the environment for future generations," says Ziade. "Our homes and communities are net-zero by design."
The LIVV vision is to define redefine luxury modern living based on four criteria: Smart, Sustainable, Healthy, and Flexible. Ground-breaking technology is woven into the fabric and infrastructure of each home.
The company envisions a future where a technology-enabled, AI-powered life can be lived without ever pressing a button, plugging into an appliance, or untangling a cord. The home can be in-sync with your schedule, brewing your coffee, starting your shower, turning on the news, dimming your lights, even preparing your meals. Lighting modes, climate control, curtain and shade settings, music, movies, and games — these things are as you want them, when and where you want them. Smart security management provides child protection and pet safety — indoors and outdoors. Sensors will know when you're not there, and turn off electricity or a running tap.
And all this is designed to sustain the planet as well as its people. LIVV communities are eco-conscious creations that maintain a net-zero environmental impact. "And this has to happen passively," says Bouzari, "without you clicking a button. It comes down to the details: net-zero energy, sustainable materials, negligible carbon footprint."
Air quality in the home is continuously monitored, with noxious elements such as radon or airborne pollen identified and removed. Each part of the home is analysed. For asthma sufferers, this is a quantum advance.
Impurities in water are also detected and eliminated. The entire structure lives and breathes to make healthier living simple and hands-free.
Configuration and adaptation of infrastructure, interior spaces and individual objects allow for smooth home expansions or modifications. By incorporating the latest tech, LIVV effectively future-proofs personalised living. Onsite facilities and amenities cater to all age groups, family sizes and compositions, professional pursuits and leisure interests.
Access to community facilities is seamless and automatic. Enabled by unobtrusive iris-scan technology, all it takes is a single glance to unlock the home — and a world of possibilities.
"LIVV homes are built for the ambitious, the creative, the passionate," says Ziade. "The power of AI allows people with busy schedules to reclaim their lives: efficiency as a driver of performance."
Smarter Budget
AI and smart home technology come together to anticipate needs, controlling lighting and air conditioning, adjusting to periods of cooking or housework. "LIVV delivers the highest level of innovation, uncompromising efficiency and timeless aesthetics," says Ziade. "Because your home is built with high-end, durable materials, you end up with lower maintenance costs, less energy use, and less waste."
In a LIVV home, your electric car is charged at your net-zero home or community — with a zero on the power consumption bill.
"We don't go along with the notion that the real estate industry is trailing in terms of innovation, technology, adaptation or quality of construction," says Bouzari. "We embody the philosophy and corporate culture that believes in further advancing the living experience. We are a technology company that sets the bar of where real estate development should be today — and where it will be tomorrow."
---
You may have an interest in also reading…
Switzerland-based and Africa-led, the Brahms Group was born as a consultancy in 2009 — and has grown into an established
Liechtensteinische Landesbank AG (LLB) is the oldest financial institution in the Principality of Liechtenstein. LLB's shares are listed on the
Malta-based AUM Asset Management Ltd. has made ESG investing a core part of its investment approach and strategy. AUM Asset