CFI.co Meets the CEO and Founder of Kaiserwetter Energy Asset Management: Hanno Schoklitsch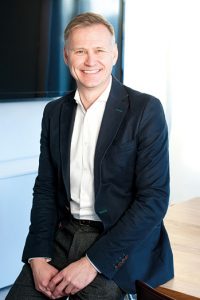 Renewable energy investors need service providers who are familiar with the investment landscape at a local level, can adapt to the latest technologies, and have a clear vision of market evolution and regulations. Hanno Schoklitsch, CEO and founder of Kaiserwetter Energy Asset Management, reached this conclusion in 2012 when he founded Kaiserwetter, the world's first Enertec company. This new sector includes organisations which use state-of-the-art technology developing innovations to increase asset efficiency and achieve the maximum performance of energy portfolios by implementing the capabilities of digitalisation.
Hanno Schoklitsch is a civil engineer and holds a Master's degree from the University of Graz (Austria) in Business Administration. As a civil engineer, he specialised in the construction of hydropower stations, which provided him with an in-depth understanding of energy assets. Prior to starting Kaiserwetter he gained fifteen years of experience in real estate investment firms, operating under German banks such as WestLB, Landesbank Berlin, and DekaBank, where he was heading Germany's second largest real estate fund (with an investment fund of €8.5 billion).
Throughout his career, his professional experience and achievements, particularly with regard to managing large real estate portfolios, brought Mr Schoklitsch to understand the potential of the digitalisation within asset management. The use of big data and the Internet-of-Things (IoT) is key to capitalising upon the digitisation of the renewable energy sector.
The launch of ARISTOTELES, the innovative digital platform for the management of renewable energy portfolios, was the next step in transforming Kaiserwetter into a leading business. The cloud based IoT platform uses the possibilities of smart data analytics and predictive data simulation by aggregating and correlating all technical, meteorological and, crucially, financial data with the goals of: (1) maximising the returns, (2) minimising investment risks, (3) achieving the highest transparency in real-time. ARISTOTELES allows business investors to manage their investments and assets from a global perspective via an independent, standardised, and tamper-proof digital database.
Headquartered in Hamburg, the company has a team of thirty experts with vast collective experience, who manage a total output of approximately 500 MW on behalf of third parties. Kaiserwetter has offices in Hamburg, Madrid, and New York. It is currently focused on its international expansion, by starting up its business in North America, Latin America, and Asia. i
---
You may have an interest in also reading…
Aleading independent provider of trust, corporate, fund and real estate services, First Names Group is above all else a people
AFP Confía, a subsidiary of Atlántida Financial Group, manages the largest private pension funds in Central America and the Caribbean.
Engagement, diligence, care and integrity are the guiding principles of Britam Regional CEO Stephen Wandera. Optimism is another of his